A from the heart Saturday, January 21st, 2017 UPDATE:

  I JUST DISCOVERED MANY MORE IMPORTANT FILES HAVE NOT BEEN ACCESSIBLE FROM THE TIME LINE links and when selected report: 

"Sorry you are not allowed to preview drafts",

which is quite interesting since they were not "DRAFTS" but "PUBLISHED PAGES" until some peculiar difficulties outside my control occurred (previous hacks and malicious material being inserted into the website and server.)   

No doubt the same type of characters who burn down public agency administration offices, can prevent USPS Certified mail from being delivered, or have been "hands on" in continuing this public agency fraud. 

OK, I'll just republish them again in an easier to see/access format so they will even stand out a little bit better now.  

Despite the many hours of extra work guess I should be appreciative that someone

fu@%1ng a$$hule(s)

has/have been (unintentionally) kind enough to identify which documents they believe important enough to sabotage.
You will obviously recognize which were nonfunctional due to the new white WordPress boxed links inserted for easier visibility

.
Hundreds of millions of dollars in the balance?  Hell, could be far more than that when you consider the entire issue and how many entities and individuals (public and private) would be required to create and maintain the decades of

"INSTITUTIONALIZED FRAUD & CORRUPTION" that the LAKE DON PEDRO COMMUNITY SERVICES DISTRICT sure appears to represent.



Geez, fu@%1ing with a low level, nonprofit, individually operated website would be child's play to these professional A$$hules.but more on that later, back to cleaning up the Time Line.
____________________________________________
WARNING
THE BELOW TUNE WILL BORE INTO YOUR BRAIN AND STAY THERE FOR A WHILE
Please listen responsibly!    lol
Found this today searching for "The Devil is in the Details".  Very strange tune that gets stuck in your head.  LOL!  Perfect for pursuing this TIME LINE and seeing what's been going on for decades.  I think the music stops if you go on another link.  I don't know.  If it doesn't work out I'll remove it.  Just thought it a funny addition for a while.  later, Lew
Here are some events in chronological order influencing PETE KAMPA aka KAMPA COMMUNITY SOLUTIONS LLC, aka KAMPACS, and his Board of Directors attempt to permanently reconfigure our almost 40 year old nonprofit LAKE DON PEDRO COMMUNITY SERVICES DISTRICT (LDPCSD) Surface Water Treatment Plant  [SWTP].
PLEASE REMEMBER THIS:
The Lake Don Pedro Community Services District is a CALIFORNIA SPECIAL DISTRICT formed by the Counties of Tuolumne & Mariposa to provide water service to the Lake Don Pedro residential subdivision and golf course.
WATER LICENSE 11395 , under which the LDPCSD operates, permits the pumping, treatment and distribution of

MERCED RIVER WATER

in permitted PLACES OF USE (POU) which are primarily the Lake Don Pedro Subdivision and the golf course: (from license):
"Domestic use at homesites within the service area of Sierra Highlands Water Company and at homesites and recreational facilities adjacent to Lake McSwain and Lake McClure including McClure Point, McClure Boat Club and Barrett cove."
Since PETE KAMPA (aka KAMPA COMMUNITY SOLUTIONS LLC) and his Board of  Directors wish to expand service EVEN FURTHER beyond the permitted POU of the license, these properties must receive water from our new, and extremely expensive groundwater wells.  (Something KAMPA and DIRECTORS assured the public back in 2014 WOULD NEVER HAPPEN!)
This reconfiguration changes District policy, function and operation in order to serve water to third party speculative land development interests that the District has
no legal duty or obligation to serve

.
Public funds were also used to develop this "alternative source of water"  which
the District clearly presented as being necessary to keep the water flowing for existing water consuming customers

.
Not a word about redirecting water production from those wells to other properties that could not otherwise be legally served. 
Classic "Bait and Switch" deceit.
Here is only a portion of the KAMPA "BAIT & SWITCH" MEDIA BLITZ  for your consideration.
Gosh, what happened to all the media coverage PETE KAMPA had on the internet about his great accomplishment of creating a foothill water empire?
(Much less his European educational/managerial experience at Delft University?   Was that simply another Kampa lie?   Or just inconvenient informational fact that had to be removed when the depths of his criminal activities were being discovered?)
$$$$$$$$$$$$$$$$$$$$
IMAGINE THAT?  PREVIOUS KAMPAGANDA REMOVED from outside media sources regarding nefarious activities at the LDPCSD during a STATE WIDE DROUGHT – and how Kampa was unethically returned to the scene of the crime to finish what he started 20 years ago with all those LAFCO ANNEXATIONS INTO THE LDPCSD THAT REQUIRED A GROUNDWATER SOURCE TO legally DEVELOP.
Strange such public news announcements are apparently no longer accessible as originally posted.    How peculiar – KAMPA's previous public postings of his prior experience in the Netherlands as a manager and GM at DELFT UNIVERSITY just disappear?  So the question becomes, were those original postings truthful or not?  Why remove truthful information as to one's employment/educational background achieved halfway around the world much less his professed desire to only help the customers of the LDPCSD?  If legitimate, why not leave the information? 
HELP THE LEGAL CUSTOMERS OF THE LDPCSD?  Naaaa, more like helping himself to the over ONE MILLION DOLLARS IN PUBLIC FUND CASH accumulated after near bankruptcy to finish surreptitious development plans for LAFCO ANNEXED PROPERTIES OUTSIDE THE PLACE OF USE FOR MERCED RIVER WATER per WL11395!  Those ANNEXED LAFCO PROPERTIES needed an "alternate source of water" in the form of a GROUNDWATER SUBSTITUTION PROGRAM in order to develop their projects and PETE KAMPA had the education, experience and powerful influential state connections (thanks to his director position with the  CALIFORNIA SPECIAL DISTRICTS ASSOCIATION  (CSDA) for approximately 20 years) to get the job done through acquisition of state and federal grants – naturally all essentially funded by the MR WECs  of the Lake Don Pedro subdivision. 
(Psssst!  MR WECs are also MANDATORY LDPCSD CUSTOMERS due to their property ownership in the residential subdivision.  TRAPPED and forced to subsidize this special interest benefit for as long as they own their subdivision property/home.  Sweet deal for the exploiting crooks!  Those subdivision property owners who are entitled to the quality Merced River water in Lake McClure are now provided a lesser quality "contaminant blended" water and pay more for that reduction in quality and service!)

$$$$$$$$$$$$$$$$$$$$
SO….what did KAMPA actually do starting with his "UNETHICAL BOARD ORCHESTRATED RETURN TO LDPCSD IN OCTOBER 2014?"   (REM: this is an outside POU issue and Pete Kampa was returned to the LDPCSD 20 years later through the unethical efforts (disclosing confidential Board information) of OUTSIDE POU COMMERCIAL CATTLE RANCHER EMERY ROSS. 
EMERY ROSS is a "director fixture on the board" and has successfully caused much dysfunction for decades because "non stakeholders" (those OUTSIDE POU property owners who receive no water and pay nothing in the form of district financial support) can never-the-less vote in and determine who will represent the thousands of subdivision customers on the Board of Directors.   I only recently discovered which Board of Directors were responsible for completing and activating this planned wrongful "GERRYMANDERING OF DISTRICT ELECTIONS".    BOARD EXPANDS VOTING BOUNDARY FOR NON WATER USERS      What a scam.   Complain to county officials about the corruption in this local public agency and they advise:    the community should simply elect better directors.  WHAT?

SERIOUSLY…..in a GERRYMANDERED SYSTEM the county assisted in setting up which only continues the board dysfunction and special interest advocacy to the detriment of the thousands of intended beneficiary customers of the established COMMON INTEREST DEVELOPMENT subdivision?

Essentially the plan called for providing any new drought emergency groundwater well production to other properties outside the permitted water license Place of Use as a legal remedy for multiple license violations (along with intended further expansion outside the boundary.  PETE KAMPA has a long history of advocating for such third party special benefit expansion on the financial backs of the 99% of legal consumers.  He apparently also has no qualms about selling our community's newly developed "emergency water source" to owners of LAFCO annexed properties he worked with between 1994-1997 when busy exploiting the area during his first tour of employment. 
Essentially Pete Kampa was planting the "ANNEXATION SEEDS" in the 1990s for a later bountiful harvest of massive project developments when the GROUNDWATER SPIGOT for his new groundwater source was turned on for the thirsty land development projects he was orchestrating in the 1990s.  Thank you Emery Ross for providing the confidential board information to Pete Kampa and his KAMPA COMMUNITY SOLUTIONS, llc, aka, KAMPACS, Special District Management Company, so that he could have a prepared contact ready for board approval at the first available Board Meeting.  (In fact, the agenda which had already been distributed, was quickly changed to include that Kampa contract which was approved by the board at first introduction without even a simple employment background check.  But of course, that board already knew exactly what sort of character they were dealing with, which is precisely why Kampa was appointed GM/Treasure and given near completely authority over all district operations.)
Kampa said we had to

spend all our money
(the Board I was on (2010-2014) started right after our near bankruptcy and after four years had saved over one million dollars)
and obtain government grants
to drill multiple wells to create a source of water to

sustain our community in a water emergency –
that all sounded logical

,

yet as soon as some of the wells started producing water

KAMPA&BOARD

  wanted to expand service and

SELL OUR EMERGENCY SURVIVAL WATER

to third party land owners and developers for new businesses, competing subdivisions, ranches, agricultural endeavors, etc., which quite naturally, will ONLY INCREASE THE DEMAND FOR MORE GROUNDWATER PRODUCTION! 
They are creating a vicious cycle for a SPECIAL BENEFIT groundwater demand that the 99% of legal

MERCED RIVER WATER 

using customers will be funding for perpetuity!

PETE KAMPA and his complicit BOARD OF DEFECTORS were pushing forward the continued fraud of the LAKE DON PEDRO COMMUNITY SERVICES DISTRICT that was set up by the conspiring TUOLUMNE & MARIPOSA Planning Departments and their respective LAFCOs (Local Agency Formation Commissions – which wields the power of the State of California directed on the local level) which created a SHAM OF A CALIFORNIA SPECIAL DISTRICT so that the many LAFCO ANNEXATIONS of property into the LDPCSD could eventually receive water in the future!   All concealed from the thousands of oblivious Lake Don Pedro residential subdivision property owners who were, and still are, paying for this special interest groundwater substitution program.
In other words, LAFCOs created the LDPCSD in order to provide their LAFCO approved ANNEXATIONS a special benefit water service surreptitiously paid for by the thousands of legal Merced River Water Entitled Customers, or MR WECs – as I have named our large group of innocent victims!  The LDPCSD was a fraud from day one created to serve the interests of LAFCO and those with property annexed into the LDPCSD.
Imagine, a CALIFORNIA SPECIAL DISTRICT fraudulently created and then further intentionally misdirected by PETE KAMPA who has been a CALIFORNIA SPECIAL DISTRICT ASSOCIATION (CSDA) Board Member for approximately 20 years!  Yup, a FOX in a HEN HOUSE.

Want to talk about utter betrayal by one of the state's largest lobbying organizations?  Sorry, but there is no other way to look at this other than a decades long continuing criminal conspiracy and abuse of the California Special District concept.  Every single defining characteristic of a special district has been intentionally violated in order to provide water service to these "outside boundary" approved LAFCO ANNEXATIONS thanks to a California Special District (the Lake Don Pedro Community Services District) which the these two county LAFCOs formed in 1980 that continues to defraud every single owner of LDP subdivision property because of substantial increased special benefit costs paid for by the majority of legal customers.    
I will be adding to this page incrementally.  Thanks for your patience, Lew.
---
The quoted Merced Irrigation District history was obtained from their website listed below:
http://www.mercedid.com/index.cfm/about/history-of-the-district/
1800s
Mid 1800's              Robla Canal Company formed.
1873                          Robla purchased by Farmers Canal Company.  Later CH Huffman and Charles F Crocker organize MERCED CANAL and IRRIGATION Company and acquired Farmers.
1888                          Becomes CROCKER-HUFFMAN LAND AND WATER COMPANY
1919
Dec 8 1919                MERCED IRRIGATION DISTRICT (MID) formed.  "Once the formation of the District was approved by the community, an irrigation system had to be purchased, water rights on various streams had to be filed and a dam site had to be selected.  Throughout the early years, the District continued to file for water rights on various streams."
1922
"In 1922, the District purchased Crocker Huffman Land and Water Company irrigation system for $2.25 million.  The Exchequer Mining Company on the Merced River was chosen as the ideal location to construct the District's first dam.  Planning for the dam started in 1921."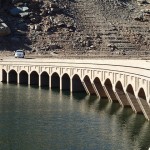 1926
Jun 23 1926 – The first Exchequer Dam begins generating electrical power
1960
May 19 1960                Agreement between SIERRA and SOLOMON (160 acre feet) to SIERRA obligating future water service to SOLOMON property.
1964
"Mr. MID" Kenneth McSwain at MID helm.  "In 1964, the District was granted a license from the Federal Power Commission to expand the irrigation and power facilities on the Merced River."
1967
"By 1967, New Exchequer Dam and McSwain Dam were complete, generating tens of thousands of megawatt hours of electricity each month."

1968
Boise Cascade constructs the Surface Water Treatment Plant which was initially governed by its subsidiary Pacific Cascade.
Mar 26 1968               Agreement between Merced Irrigation District and PACIFIC CASCADE LAND CO., INC for 5,000 acre feet per year to PACIFIC is assigned to SIERRA.
Sep 11  1968                CALIFORNIA PUBLIC UTILITIES COMMISSION (CPUC) Decision No. 74677 issues SIERRA HIGHLANDS WATER COMPANY Certificate of Public Convenience and Necessity.  T-2 was the first unit served.
Oct 30 1968                FACT: Ten (10) water meter connections for future use were credited to the Sturtevant Ranch in exchange for property to construct the Sturtevant water tank for the nearby Lake Don Pedro residential subdivision.   Several unrelated properties to that contract agreement are later provided water service through the years 1972-1993, or in the alternative, started paying availability fees to secure future water service yet the service connection contract date of sale was WRONGFULLY RECORDED AS 1968. 
REFER:  STURTEVANT RANCH LETTER RE EMORY ROSS HAS THEIR METER
MAJOR POINT OF CONSIDERATION:  District records cannot be trusted regarding when the service contract was signed and approved.   [Compare with the POE MULTIPLE METER CASE where two other property APNs were recorded within the LDPCSD office to make three meters on one property appear to be normal paperwork.]
JULY 10th, 2017 UPDATE ON
1969
Feb 4 1968                   CALIFORNIA PUBLIC UTILITIES COMMISSION (CPUC) Decision No 75296  Service extensions within LAKE DON PEDRO Subdivision. Extended SIERRA service to Unit 3 in Tuolumne County and Unit 1-M in Mariposa County.
Feb 25  1969                CALIFORNIA PUBLIC UTILITIES COMMISSION (CPUC) Decision No 75374  RE Service extensions within LAKE DON PEDRO Subdivision.  Extending SIERRA service to Unit 3 in Tuolumne County.   CPUC modification of prior decision language re Tuolumne Subdivision Unit 3 service availability
May 9 1969                  SIERRA AND SOLOMON agreement for 160 acre feet transferred to SIERRA and obligating SIERRA to provide water to the SOLOMON property.
Jul 15 1969                   CALIFORNIA PUBLIC UTILITIES COMMISSION (CPUC) Decision No. 75936  Service extensions within LAKE DON PEDRO Subdivision. Extended SIERRA service to Unit 3 in Tuolumne County and Unit 1-M in Mariposa County.
Oct 7 1969                 SOLOMON AGREEMENT IN SIERRA HIGHLAND TRANSFER (Signed Oct 21 1969)
OCT 9 1969                  AGREEMENT BETWEEN SIERRA and BOISE CASCADE PROPERTIES for water service to the Lake Don Pedro Golf Course.
Oct 21 1969                 CALIFORNIA PUBLIC UTILITIES COMMISSION (CPUC) Resolution W-1187  Further extension of service within LAKE DON PEDRO SUBDIVISION.  Service to Units 2-M and 3-M and former units now reverted to acreage, Units 4-M, 5-M and 6-M.
1970
Jan 6 1970                   CALIFORNIA PUBLIC UTILITIES COMMISSION (CPUC) W-1202 and W-1203 – Service to Units 2-M and 3-M and former units now reverted to acreage, Units 4-M, 5-M and 6-M.
1971
Apr 28 1970                 CALIFORNIA PUBLIC UTILITIES COMMISSION (CPUC) W-1236   Service to 2-M, 3-M and Former 4-M, 5-M and 6-M
Dec   1971                  
Below are what the new links will look like – just "click" on the title
inside the box.   Thank you for your patience.
RAYMOND VAIL ENGINEER: 1971 SEWER ZONE NO 1 MARIPOSA COUNTY SERVICE AREA DON PEDRO 1-M MAP
What a coincidence!  This was the same engineer that created the original LAKE DON PEDRO COMMUNITY SERVICES DISTRICT AREA WATER SERVICE MAP THAT MYSTERIOUSLY DISAPPEARED SHORTLY AFTER THE DISTRICT WAS FORMED BY MARIPOSA COUNTY LAFCo in 1980.  Strange isn't it?  Why didn't the counties of TUOLUMNE and MARIPOSA (LAFCos) have copies of this extremely important map for their mutually newly formed COMMUNITY SERVICES DISTRICT?  LAFCo paid for the survey and map yet it has been missing for decades?  Maybe because they were clearly approving annexations into the new district for water service OUTSIDE THE MERCED IRRIGATION DISTRICT PLACE OF USE UNDER WATER LICENSE 11395?  These counties were directing the LDPCSD to serve MERCED RIVER WATER outside the legal boundary set by the CALIFORNIA STATE WATER RESOURCES CONTROL BOARD which is charged with controlling and regulating water licenses?  Think about that for a moment.

RAYMOND VAIL ENGINEERING CREATED ORIGINAL DISTRICT SERVICE MAP THAT IS MISSING
1973
Oct 27 1973                  Agreement between SIERRA and LAKE DON PEDRO OWNERS ASSOCIATION for use of Lake Gregoris.  [NOTE:  Information filed with the State of California regarding the use of Lake Gregoris water rights appears to be incorrect.]
1975
Pacific Cascade transfers its facilities and assets to Sierra Highlands Water Company.
                                                1976
HERE IS A MAJOR OVER LOOKED LAFCO RESOLUTION THAT IF ENFORCED FROM THE BEGINNING WOULD HAVE PREVENTED THIS CONTINUING DECADES OLD POU SCAM
                                                                    LAFCo RES: 76-4 Adequate water for annexations
                                JUNE 1977

VERY IMPORTANT REGARDING the PLACE OF USE MAP for MERCED RIVER WATER PER WATER LICENSE 11395 (Where river water from Lake McClure can legally be delivered by the CSD)
NOTE:  AN INCORRECT MERCED IRRIGATION DISTRICT PLACE OF USE MAP FOR WATER LICENSE 11395 IS FILED WITH THE STATE WATER BOARD.  The additional parcels which had been added to this FAKE POU MAP submitted to the state (by those interested in expanding the water service area further than the water license permitted) were subsequently removed and a corrected revised June 15 1978 map replaced the one which had added many proposed MARIPOSA/TUOLUMNE COUNTY LAFCO (Local Agency Formation Commission) ANNEXATIONS into the Lake Don Pedro CSD which they themselves were creating and actually formed in AUGUST 1980.
WOW!  Talk about a self serving "public agency" for LAFCOs!
How could such "proposed massive annexations" to a California Special District (not even formed yet) have been included in the officially submitted Water License Place of Use service boundary map by accident considering the clear license restrictions and CPUC approval?
Why has the August 1980 LAFCO commissioned service boundary map been missing for over 40 years?  Because it included substantial property that the CPUC did not approve for water service in that facility and asset transfer?  Why were LAFCO's own annexation regulations completely ignored?  Why was Mariposa County's Zero Sphere of Influence for the LDPCSD decision abandoned? 
How could a proposed 900 acre residential subdivision, supposedly annexed in 1995, have been concealed from the public and even CSD board directors for over twenty years?   Would it not make more sense that the project was never properly annexed and only a quick LAFCO  "map adjustment for the service boundary" was made only months before Pete Kampa's unethical return in 2014 to complete what he had started with that annexation back in the 1990s?    So many more questions—–
Clearly, the LDPCSD had been designed to include properties outside the legitimate water service area as determined by the legitimate Place of Use map and properties identified by the California Public Utilities Commission when approving the transfer of Sierra Highlands Water Company's facilities and assets to the newly formed LDPCSD. 
Consider that for a moment.  The LDPCSD was formed by the very two LAFCOs that designed and utilized that agency for land developments within rural drought prone areas of two counties while in clear conflict with the restrictions contained in the water license which was the district's ONLY SOURCE OF WATER under which it was designed to operate as a surface water treatment plant for the subdivision.  
A designed conflict with legal operation whose decades of wasted time, money, and resources (not to mention community turmoil) were all foreseeable results of the conscious decision to ignore the water license restrictions.  What could be worse?   How about surreptitiously saddling the thousands of MR WECs (Merced River Water Entitled Customers) of the Lake Don Pedro residential subdivision, with a perpetual and extremely expensive subsidized groundwater substitution program for all LAFCO ANNEXED PROPERTIES INTO THE LDPCSD SERVICE AREA!  Diabolically unethical.
https://lakedonpedro.org/?s=june+1977+mid+map
1978
JUNE 15 1978 MID MAP SHOWS SIERRA HIGHLANDS WATER COMPANY BOUNDARIES        Could there be a Class Action Law Suit against LDPCSD?
DECEMBER 21, 2016 UPDATE:  Just discovered the MID Map to the above link was also detached from the post and AWOL (Absent without leave) although still present in the document library.  Pretty difficult to check everything written in all these years.  Very strange also because the insignificant photographs and documents never seem affected.  Oh well, just another one of those peculiar Lake Don Pedro related co-incidences.  (riiiiiiighhhhhht – as Austin Powers would say – lol) Anyway, the map is again available for comparison of what the CPUC approved as the District's water service area (previously Sierra Highlands Water Company) and what the Place of Use is/was under water license 11395 held by the Merced Irrigation District under which the LDPCSD has pumped water from Lake McClure since formation as a public agency. 
1980
Feb 1980                      MARIPOSA COUNTY LOCAL AGENCY FORMATION COMMISSION (LAFCo) recommends approval of the formation of the LDPCSD on condition  that the LDPCSD create the ZONE OF BENEFIT FOR SEWER SERVICE. (Properties around the golf course)
LICENSE WAS OK JULY 1980-
then in AUGUST 1980 LAFCO SNEAKS IN MULTIPLE ANNEXATIONS
OUTSIDE THE 11395 PLACE OF USE
JULY 24, 1980           THE STATE OF CALIFORNIA DOCUMENTS PROOF

MERCED RIVER WATER

UNDER WATER LICENSE 11395 WAS BEING PUT TO MAXIMUM BENEFICIAL USE AS STATED IN THE 2003 AMENDED WATER LICENSE.
Aug 5 1980                   VOTE TO APPROVE LDPCSD FORMATION Election Results on Aug 12th:  88 property owners started this District!  The Lake Don Pedro Owners Association actually proposed and orchestrated the community services district formation.
         1980                SIERRA HIGHLANDS WATER COMPANY petitions the Public Utilities Commission of the State of California to transfer and assign Sierra's property and assets to the LAKE DON PEDRO COMMUNITY SERVICES DISTRICT.
Aug 19 1980             MARIPOSA COUNTY RESOLUTION 80-137 RECOGNIZES LDPCSD MARIPOSA COUNTY RECOGNIZES LDPCSD
AND  SUBSTANTIALLY EXPANDED THE DISTRICT SERVICE AREA FURTHER INTO LANDS CLEARLY OUTSIDE THE WATER LICENSE PLACE OF USE (WHICH WAS JUST CONFIRMED BY THE STATE) AND FURTHER THAN WHAT THE CPUC WAS GOING TO APPROVE ON JAN 1 1981! 
WHY A REFUSAL TO REPRODUCE A MAP OF THAT 11 PAGE METES and BOUNDS FIELD SURVEY ESTABLISHING THE INITIAL LDPCSD SERVICE AREA ALMOST 40 YEARS AGO?
Aug 26 1980            TUOLUMNE COUNTY RESOLUTION 530-80 RECOGNIZES LDPCSD TUOLUMNE COUNTY RECOGNIZES LDPCSD

Sep 2 1980                   
WES SNYDER, FORMER SIERRA HIGHLAND's GM, TO BE NEW LDPCSD GM (SEP 1980)
Sep 19 1980                  APPLICATION No. 59951 Filed with CALIFORNIA PUC for an Order authorizing Sierra to transfer and assign its property to the LDPCSD.
$&$&$
BELOW IS AN EXCELLENT QUESTION LINK:

(select the blue title below)
TO CONCEAL THE OUTSIDE PLACE OF USE ANNEXED EXPANSION IN BOTH COUNTIES FROM  THE LEGAL CUSTOMERS WHO WERE INTENTIONALLY BEING SADDLED WITH THOSE SUBSTANTIAL ADDITIONAL COSTS FOR MAIN LINE EXTENSIONS OUTSIDE THE SUBDIVISION and LEGAL PLACE OF USE UNDER WATER LICENSE 11395?
During this time Mr. DOSCHER, owner of the LAKE SHORE RANCH properties adjacent to Lake McClure (located in both Mariposa and Tuolumne Counties) was attempting to annex into the District (annexations were actually attempted prior to district formation like the other "annexed?" properties around the Sturtevant Ranch and Piney Creek areas where, incidentally, long time Director Emery Ross was able to establish a commercial cattle ranching operation in the early 1990s based on chlorinated water intended for residential domestic use in the subdivision).
When the LAKE SHORE RANCH PROJECT was SUPPOSEDLY LAFCo APPROVED in 1995 – this proposed 900 acre residential subdivision directly across MERCED FALLS ROAD from the LDPCSD, also required adequate GROUNDWATER SUBSTITUTION FOR DEVELOPMENT WHICH SIMPLY DID NOT EXIST, and was kept a virtual secret from the public (and those who would have objected – including ELECTED DIRECTORS!) until only a FEW MONTHS PRIOR TO PETE KAMPA's unethical return in OCTOBER 2014.   Although a sitting director on the Board at the time, and having studied this  issue in great detail, I was specifically excluded from the Mariposa County LAFCo – LDPCSD meeting which finally acknowledged this "SLUMBERING SUBDIVISION ANNEXATION" after twenty years!
 I now finally  understand why realtor and land developer Orb Hatton was so angry that his two proposed subdivisions around the DON PEDRO RESERVOIR were not likewise brought into the district service area through annexation despite the inability of the LDPCSD to legally supply Merced River water.
Excellent example of the conspiratorial nature of these "SLUMBERING ANNEXATIONS" that were awaiting PETE KAMPA's RETURN twenty years later to obtain the STATE & FEDERAL GRANT MONEY necessary for development of multiple, and extremely expensive, GROUNDWATER WELLS.  All annexations needed that "ALTERNATIVE SOURCE OF WATER" for the
GROUNDWATER SUBSTITUTION LEGALLY REQUIRED TO CIRCUMVENT THE POU RESTRICTIONS

prohibiting

MERCED RIVER WATER

being served

OUTSIDE THE SIERRA HIGHLANDS SUBDIVISION

, which of course later became the Lake Don Pedro property owners subdivision.
"OH WHAT A TANGLED WEB WE WEAVE WHEN FIRST WE PRACTICE TO DECEIVE!"
Again….it is difficult to blame those asking for something they are not entitled but need for their developments.
The focus should always be on those individuals responsible for approving things they clearly understand to be
contrary to STATE WATER LAW.
$&$&$
Oct 2 1980                   CARPENTER PROPERTY NOT INCLUDED IN DISTRICT AT FORMATION
Oct 11 1980                  RES 80-6 LDPCSD REQUEST FOR PUC PUBLIC HEARING on PROPOSED TRANSFER BY SIERRA TO DISTRICT because of DIRECTOR CHANGE on THE Lake Don Pedro Owners Association Board of Directors, the Association may for the first time oppose the transfer of assets.
1981
[New Information on 3/20/2016 RE: JANUARY 21st, 1981 Legitimate CPUC Document Approving permitted LDPCSD service area]
This approval indicates decades of district deceit regarding the permitted service area.
Feb 21 1981               Thirty days after CPUC Approval of SIERRA TRANSFER TO LDPCSD
June 4 1981                 PLEASE "SELECT/CLICK" BELOW BOXES TO ACCESS INFORMATION
DISTRICT COULD NOT LEGALLY PROVIDE SERVICE OUTSIDE ITS AREA
July 2  1981                
BUD RALSTON & BERT RAYNOR ANNEXATION MINUTES
Aug 6  1981                 RALSTON/RAYNOR ANNEXATIONS
Sep  3  1981                
4 REQUESTS for LAFCo PROPERTY ANNEXATIONS TO LDPCSD
1982
Mar     1982                RES 82-2 Approving annexation  for RAYNER/VAILS/CORDELL & ROLSTON  (Res 81-11/12/13/14)
Jun      1982                RES 82-5 Annexation request for CARPENTER/KEYSTONE PROPERTY
1983
Jan    1983                  Resolution 83-1: Annexation request for Elementary School
Feb    1983                  Resolution 83-2: Annexation approval for CARPENTER/KEYSTONE PROPERTY
Sep     1983                 Resolution 85-5   Annexation approval for Elementary School
Nov    1983                 Resolution 83-6   Annexation request for Paul Just property)
1984
Mar     1984               Resolution 84-1  Annexation Request for OAKWOOD RANCH/CHAULKLIN
NO PROPERTY IDENTIFICATION, NO EXHIBIT, VIOLATES WATER LICENSE – BUT PLEASE KEEP SECRET!
"….hereby requested to approve the proposed annexation without notice and hearing by the Commission, and to transmit its approval to and authorize the District's board of Directors to annex the territories to the District without notice and hearing by the District's Board without an election….."
Apr     1984               Resolution 84-3  Annexation Approval for Paul Just Property
Apr    1984                Resolution 84-4  Annexation Request for MARIPOSA MOBIL MANOR   ("ISLAND" OF DISTRICT "PROPOSED SERVICE")      RESOLUTION 88-4
Aug    1984                Resolution 84-8  Annexation Approval for OAKWOOD RANCH/CHAULKLIN
Aug   1984                 Resolution 84-9  Annexation Approval for MARIPOSA MOBIL MANOR   ("ISLAND" OF DISTRICT "PROPOSED SERVICE")
1985
Apr   1985                    MARIPOSA COUNTY PLANNING proposes

ZERO SPHERE OF INFLUENCE

for the LDPCSD.
PREVIOUS OCTOBER 2016 POST REGARDING THIS 1985 MARIPOSA COUNTY PLANNING PROPOSED ZERO SOI. (AKA:  NO FUTURE EXPANSION AT ALL!)   WHEN READING THE MINUTES OF THESE EARLY MEETINGS YOU CAN "FEEL" THE DETERMINATION TO CONTINUE EXPANDING WATER SERVICE OUTSIDE THE LEGAL PLACE OF USE DESPITE THE CLEAR RESTRICTIONS IN THE WATER LICENSE.  FROM DAY ONE THIS DISTRICT WAS FOCUSED ON GREATLY EXPANDING MERCED RIVER WATER SERVICE ANYWHERE THEY WANTED (WITH THE "LEGAL" LDP SUBDIVISION PROPERTY OWNERS PAYING FOR IT) AND CONTINUED TO DO SO UNTIL SLAPPED DOWN AFTER THE MERCED IRRIGATION DISTRICT (LEGAL HOLDER OF WATER LICENSE 11395) WAS SUBJECTED TO A WATER AUDIT BY THE SWRCB AS A RESULT OF INFORMATION THE STATE RECEIVED DURING THE SOUTH SHORE ANNEXATION HEARING PROCESS – WHICH WAS THE ONLY LEGITIMATE ANNEXATION IN OUR HISTORY INCIDENTALLY – WHICH HAS GONE NOWHERE –  2,010 ACRES/772 ACRE FEET OF WATER A YEAR.   CHECK OUT THOSE MEETING MINUTES BY CLICKING THIS LINK:    PROPOSED ZERO SPHERE OF INFLUENCE FOR LDPCSD
MARIPOSA COUNTY PROPOSED "ZERO SPHERE OF INFLUENCE" IN APRIL 1985?
1986
Jul       1986             Annexation Resolution 86-5: – NO PROPERTY IDENTIFICATION or ATTACHED "Exhibit A"  [appears to be La Ventana Project: LAFCo Hearing July 21, 1987]
1987
July 10th, 2017 UPDATE on
Sep    1987               Annexation Resolution 87-6: – NO PROPERTY IDENTIFICATION or ATTACHED "Exhibit A"
RES:
1988
[NOTE: PETE KAMPA's "slumbering LAKE SHORE RANCH annexation from 1995" supposedly confirmed @ LAFCO meeting on June 28th, 2017—–TWENTY-TWO (22) YEARS LATER !!!]
Jun 17 1988                 MID files formal Change Petition for L11395 in regards to a residential subdivision and golf course proposal by La Ventana LLC called South Shore Club.  2,010 acres/272 afa.  (Ultimately project was annexed into District but has not developed as planned.)
Sep   1988                Annexation Resolution 88-4 for LAKE SHORE RANCH – NEVER LOCATED
RES 88-4
NOVEMBER 1988:   SALLY PUNTE ELECTED MARIPOSA COUNTY DISTRICT II SUPERVISOR which includes the Lake Don Pedro area.
NOVEMBER 8, 1988         LAFCo REJECTS DOSCHER (LAKE SHORE RANCH) ANNEXATION for lacking required information.  (Attempting annexation for approximately 18 years – 10 years before district was even formed when working with the previous Sierra Highlands Water Company.)
1989
May  1989                Official District Water Service Area map still missing.  Engineer Raymond Vail who produced it, closed office in Sonora.
1990
Feb 5 1990                 
RAYMOND VAIL ENGINEERING CREATED ORIGINAL DISTRICT SERVICE MAP THAT IS MISSING
Mar 5 1990                Annexation Request Resolution 90-2: LAKE SHORE RANCH      90-2
1991
Feb 27 1991                    "Lake McClure fell to its lowest recorded elevation of 588 feet.  Consequently, storage fell to 68,000 acre-feet, less than 7 percent of capacity.  Without "Miracle March 1991," the situation would have been devastating for the District's growers, who, thanks to the District's storage, received at least two acre-feet per acre through the drought years."   [MID website]
Do the above conditions sound familiar?
Dec 1991                       LINE EXTENSIONS – LARGER LOAN – 900 ac ANNEXATION – BUT NO CREDIT CARD! lol
Ross Ranch Purchase?
1992
Jan 1992                      CONTINUED CONCERN OVER MID COMMUNICATION
DISTRICT reviewing policies regarding including illegal connections.
Oct 2 1992                   Can MID identify and prove sufficient water savings to satisfy water demand at the South Shore Club project?
1992: SALLY PUNTE finishes Mariposa County District II Supervisor term.
JANUARY 1993
IMAGINE THAT….OUR FIRST GROUNDWATER WELL
1993
1993                             RANCHITO DRIVE ground well.
Jan    1993                   ACCESS TO CUSTOMER PROPERTY & ILLEGAL CONNECTIONS POLICY                       District proposing adjusting policies.
Feb   1993                    La Ventana 732 AF approval (Later South Shore Project – 2,010 ac)
THIS WAS THE "CONDITIONALLY APPROVED PROJECT" THAT WAS ABANDONED FOR FAILING TO MEET STATE CONDITIONS.  IT IS ALSO THE PROJECT FROM WHERE PETE KAMPA OBTAINED THE "SHAPE FILE" MAP WHICH HE MAY HAVE PROVIDED TO THE DEPARTMENT OF WATER RESOURCES DURING GRANT FUNDING AND IS STILL USING TO INTENTIONALLY MISREPRESENT THE WL11395 PLACE OF USE BOUNDARY.

May 1993                    EMERY ROSS was denied a water meter in May yet the May  17, 1993 LDPCSD Meeting Minutes are missing.
                                      The June 21 1993 Minutes, however, document the fact that May 17, 1993 Minutes actually did exist.  [Agenda and packet still available]
(Ranchito Well almost complete.)
Jul 19 1993                   ANNEXATION MUST BEGIN – TEMP SERVICE – NO STANDBY FEES PAID
Aug 2, 1993                  EMERY ROSS & HIS RANCHO SANTA TERESA somehow obtains a Sturtevant meter yet the Sep 20, 1993 LDPCSD Meeting Minutes are missing. 
The OCT 18 1993 Minutes , however, document the fact that September 20, 1993 Minutes actually did exist.       [Agenda and packet still available]
Nov  1993                      More annexations
DEC 3 1993                    LARRY PUNTE BECOMES LDPCSD DIRECTOR
Dec  8, 1993                   KAMPA accepts Plant Operator Trainee position
Dec 20 1993                   MINUTES:  OMIDPOU CUSTOMER ALSO WANTS OUT OF DISTRICT
[Need dates for grand jury when requested records could not be found – were these part of the request?  Who would know?  Why unreported to the Sheriff's Office?]
1994
AND WHAT IS HAPPENING IN THE DISTRICT?
Jun   1994                       ANNEXATION REQUEST/ RESOLUTION 94-3 "T CORNERS" [HWY 132 x Bonds Flat Road]
1995
May 15 1995                   ANNEXATION REQUEST, Resolution 95-4: – "T-CORNERS [Previous 95-3]
LINK TO   RESOLUTION 95-4
Jun 19 1995                    ANNEXATION REQUEST, Link to Resolution 95-5: – LAKE SHORE RANCH
[LINK TO Previous Resolution
90-2]
1996
Apr 15  1996                  
MARIPOSA COUNTY LAFCo & THE UNITED STATES DEPARTMENT OF THE INTERIOR REQUEST LDPCSD WATER SERVICE MAPS – WE ARE "TOO BUSY" TO RESPOND lol
May 20, 1996                 KAMPA'S 1996 10 YEAR FACILITY PLAN
Jul 15 1996                     20 years ago KAMPA WELL WATER SUBSTITUTION 
I agree about all costs.  REMEMBER KAMPA's 1996 OPINION?
OCT 2016 POST RE:  
20 YEAR OLD PETE KAMPA STATEMENT TO TUOLUMNE PLANNING WAS A LIE BACK THEN & WOULD STILL BE TODAY
1997
Jan 1997                          Heavy flooding due to rain and melting snow – most reservoirs "fill and spill" – reported state wide flooding.
May 1997                         McClure Point Deep Water Intake Project concept was used as an exhibit in the La Ventana Land and Cattle Company project plan with proposed LDPCSD water service.  (Later renamed South Shore Project, it is the only legally annexed district property with the SWRCB and was approved at 2,010 acres and 772 AFA) [Acre Feet Annually] Note: South Shore could receive Merced River water.  SOUTH SHORE & McCLURE POINT DEEP WATER PROJECT
Oct   6 1997                      KAMPA LETTER TO MARIPOSA COUNTY PLANNING RE SOI ANNEXATIONS
Oct 15 1997                      KAMPA MEMO RE: ANNEXATION INTO DISTRICT ENGINEERING FEES
Oct 17 1997                      TUOLUMNE COUNTY PLANNING RESPONSE TO KAMPAs SOI ANNEXATIONS
Nov 17 1997                     ANNEXATION REQUEST, Resolution 97-10: – ERICKSON RANCH with Exhibit A information [NOTE: Mariposa County wanted to purchase land for sewer project]
Oct 17 1997                      KAMPA MEMO SAID RANCHITO WELL DROPPED DRAMATICALLY AFTER ONE YEAR USE
AFTER APPARENTLY BEING DENIED BOARD PERMISSION TO CONTINUE WITH HIS ANNEXATIONS INTO THE LDPCSD.  HE GOES TO McCLOUD CSD AND BROKERS DEAL WITH NESTLES CORPORATION FOR BOTTLED WATER.
Nov 13 1997                     MID PLACE OF USE MAP STATUS REPORT
1998
IMPORTANT QUESTIONS:  WHY, WHEN and WHO installed the EXPOSED 2 inch water line in the creek bed on the RANCH PROPERTY WHICH SITTING DIRECTOR EMERY ROSS ACQUIRED in the 1990s?  
Where are the OFFICIAL LDPCSD RECORDS REGARDING THIS "PRIVATE WATER LINE"?  
Why has there been no DEDICATED EASEMENT OBTAINED FOR THIS PROPERTY IN THE LAST 18 years since the peculiar discovery?  Notice that later in this same year a cattle "stock watering pond" suddenly (and mysteriously) develops during the hot & dry month of AUGUST and gradually gets larger every year. 
Why is there still NO MONITORING DEVICE ON A DIRECTOR ROSS'S PRIVATE WATER LINE THAT DOES NOT EVEN HAVE A TRADITIONAL LDPCSD UTILITY EASEMENT? 

UNBELIEVABLE!
Jan 27 1998                     ROSS Ranch "Private Water Line" lying exposed in creek bed actually serves two other properties with only one water meter:    EXPOSED ROSS PRIVATE WATER LINE SERVING TWO OTHER   PROPERTIES WITH ONE METER
Notes on related property map indicate two more service connections anticipated. also note Ross residence property incorrectly identified as "Frietas"):
ROSS PRIVATE WATER LINE SET UP FOR A TOTAL OF FOUR OUTSIDE MID POU SERVICE CONNECTIONS
Feb 13 1998                    MEMO: Two properties interconnected with the ROSS RANCH PRIVATE WATER LINE:
TWO OUTSIDE MID POU PROPERTIES SERVED WITH ONE METER ON ROSS RANCH PRIVATE WATER LINE
Feb 17 1998                    Meeting Minutes RE: Ross Ranch Private water line needs LDPCSD DEDICATED UTILITY EASEMENT:   WHY NO LDPCSD DEDICATED UTILITY EASEMENT AFTER 18 YEARS?
Jan, Feb & Mar               "The first and third events were rated "100-year" floods – caused by localized heavy rainfall in a saturated foothill watershed that feeds local creeks."  [MID website]
//////////     MAY 1998      //////////
Here are some interesting letters of support for encouraging a

STATE WATER BOARD PLACE OF USE (POU) Change for Water License 11395

. 
What is really interesting about these letters is the fact they are based on an

ABSOLUTELY FALSE PREMISE OF THERE BEING AN "ERROR" or
"MISTAKE" made by the State of California in the first place!
You see, the map the SO GOSIP (Same Old Group Of Special Interest People) have claimed for decades to be the correct one – with  all their desired properties "semi-included" within the WL POU, was INDEED FILED WITH THE STATE, BUT IT WAS REJECTED and REVISED with the Merced Irrigation District June 15, 1978 POU Map which is still the official map of the State Water Board!
You might recall that the June 20, 1977 map, (which the SO GOSIP claim is the map that should have been accepted by the State – and all those other maps that followed that were created from that 1977 incorrect map), also had "map hatching" (shaded areas with diagonal lines to identify and make areas stand out) indicating the areas were "Reserving water for future use" as noted in the map legend – which was not approved by the State Water Board.   
Here's a comparison of the two different maps, first the incorrect June 20 1977 which Pete Kampa still displays on the LDPCSD website despite the clear determination in the State Water Board Notice of Violation to the LDPCSD on September 28, 2017 that it is not the map on file.  (Though it does correctly represent the WL11395 POU which is the residential subdivision – ONLY the shaded areas for future water service were not accepted.
Was land sold for a greater price with the "understanding" future water service by the district would be available in the future? (Recall also how many of these LAFCO ANNEXATIONS were brought into the LDPCSD BOUNDARY?   Just asked if they, "might want water in the next 10 years from the district if their ground well goes out?"   PRESTO!  They are LAFCO approved yet many still receive no water after all these years, pay no fees to the district, and owners can vote in and determine District Elections without being true STAKEHOLDERS IN THE DISTRICT!  That's called Gerrymandering.
So, perhaps intentional misrepresentation by sellers created this mess within the last 40-50 years (considering some of these later "LAFCO ANNEXATIONS" were planned many years before the district was even formed in 1980)?
Similar to the warnings in current issue (2019) of the DISCOVERER NEWSLETTER warning new lot owners it is not permissible to store recreational vehicles on vacant lots regardless of what the real estate agent told them at time of sale? 
---
starts with just a little bit
insignificant, not much at all
like a camel's nose under the tent
that little bit starts the fall
     all this blatant disregard
     for our country's laws and space
     those who push for open borders
     maybe should leave this place?
sounds like they'd be much happier
where anyone can come and go
and laws won't apply to nation or home
as to whom earned entitlements will flow
Aug 28 1998                    DOES A MYSTERIOUS STOCK POND APPEAR ON THE ROSS  RANCH IN AUGUST OF 1998?
1999
Apr 19, 1999                     p4 Ross meeting comments Ross worked w/ GM KAMPA
Apr 19, 1999                     p6 Ross meeting comments x
Apr 19, 1999                     No action on Ross claim p7  x
2000
Sep 18 2000                    BOB KENT HIRED AS IGM
Dec 2000                         IGM KENT ADMONISHED: NO MORE OUTSIDE POU SERVICE.  Provide monthly MID POU compliance reports.
2001
Aug 2001                     
2001 DISTRICT ANNEXATION PROCEDURE
2002
Jun 13, 2002                   LDPCSD CAN NOT LOCATE STURTEVANT METER RECORDS
Oct 4, 2002                      STURTEVANT RANCH LETTER RE ROSS HAS THEIR METER
2003
Apr 29 2003                     LDPCSD ACKNOWLEDGES METER COMPLAINT CORRECT
LDPCSD RES 2003-5 ACKNOWLEDGES STURTEVANT AGREEMENT
2005
 June 27th, 2005               RESOLUTION 2005-7: Expanding voting boundary to include those not receiving water from CSD.

BOARD EXPANDS VOTING BOUNDARY FOR NON WATER USERS
2006
Jan 4 2006                       WHY DID ROSS RESIGN AS AN LDPCSD DIRECTOR?

POST: 411 Provides better understanding  WHAT IS THIS?
May 3 2006                      EXAMPLE OF ANOTHER OUTSIDE MID POU PROJECT 2006-154
MARIPOSA CO REQUEST FOR PROJECT COMMENTS
2007
June 2007                         NEWS REPORT RE: THE RANCHO SANTA TERESA MONSTER!
2008
Feb 2008                           EVEN A LARGER DISTRICT PROPOSED & EXPANDED SOI
compare to legal service area as defined under Water License 11395:   LEGAL MID "PLACE OF USE" SERVICE AREA UNDER WATER LICENSE 11395
Mar 29 2008                   NEW  "ROSS RESIGNATION EXCUSE" TWO+ YEARS LATER
July 10, 2008            LDPCSD WATER AGREEMENT CONTAINS OBVIOUS "FAKE POU MAP" GREATLY                                       EXPANDING DISTRICT SERVICE AREA BY THOUSANDS OF ACRES

 "FAKE POU MAP"attached to MID WATER AGREEMENT
July 28, 2008                   Attorney General Gerry Brown letter regarding contract between NESTLE CORP and McCloud CSD:      AG BROWN DECISION (60 billion pounds of "nurdles"? –  pssst – see page 9)
2009
Feb 23, 2009            
CSD ENGINEER MEMO REGARDING CURRENT FILTER EMERGENCY
2010

Feb 16 2010                       ANOTHER OUTSIDE MID POU RANCHER QUESTIONS WATER QUALITY WITH ROSS
Dec 2010                            ROSS RANCH "POLITICAL NEWS LETTER"
2011
Mar 21 2011                       ROSS Resigns as president due to Grand Jury Recommendation
July 2011                             LDPCSD 411  INCORRECTLY FILED WITH SWRCB?
Sep 8 2011                          NOLO CONTENDERE PLEA BY RESIGNING LDPCSD DIRECTOR
Sep 11 2011                         WASTED ENOUGH TIME – CAN WE MOVE FORWARD?
2012
Mar 22 2012                     Ridiculous SDRMA  COMMENTS BY Director EMERY ROSS
May 14 2012                     ROSS EMAIL RE LEAKS  
Apr 25 2014                      CA Gov executive order to re-double conservation efforts
Mar 4  2012                     ROSS ATTEMPTS TO GAIN DISTRICT II COUNTY SUPERVISOR POSITION
JUL 8 2012                        RESPONSE TO FOLLOWING MARIPOSA COUNTY GRAND JURY REPORT:  WILL THE MARIPOSA COUNTY GRAND JURY NOW PROHIBIT FREE SPEECH?
2013
JANUARY 23, 2017 update
GOLLY GEE!
SOME NEW SOFTWARE WAS INSTALLED TODAY TO CHECK FOR OTHER SUSPICIOUS LINK FAILURES
(UPGRADED SOME WEBSITE SECURITY ISSUES AS WELL)
FOUND ANOTHER INACCESSIBLE DOCUMENT THAT KAMPA & KOMPANY TWICE ATTEMPTED TO ABOLISH SO THAT THE NEWLY PRODUCED  GROUNDWATER
(THIS "ALTERNATE SOURCE OF WATER" WAS PRODUCED WITH NEW GROUNDWATER WELLS CONSTRUCTED WITH PUBLIC FUNDS FROM STATE AND FEDERAL GRANTS SPECIFICALLY INTENDED TO ASSIST EXISTING CUSTOMERS DURING THE DROUGHT – AND NOT TO CREATE NEW SERVICE)
COULD BE USED IN A GROUNDWATER SUBSTITUTION PROGRAM TO FURNISH WATER TO SPECULATIVE LAND DEVELOPERS OUTSIDE THE PLACE OF USE RESTRICTIONS OF WATER LICENSE 11395
(HELD BY THE MERCED IRRIGATION DISTRICT)
WHILE CONTINUING TO HAVE THE LEGAL USERS OF MERCED RIVER WATER IN THE LAKE DON PEDRO RESIDENTIAL SUBDIVISION PAY FOR THIS SPECIAL BENEFIT WATER SERVICE PROGRAM FOR PRIVATE THIRD PARTY LAND DEVELOPERS! (NOT OTHERWISE ENTITLED TO LDPCSD WATER)
WHAT IS A GROUNDWATER SUBSTITUTION PROGRAM? 
SINCE MERCED RIVER WATER CANNOT LEGALLY BE DIVERTED AND SERVED OUTSIDE THE LDP SUBDIVISION, FOR EVERY UNIT THAT IS DELIVERED OUTSIDE THE LEGAL PLACE OF USE IN THE SUBDIVISION, AN EQUAL OR GREATER UNIT MUST BE PUMPED FROM GROUNDWATER WELLS TO REPLACE WHAT WAS DELIVERED OUTSIDE THE PLACE OF USE.  
IN OTHER WORDS, IF AN ACRE FOOT OF WATER IS DELIVERED OUTSIDE THE SUBDIVISION TO A PROPERTY THAT IS NOT LEGALLY ENTITLED TO THE MERCED RIVER WATER UNDER WATER LICENSE 11395, AN ACRE FOOT OF WATER MUST BE PUMPED FROM THE GROUND TO REPLACE THE ACRE FOOT DELIVERED.
SO –
WHY HAVE LAKE DON PEDRO OWNERS ASSOCIATION PROPERTY OWNERS IN THE SUBDIVISION (FOR WHOM THAT SURFACE WATER TREATMENT PLANT WAS DESIGNED, CONSTRUCTED AND INTENDED TO SERVE) BEEN PAYING FOR THIS SPECIAL BENEFIT WATER SERVICE FOR THOSE NOT ENTITLED TO MERCED RIVER WATER IN THE FIRST PLACE? 
LOGICAL QUESTION:
WHY DON'T THESE OUTSIDE MIDPOU PROPERTY OWNERS JUST CONSTRUCT THEIR OWN GROUNDWATER WELLS FOR THEIR LAND DEVELOPMENT PROJECTS?

(WHICH THE MAJORITY OF "MANDATORY" LDPCSD CUSTOMERS IN THE SUBDIVISION ARE PROHIBITED FROM DOING)
ANSWER:

BECAUSE GROUND WELLS IN THIS AREA ARE EXTREMELY EXPENSIVE AND TRADITIONALLY UNRELIABLE AND THEY CAN MAKE MORE MONEY WITH THEIR DEVELOPMENTS IF THE UNKNOWING PROPERTY OWNERS OF THE SUBDIVISION JUST CONTINUE TO PAY FOR THIS SPECIAL INTEREST/BENEFIT WATER SERVICE! 
AND PLEASE UNDERSTAND, THAT DOESN'T JUST MEAN DELIVERING THE WATER, BUT ALSO THE MAINTENANCE, REPAIR, UPGRADES, TESTING AND EVENTUAL REPLACEMENT COSTS AS WELL – ALL PAID FOR BY THOSE IN THE SUBDIVISION WHO DO NOT REQUIRE THIS SPECIAL BENEFIT GROUNDWATER SUBSTITUTION PROGRAM!
INSTITUTIONALIZED FRAUD AGAINST
THE INNOCENT PROPERTY OWNERS
IN THE SUBDIVISION FOR ALMOST 40 YEARS!
Apr 15 2013              RESOLUTION 2013-4  (Prohibiting further expansion of outside MID POU water service)
PLEASE ALSO NOTICE THAT THE TWO REMAINING LDPCSD DIRECTORS WHO ORCHESTRATED PETE KAMPA'S RETURN TO THE LDPCSD IN 2014
(TO CREATE THIS ALTERNATE SOURCE OF WATER WITH GOVERNMENT GRANT FUNDS)
DID NOT SUPPORT THE RESOLUTION WHICH WAS THE ONLY LOGICAL OPTION AVAILABLE IN AN ATTEMPT TO STOP THIS CONTINUING CORRUPTION AND FRAUD AGAINST INNOCENT LDPOA OWNERS.
BOTH DIRECTOR EMERY ROSS AND CURRENT BOARD PRESIDENT DANNY JOHNSON HAVE CLEARLY ADVOCATED EXPANDING WATER SERVICE EVEN FURTHER OUTSIDE THE LEGAL PLACE OF USE UNDER 11395.
IN FACT, PETE KAMPA WAS INVOLVED WITH SUCH OUTSIDE MIDPOU EXPANSION 20 YEARS AGO WHEN HE WAS FIRST EMPLOYED WITH THE LDPCSD WHEN STARTING HIS INFAMOUS WATER CAREER – APPROXIMATELY 10,000 ACRES WORTH!
STILL EXISTING DOCUMENTATION CLEARLY ILLUSTRATES PETE KAMPA HAS APPARENTLY MISREPRESENTED DISTRICT INFORMATION MANY TIMES TO COUNTIES, THE STATE OF CALIFORNIA AND EVEN THE FEDERAL GOVERNMENT TO PURSUE HIS (AND HIS SUPPORTERS) DREAM OF A  "WATER EMPIRE" IN THESE DROUGHT PRONE SIERRA NEVADA FOOTHILLS.
TODAY IS JANUARY 23, 2017 AND CUSTOMERS ARE STILL WAITING FOR THE ORIGINAL LDPCSD WATER SERVICE BOUNDARY MAP WHICH DISAPPEARED SHORTLY AFTER THIS DISTRICT WAS FORMED IN 1980.  PETE KAMPA EVEN LEFT HIS FIRST TOUR OF EMPLOYMENT HERE WITHOUT SECURING AND PROVIDING THIS MAP AS HE SAID HE WOULD.  HE HAS NOW DEVISED A PLAN WHERE THIS SIMPLE MAP (WHICH WILL CLEARLY SHOW WHICH PROPERTIES ARE OUTSIDE THE ORIGINAL INTENDED SERVICE AREA) IS GOING TO COST LDPCSD CUSTOMERS OVER $10,000!
THIS IS BULLSHIT MY FRIENDS.
COMPLETE
UNADULTERATED
AND
HIGHLY CORRUPT
BULLSHIT!
AND WE CONTINUE TO PAY FOR IT!
2014
Aug 14 2014             GM RALPH FELIX Manager's Report
Sep 22 2014             Privileged and confidential email from GM Ralph Felix

Sep 25 2014              Kampa contract prepared Sep 25 2014 for Oct 3, 2014 BOD Meeting
Sep 30 2014             KAMPA KNOWS ABOUT GM POSITION SUBMITS PROPOSAL
Oct 1 2014                Agenda change w/apology. Kampa contract proposal added.
Oct 3 2014                GM FELIX RE:RECRUITMENT PROCESS/KAMPA HIRED ON SPOT
Oct 9, 2014               ROSS WELL PERMISSION REQUEST 10092014
Oct 9 2014                MISC 411 ON OUR NEW MANAGER PETE KAMPA
Oct 10, 2014             ROSS WELL CLARIFICATION 10102014
Oct 17 2014               KAMPA CONFIDENTIALITY WARNING? WHAT A HYPOCRITE!
Oct 21 2014              FOR THE RECORD COMMENT RE: KAMPA APPOINTMENT 
Nov 7 2014                MORE WELLS GOING DRY
Nov 14 2014              GM KAMPA INTRO LTR TO MID
Dec 3 2014                 Meeting at DP High School/STAGE II Drought Emergency Water Restrictions reduce consumption by 30%
 2015
May 6 2015                  ORDER approving Temporary Urgency Change Order: 
SWRCB TEMP URGENCY CHANGE ORDER – [LDPCSD no alternate source of water statement incorrect on page 7]
Jun 26 2015                Jun 26 2015 WATER RIGHT CURTAILMENT UPDATE
Jul 2015                       LDPCSD applies for $3,763,000 in funds from Department of Water Resources.  Ultimately receives 27% of request or $1,001,547.  [Ground wells were anticipated to be funded through grant money from the USDA]
Aug 20 2015               Merced Sun Star: Letters pour in opposing increased flows on Merced River
Oct 6 2015                  STATE ADVERTISED KAMPA SOLUTIONS FOR LAKE DON PEDRO
Jan 21 2015               01212015 SIERRA SUN TIMES: No mention of service expansion
2016
Feb 11 2016               Special Meeting scheduled for Tuesday, Feb 16, 2016 (after four day weekend)  Vote to remove resolution prohibiting serving further outside MID POU properties with ground well water is scheduled. (Vote deferred to committee for further information.)
Feb 11 2016               OSOS Community Services District hires PETE KAMPA and KAMPA COMMUNITY SOLUTIONS, llc, as their new GM district management starting the following day – Friday, February 12th.
Feb 11, 2016             Mailed Original Merced Irrigation District FOIA 02112016 Certified mail
NOTE: What happened to the end of month water report; MID FAX cover sheet; and MID outside POU metered properties report that were always together? 
There have been five points of reporting for over 16 years to insure no

MERCED RIVER WATER

is going to outside POU properties:
Total number of customers;

total water deliveries by month;

total water deliveries to customers outside the MID POU;

total groundwater production for outside MID POU and finally,

whatever further information as the SWRCB or court or MID shall reasonably require to assure no surface water diversions from Lake McClure go to outside MID POU properties. 
These MID POU reports "sputtered" for a while then stopped being included in the public agenda packet after PETE KAMPA and his "KAMPA COMMUNITY SOLUTIONS, llc" began running our district "remotely".  Unknown at this time whether the reports are still required by MID or if they have been discontinued for some reason.  This is a very curious change in LDPCSD standard operational policy. 
It is now March 25th, 2016 and there is still no information on what happened to my Certified Mail request under the FREEDOM OF INFORMATION ACT to the Merced Irrigation District regarding the status of the MID POU compliance report .

Here is some of the time line for that information request:
Feb 10, 2015             Telephone contact MID
Feb 11, 2016              Telephone contact with MID again and later Certify Mail the request
Feb 12, 2016             Disappeared after West Sacramento Post Office
Feb 12, 2016             KAMPA & CORPORATION assume duties for OSOS CSD.  (Announced March 5th, 2016)
Feb 23, 2016             Walkin MID FOIA 02232016
Mar 3, 2016               MID does not acknowledge 16 years of Outside MID POU property reports and offers a meaningless one page print out of something not even requested.
Mar 7 2016                FINANCE COMMITTEE MEETING to study financial reporting issues.  What reporting will be presented in monthly board packets?   2016-3-7 Finance Committee Packet
Mar 21 2016              LDPCSD Regular Board Meeting with some interesting information in the board packet (including but not limited to) regarding obtaining government grants to fund projects (new ground wells), project budget revision, and the continuing significant unaccounted for water loss.  The board packet of supporting agenda information, which is traditionally furnished to requesting customers a few days before the scheduled meeting, for some reason was not not furnished for the March 21, 2016 meeting.
OCT 20   2016      
CSD ENGINEER MEMO REGARDING CURRENT FILTER EMERGENCY
DECEMBER 16, 2016:  PETE KAMPA's SWRCB SETTLEMENT FOR HORNBROOK CSD VIOLATIONS
IF THEY STILL EXISTS 2014 POST
DISTRICT DECEIT AS TO CPUC APPROVAL