1)  The SWRCB investigation is continuing
or
2) the investigation was concluded with SWRCB acceptance
of a Kampa suggested remedy?

1)  The SWRCB investigation is continuing
or
2) the investigation was concluded with SWRCB acceptance
of a Kampa suggested remedy?
????????????????
And our studio audience says?????……
ding ding ding ding ding ding ding…….
NUMBER TWO! 
  NUMBER TWO!
INVESTIGATION IS
FULL OF POO!
There is much more to PETE KAMPA's recent attempt to fabricate yet another "official document" regarding WL11395 and its legally recorded PLACE OF USE for MERCED RIVER WATER and this "KAMPA MAP SCAM" requires and deserves a legitimate investigation by unbiased investigators untainted with the powerful deflective capabilities of an enormous state lobbyist organization like the CSDA (California Special Districts Association) where Pete Kampa has been an active Board member for almost two decades.
This apparent "behind the scene" closure of an active investigation is very suspicious. 
The investigation had already revealed the existence of even more water right violations than had originally been known and reported in the monthly Outside POU compliance reports to the Merced Irrigation District for 18 years.
Based on spread sheets furnished by the LDPCSD. state investigators also reported a potential Outside POU account addition in 2016 (in violation of existing Resolution 2012-4 that Kampa had attempted, but failed, twice to abolish).
The apparent "behind the scene" closure of the investigation was obviously PRIMARILY BASED ON MISINFORMATION PROVIDED BY THE NOV's RESPONDENT.
The "state approved remedy" for this apparent quickly closed investigation was also suggested by respondent Pete Kampa.
The matter requires an objective investigation.
WHERE DOES THE CALIFORNIA DEPARTMENT OF JUSTICE STAND ON SUCH AN ISSUE?
ADVISES CITIZENS TO RISK THEIR OWN PERSONAL FINANCIAL SECURITY ON PRIVATE LEGAL COUNSEL TO STOP WHAT APPEARS TO CRIMINAL ACTIVITY BY PUBLIC OFFICIALS ACTING OUTSIDE THE SCOPE AND PERFORMANCE OF THEIR PRESCRIBED DUTIES!
$$$



Intentional fabrication and corruption of official government records is a serious crime which quite clearly will continue to generate further problems as the misinformation meanders its way through an intricate communication network between various government and private entities.  This ever expanding "ripple effect" of corrupting influence within other systems will require increased use of public and private resources to identify, contain, control and hopefully correct such intentional sabotage of our public information system.   The substantial resources dedicated to system corrections could most certainly have been utilized for more productive and beneficial purposes.
Personally I believe there is even a far more serious and damaging result of such activity:
COMPROMISED GOVERNMENT INTEGRITY
and
DIMINISHED TRUST BY THE PEOPLE.
?????
Don't want to be a "I told you so", but, I told you so!  lol
This KAMPA DIGITAL MAPPING PROJECT turned out exactly as I warned when it was first proposed to the board.  Only a more sophisticated way for Kampa to distort the facts and obtain what he has been seeking for over twenty years – LDP entitled subdivision water for his LAFCO ANNEXATIONS set up when he was employed here the first time between 1994-1997.
If someone attacked you with a knife – why furnish them a gun?
Bogus FAX NUMBERS, wrong telephone numbers, misspelling of email addresses for complaint contact,  failures to recontact, LOST USPS CERTIFIED MAIL information requests, USPS REGISTERED MAIL NOT BEING SIGNED FOR AS DIRECTED, SWRCB INVESTIGATION RESULTS MISREPORTED on the SWRCB website,  false information posted on the LDPCSD website for years despite public complaints and challenges to the information, CSDA support for Kampa's nefarious activities through such presentations as a TRANSPARENCY IN GOVERNMENT AWARD (valid if awarded for OPACITY IN GOVERNMENT), etc. all this and more has transpired with this KAMPA MAP SCAM.
The following six pages were to be sent to the SWRCB through a FAX NUMBER provided by MR. VASQUEZ, but for some reason the number he provided would not answer. Since I had not used it for a while I even tested my FAX through the HP site and it was sending and receiving properly.
Seems to me what has been failing and/or not working correctly, for one reason or another, are the humans involved who have apparently camouflaged their nefarious activities with innocent technologies that have been used to:
misrepresent the legal WL11395 POU;
produce and further utilize fraudulent government documents,
perpetuate a groundwater substitution program designed to circumvent 11395 POU restrictions
and expand a subsidized water service to private land developers owning LAFCO annexed properties outside the POU
which NOV RESPONDENT PETE KAMPA worked on two decades ago during first LDPCSD employment tour; and
to frustrate citizen complainants so they eventually give up and stop asking legitimate questions about highly suspicious
activities of their local public agency officials.
ANYWAY, here's the information apparently not really wanted by the SWRCB despite assurance the investigation is ongoing, impartial, and additional complaint material would be accepted.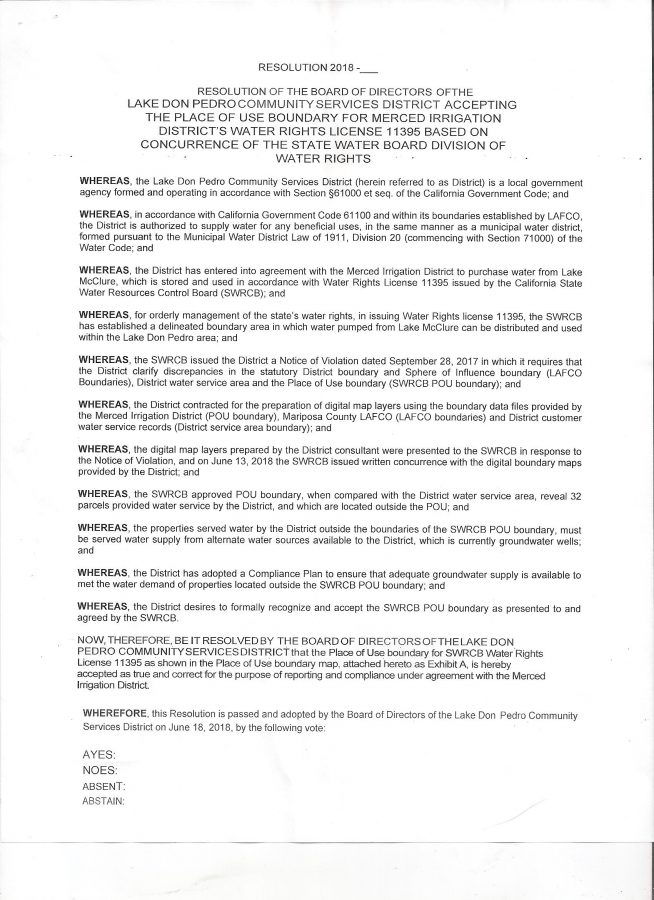 My best to you and yours, Lew