lakedonpedro.org FILE PHOTO:  GENERAL MANAGER/BOARD TREASURER PETE KAMPA
Once again Peter Kampa and his "yes nodding bobble headed board of defectors"-
(They will likely be dubbed such childish titles until at least three of them can collectively GROW A SPINE AND STAND UP TO PETE KAMPA AND HIS ARROGANT SPECIAL INTEREST ACTIVITIES regarding the many LAFCO ANNEXATIONS he facilitated between 1994-1997 then returned in 2014 to supply the GROUNDWATER SUBSTITUTION ("Alternate source water") NECESSARY FOR PROJECT DEVELOPMENTS!  Totally their decision whether to remain the "ZEROS" they have apparently been up to now or to admit they are human, made mistakes supporting Kampa's agenda, and be the "HEROES" who ultimately STOOD UP TO KAMPA's special interest CSD management.)
-are planning to violate District policy (Resolution 2013-4 – no further outside WL 11395 POU water service); the MID Place of Use for Merced River Water per Water License 11395; and the promise that the new GROUNDWATER WELL PRODUCTION DEVELOPED WITH PUBLIC FUNDS AND RESOURCES FOR EMERGENCY WATER DURING DROUGHT CONDITIONS WILL NOT BE USED TO EXPAND SPECIAL BENEFIT GROUNDWATER SUBSTITUTION SERVICES  FOR LAFCO ANNEXED PROPERTIES OUTSIDE THE POU OF THE WATER LICENSE.
Another Pete Kampa/Board highly suspicious interpretation?
LIES, FABRICATED DOCUMENTS
and DECEIT?
All just compliments of
Good old  "Sneaky Pete".
*** SEPTEMBER 19th, 2018 UPDATE: ***
Yup, I was informed this morning (through a "surprise" director email) that the board indeed approved bringing the McDonough four parcels back into the Lake Don Pedro  Community Services District GROUNDWATER SUBSTITUTION PROGRAM.
A PROGRAM created and maintained with local public funds and resources (and state and federal grants) to provide a special benefit water service to private land developers holding LAFCO ANNEXED PROPERTIES which are outside the Place of Use for Merced River water per water license 11395.
Perfect example of why attending meetings and making logical arguments is senseless and unhealthy because
Kampa and his "yes board" are determined to expand this
SUBSIDIZED GROUNDWATER SUBSTITUTION PROGRAM
for those LAFCO ANNEXED PROPERTIES OUR DISTRICT
HAS NO LEGAL DUTY OR MORAL OBLIGATION
TO PROVIDE WATER SERVICE.
(Rather than sensibly saving that EMERGENCY DROUGHT WATER
for the next drought emergency.)
Kampa & Board are clearly unconcerned with the foreseeable detriment to the legal MR WECs of the Lake Don Pedro subdivision.
So,what should MR WECs expect in the future?  Probably just what Kampa has already proposed: continued forced funding of further expensive groundwater wells to supply this "alternate source of water" for even more OUTSIDE SUBDIVISION PLACE OF USE PRIVATE DEVELOPMENTS for owners who refuse to obtain their own groundwater wells due to the expense.
*** END OF UPDATE  ***
Kampa refers to district boundaries – which in this case, are actually the boundaries established when this property was annexed into the district by LAFCO (Local Agency Formation Commission). IT is outside the Place of Use (POU) subdivision under the water licensee.   If this is the same Mc Donough property I believe it is, the owners unsuccessfully attempted to get out of the district for decades and stop paying STANDBY FEES as they had their own private groundwater well as was intended for properties outside the subdivision POU.
RECALL ALSO THAT OUTSIDE WATER LICENSE EXPANSIONISTS changed the term STANDBY to "availability" for these outside POU water services – as they DID NOT HAVE A RIGHT TO WATER SERVICE AS SUBDIVISION PROPERTY OWNERS!
As Kampa's carefully worded resolution acknowledges, the owners were finally successful in "getting out of the LDPCSD" after many years of trying to do so.  Yet true to Kampa, that's not the whole story.
I recall discussions of our district's SPECIAL BENEFIT GROUNDWATER SUBSTITUTION PROGRAM WATER SERVICES FOR LAFCO ANNEXED PROPERTIES not being a continuing "IN AND OUT" SORT OF SITUATION as GROUNDWATER SUBSTITUTION was PRIMARILY A LEGAL REMEDY for the KNOWN WATER SERVICE VIOLATIONS OUTSIDE THE LAKE DON PEDRO SUBDIVISION.   (Formerly Sierra Highlands Water Company subdivision per the CALIFORNIA PUBLIC UTILITIES COMMISSION.
NOTE:  EVERY SINGLE PROPERTY IN THE LAKE DON PEDRO SUBDIVISION IS ENTITLED TO MERCED RIVER WATER SERVICE AT ANY TIME UPON DEMAND!
That is why the STANDBY TERM WAS INSTITUTED – water would be on STANDBY just waiting for the subdivision property owner to request water service.
Not only should that water be protected for the MR WECs (Merced River Water Entitled Customers) of the subdivision who have PAID STANDBY FEES ON THEIR PROPERTY TAXES EVER SINCE THEY PURCHASED THEIR LAKE DON PEDRO PROPERTY, but placing those increased costs for that SPECIAL BENEFIT GROUND WATER SUBSTITUTION on those same entitled property owners is simply unethical and wrong (I believe also illegal) aka PUBLIC FUNDS AND RESOURCES FOR PRIVATE SPECIAL INTEREST LAND DEVELOPMENT BENEFIT where our district has NO LEGAL DUTY or MORAL OBLIGATION to provide such service.
IMPORTANT NOTE REGARDING PROPERTY VALUES IN THE LAKE DON PEDRO RESIDENTIAL SUBDIVISION:
OUR SUBDIVISION HAD – AND IS HAVING, IT'S GREATEST SELLING POINT (quality Merced River water) redistributed through an expensive GROUNDWATER PROGRAM PAID FOR BY THE MERCED RIVER WATER ENTITLED CUSTOMERS THAT IT WAS SUPPOSEDLY CREATED TO SERVE DURING EMERGENCY DROUGHT CONDITIONS WHERE LAKE WATER MAY NOT BE AVAILABLE —LIKE WE ALMOST RECENTLY EXPERIENCED.  (I say ALMOST because I still believe there is a good argument that PETER KAMPA and HIS BOARD completely misrepresented the facts to that situation as well.
Had our emergency intake equipment been properly maintained (rather than intentionally allowed to degrade as an excuse for nonuse) those millions of dollars in grant funds could have been spent where needed – UPGRADING INTAKE WITH THE McCLURE POINT DEEP WATER PROJECT WHEN THE LAKE WAS AT IT'S LOWEST ELEVATION IN HISTORY – THE PERFECT TIME FOR CONSTRUCTION OF A DECADES OLD PLAN TO SOLVE THE LAKE WATER SUPPLY FOR THE FUTURE DURING CYCLICAL DROUGHT!    
Problem was, that new intake system would have only served properties entitled to that Merced River water in the Lake Don Pedro Subdivision – and that is NOT WHAT PETER KAMPA AND HIS BOARD HAVE BEEN FOCUSED ON SINCE 2014!  (You know? When that unethical closed recruitment process orchestrated by Board Members guaranteed Kampa would have access to the over one million in district cash with which to leverage the state and federal grants required to develop the groundwater wells necessary to serve the thousands of acres of LAFCO ANNEXED PROPERTIES KAMPA setup between 1994-1997 when first employed at the LDPCSD?)
MR WECs were screwed again.
The ONE BIG CHANCE TO FINALLY SECURE A SUSTAINABLE MERCED RIVER WATER INTAKE – EVEN DURING THE MOST SEVERE DROUGHT – WAS THROWN AWAY SO PETE KAMPA COULD SPEND A QUARTER OF A MILLION DOLLARS ON DRY AND NON PRODUCING WELLS in search of GROUNDWATER SUBSTITUTED SERVICE  for his LAFCO ANNEXED PROPERTIES.
BACK TO CURRENT SUBJECT: PROVIDING MORE GROUNDWATER SUBSTITUTION FOR A LAFCO ANNEXATION OUTSIDE THE SUBDIVISION:
This owner was clearly advised the decision to leave this SPECIAL BENEFIT GROUNDWATER SUBSTITUTION PROGRAM FOR WATER SERVICE was a one-way trip (aka no "In Through The Out Door" – Led Zeppelin, 1979?   lol) – and there would be no "in and out", "will pay, won't pay" continuing issue –  it was to be a final decision regarding public funded services for private land development concerns in regards to that particular property <period>.
RE-ADMITTANCE BACK INTO THE DISTRICT FOR POSSIBLE AVAILABLE FUTURE WATER? 
GOOD GRIEF!
Over 25 years it apparently took McDonough to finally detach from the LDPCSD and stop paying for potential water service that his properties should never have been offered in the first place.  It was not a quick decision to leave, if the below LDPCSD minutes are referencing the same four parcels that Kampa is now attempting to bring back into his GROUNDWATER SUBSTITUTION PROGRAM.    Were they not also initially (and wrongfully) stated to have been within the legal water license POU according to Kampa's fake map which he presented to the State Water Board as a defense to known water license POU violations?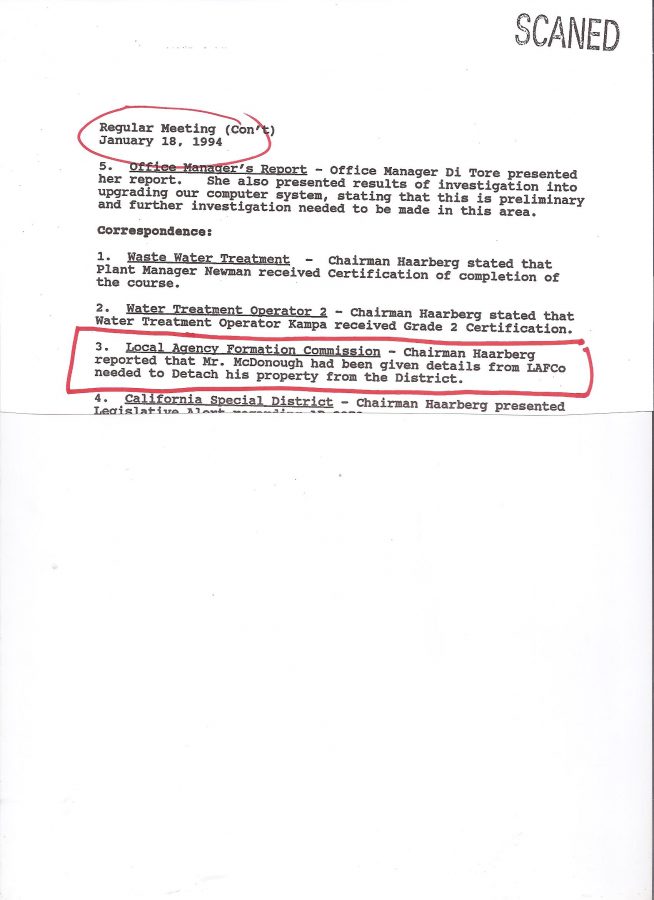 (NOTE: I am reasonably sure there are more references to these McDonough parcels in LDPCSD records but I have wasted enough of my Saturday researching this matter already and should be outside working.  Besides I believe the point has already been made – the decision to leave KAMPA's  "potential GROUNDWATER SPECIAL BENEFIT SERVICE" was not made hastily as suggested in the agenda packet due to an individual's health issues and attempt to save money.  
Also….looks like Liz is bringing a suspiciously filled sock of something to the computer………YIKES!    lol.)
Yet now the situation is portrayed as a cost saving issue for a woman who was in declining health? 
Argumentum ad misericordiam, the sob story, (or the Galileo argument) is a fallacy (of logic) in which someone tries to win support for an argument or idea by exploiting his or her opponent's feelings of pity or guilt. It is a specific kind of appeal to emotion, appeal to the misery of another.
"The jury must acquit these two young defendants as they are now orphans."
(Defense attorney playing down the fact the two intended to murder their parents!)  Argumentum ad misericordiam.
NOTE: I believe Director Emery Ross's neighbor HUGH MARTIN also desperately wanted out of the district and was eventually able to do so – will this be another KAMPA  INTERPRETATION OF A RIGHT TO SUBDIVISION WATER AND PUBLIC RESOURCES TO SERVE PRIVATE LAND DEVELOPMENT INTERESTS?
Will this land eventually be subdivided also – with even more GROUNDWATER SUBSIDIZED SERVICES?
That's how these things work – first the FOOT IN THE DOOR (like a pushy door-to-door aggressive salesman) – obtain one connection, then later subdivide the land and demand more water connections!  IT NEVER STOPS!  WHICH IS EXACTLY WHAT 2013-4 was designed to do which is why KAMPA twice attempted to abolish the resolution as he always intended to furnish the newly developed groundwater production to these LAFCO ANNEXATIONS – IT WAS NEVER ABOUT PROTECTING THE LEGAL CUSTOMERS FROM CYCLICAL DROUGHT! 
WHY SELL MORE OF OUR EMERGENCY DROUGHT GROUNDWATER TO OUTSIDE POU PROPERTY OWNERS WHO WILL SIMPLY SUBDIVIDE AND SELL THOSE SUBDIVIDED PROPERTIES FOR MORE MONEY BECAUSE THEY NOW HAVE DISTRICT WATER AVAILABLE?
REMEMBER WHAT KAMPA AND THE BOARD SAID? 
THE NEW GROUNDWATER WELLS WOULD NEVER BE USED TO EXPAND OUTSIDE POU PROPERTY WATER SERVICE.  What do viewers think about such statements now?
Shake hands with Pete Kampa and you had better count your fingers later!
THE McDONOUGH PROPERTIES (and others) ARE OUTSIDE THE POU AND DO NOT HAVE DISTRICT SERVICE; should not be placed on an "availability list" nor later receive an EXPENSIVE GROUNDWATER SUBSTITUTION PAID FOR BY THE LEGAL CUSTOMERS of the subdivision that the public was told was intended for emergency drought use!
TYPICAL KAMPAGANDA ALL THE WAY AROUND!
(End of my interpretation?  Guess again.)
WHAT DID THE STATE WATER BOARD REPORT IN SEPTEMBER OF 2017?
That 18 month STATE WATER BOARD INVESTIGATION (RESULTING IN A NOTICE OF VIOLATION) revealed there were MORE LAFCO ANNEXED PROPERTIES RECEIVING MERCED RIVER WATER THAN HAD BEEN REPORTED IN THE MANDATORY MONTHLY COMPLIANCE REPORTS TO THE MERCED IRRIGATION DISTRICT SINCE December 2000!
OUR DISTRICT DOES NOT EVEN KNOW WHAT WILL HAPPEN AS A RESULT OF THE ONGOING PAST VIOLATIONS THAT THE STATE WATER BOARD RECENTLY DISCOVERED!
HOW WILL THE STATE RECEIVE (and interpret) PETE KAMPA'S PATHETIC ATTEMPT  TO CONCEAL HIS DISHONESTY WITH A FAKE POU MAP SLIPPED IN AS A DEFENSE?
A FAKE POU MAP ON FILE WITH THE DEPARTMENT OF WATER RESOURCES?
WHAT ABOUT THE APPARENT ATTEMPTED CLOSURE OF THAT INVESTIGATION DUE TO KAMPA SUBMITTING OTHER FALSE INFORMATION?
ALL OF THIS DECEITFUL GARBAGE BASED ON PETE KAMPA "INTERPRETING ANOTHER PERSON'S INTENT"?
Who knows?   There could be even more properties receiving Merced River water that the SWRCB missed because of surreptitious underground water lines traveling out much further from the subdivision than originally anticipated?   Consider our massive treated and raw water losses for decades with that information withheld by Pete Kampa and his board.  I do not believe for a nanosecond all that water is simply "lost".   WHAT A SCAM!
And now, on top of all this, KAMPA AND HIS BOARD plan to increase this OUTSIDE POU WATER SERVICE even more through another costly "KAMPA INTERPRETATION" WITHOUT KNOWING WHAT SORT OF TROUBLE THE LDPCSD IS ALREADY IN DUE TO KAMPA AND HIS BOARD'S  PREVIOUS DECEITFUL ACTIONS?
THIS IS ABSOLUTE BULL SHIT!
And for what purpose you might ask?  
(Hummm, subsidized water in a drought prone rural area with thousands of acres of LAFCO annexed land Kampa set up twenty years ago……..like that "slumbering 900 acre subdivision" kept a secret from the public for 20 years?)
Speaking of KAMPA INTERPRETATION – for years I pleaded with our "DO-NOTHING BOARD" of directors to simply contact the Merced Irrigation District and the State Water Resources Control Board and request an official map of the water license Place of Use for Lake Don Pedro – but they refused to do even that – preferring to trust their GM Pete Kampa.  (Despite his infamous LDPCSD historical record – or because of it?)
Now that the truth is VERY SLOWLY coming out as to the duplicitous activities by Kampa and his "YES BOARD" regarding LAFCO ANNEXED PROPERTIES and ATTEMPTING TO PROVIDE MORE SPECIAL BENEFIT GROUNDWATER SUBSTITUTED WATER SERVICE – what exactly is the
ENTIRE BASIS
for their continuing lies, deceit and falsification of a government map touted to be the "FINAL ANSWER to the OUTSIDE MIDPOU CONTROVERSY ONCE AND ALL FOR THE LDPCSD UNDER WATER LICENSE 11395?
Check out the below statement from Kampa's December 28th, 2017 response to the STATE WATER BOARD REQUEST FOR HIS BOGUS, FABRICATED SPECIAL INTEREST MAPS (overlays):
PETE KAMPA:
"The District can provide the map overlays requested in item (1) above, using the District's interpretation of the intent of the parcels to be included in the POU boundary by the POU drafter."
What was that again?
Using the "district's interpretation" (aka Pete Kampa's)
0f the intent of the POU DRAFTER?
GOOD GRIEF!
KAMPA HAS ABSOLUTELY NO SHAME WHAT-SO-EVER!
PETE KAMPA IGNORES THE FACTUAL POU OF THE WATER LICENSE AND REPLACES IT WITH HIS "interpretation" of what some drafter originally meant to legally convey in an official government document decades ago?
Essentially "interpreting the intent" of another individual (professional engineer) who had already performed their work in order to change a POU map that would be more conducive to Pete Kampa's secret land development agenda he'd been working on for over twenty years?
Kampa also told the public a "fire hydrant was not a fire hydrant first, but rather a purge relief valve first , and "fire hydrant" second.
Kampa interpreted a prior board decision from years ago as as being inadequate for their decision (which held despite challenge before Kampa) in order to greatly increase district liability by reestablishing post retirement medical benefits.
Kampa in the 1990s interpreted LAFCO as having the authority to overrule the STATE WATER BOARD and permit Merced River water service to any LAFCO ANNEXED PROPERTY IN THE DISTRICT!
Kampa interpreted the POU to include whatever he needed it to include!
I have work to do.  There are many examples of PETE KAMPA's ability to "interpret" things differently than originally – and clearly intended and ratified by policy, regulations, and the law.
Pete Kampa does not tell the truth and has been cheating the MR WECs of the Lake Don Pedro subdivision since 1994 with the assistance of those "special interest traitors living within the subdivision" who have also pushed for a subsidized special benefit GROUNDWATER SUBSTITUTED WATER SERVICE for LAFCO ANNEXED PROPERTIES OUTSIDE THE POU OF THE WATER LICENSE – for their "friends"?
OH YEAH….PLEASE NOTICE ONE OF THE REQUESTING PARTIES HERE:  local real estate interests which have greatly assisted in creating this OUTSIDE POU NIGHTMARE – naturally they advocate all subdivision property owners pay for this expensive GROUNDWATER SUBSTITUTION PROGRAM outside the residential subdivision – THEY MAKE MORE MONEY ON THE SALE OF MORE OUTSIDE PLACE OF USE LAFCO LAND THAT HAS DISTRICT WATER SERVICE!
PUBLIC MONEY AND RESOURCES FOR SPECIAL INTEREST PRIVATE PROFIT?
Pure and simple.
Well, I must get back to my own work – digging in this rock geology is far more enjoyable than thinking about deceitful characters like Pete Kampa and his Board Defectors who have clearly demonstrated their lack of concern for the truth or in doing what's right for the MR WECs of the Lake Don Pedro subdivision.
Sooner or later the depths of their duplicity and dishonesty will be revealed for all to see and understand.
My best to you and yours, Lew
PS:  Finally received (this morning) the below response to my submitted agenda item request on July 27, 2018 ….. yup, on the Friday immediately before the September Monday meeting –  LOL
Here's that old agenda item request followed by today's Sep 14 2018 response:
I contacted the LDPCSD office by telephone on Tuesday, July 17, 2018 inquiring about the cost of an audio copy of yesterday's monthly board meeting.  I spoke with Anne who advised you were unsure what the cost would be but would advise me when determined.  Considering our audio recordings are now digital (you have provided meeting copies to me in the past) seems the cost should not be that great.  Regardless, please notify as soon as possible and I will provide payment.   I did not attend yesterday's meeting but am extremely interested in a couple of particular aspects.
Regarding the digital recordings of our public meetings,
I request that the LDPCSD (like so many other public agencies and organizations already do) post our digital recordings of meetings on the LDPCSD website for customers to review and appreciate on their own schedule just like the digital monthly meeting agenda packets.  No doubt there are also many customers who would rather listen to the entire meeting while doing something else at home rather than having to sit and read snippets of carefully prepared management censored material.
The thousands of MR WECs (Merced River Water Entitled Customers) of the Lake Don Pedro subdivision (both residential and out of area owners all over the world) should not be required to physically attend inconvenient meetings held in the middle of nowhere in Lake Don Pedro every third Monday of each month at 1300hrs just to stay adequately informed about a public agency of which they are mandatory customers due to property ownership in the subdivision. No customer should be required to voluntarily perform countless hours of work every month just to present these meetings on a private website (lakedonpedro.org) when the District has the means to provide such service on its own website.  (Such a service would also guarantee those customers could listen to a meeting without "personal opinions being interjected between portions of recorded meetings. WIN-WIN Lol!)
MR WECs are stakeholders with a direct financial interest tied to LDPCSD operations due to the obvious influence water availability has on their subdivision property values in a drought prone region.  They are not speculators looking to turn an easy buck with someone else's water.  They are already greatly invested in their land, and water.  Current management policies and direction, with obvious director support and/or acquiencese, seems to forget that every single CPUC approved lot in the LDP subdivision has the unequivocal right to water service upon demand at anytime in the future.   Will that water be available for those who are entitled and paid for it since their subdivision property ownership?  I believe it is long overdue that our LDPCSD website is upgraded to include current and pertinent factual information as to how this district has been managed and directed since October 2014.  The mandatory MR WECs of the subdivision who must financially support this special district deserve no less.
Please have this request placed on next month's agenda for consideration and advise when I can pay for, and pick up, the audio CD of yesterday's meeting.
Thank you, Lew
????????
Friday, Sept 14, 2018:
Lew,
Pete wanted me to contact you and let you know it is not necessary to place this as an agenda item. It does not need to be a board decision. He is in favor of having the recorded board meetings on our website and wants to move forward in doing so. He appreciates your idea. He is considering all options of how best to have the large files uploaded. He thanks you for bringing this to our attention.
Regards,
Syndie Marchesiello
Office Manager / Board Secretary
PH# (209) 852-2251 Ext. 2
Fax #(209) 852-2268
????????????????
LEW HERE:  OH YES, PETE KAMPA AND HIS BOARD OF DEFECTORS HAVE ALWAYS VOICED SUPPORT FOR GOVERNMENT TRANSPARENCY,
but
NOTICE WHAT THEY HAVE ACTUALLY DONE SINCE 2014?
    Lol
But then again, did you know Pete Kampa has received an award for government transparency?
Ha ha ha ha ha ha ha ha ha ha
(old school lol)
Yup, the CALIFORNIA SPECIAL DISTRICTS ASSOCIATION (CSDA) must be very proud of their twenty year board director Pete Kampa.
Or perhaps it is just a matter of interpretation?
You know, what they believe to be most important, yeah?
later
OH YEAH….almost forgot….how can the Board of Directors consider selecting a new engineering consultant when at least one of them has been provided a FAKE POU MAP created by GM/Treasurer Pete Kampa which is under current investigation and scrutiny by the State Water Resources Control Board (SWRCB)?
Seems similar to the "let's add another outside POU LAFCo Annexed property for expensive GROUNDWATER SUBSTITUTION WATER SERVICE" before hearing from the SWRCB regarding existing and NEW violations of water license 11395 service outside the POU recently discovered.
Before jumping off into potential further difficulties, based on Pete Kampa/Board interpretations of fact, would it not be prudent to wait for the SWRCB to contact the LDPCSD with whatever determination/judgement is made at that time?
HOW CAN ANYTHING BE DECIDED UNTIL THIS DISTRICT IS MADE AWARE OF THE LEGAL PLACE OF USE?
Why does it seem the cart is always placed before the horse in Lake Don Pedro?
Yet another "after thought"

DISTRICT HAD A 24% TREATED WATER LOSS FOR LAST MONTH!
(who would accept this on their own property?  Almost a quarter out of every dollar?)
AND NOW – THE SATURDAY MORNING  ADDITION OF "OH YEAH almost forgot"…….
RE: KAMPA/BOARD PROPOSAL TO ADD ANOTHER OUTSIDE POU PROPERTY FOR EXPENSIVE SUBSIDIZED GROUNDWATER SUBSTITUTION……. (A property whose owner tried for decades to get out of the district and paying an "availability fee" but whose owner now recognizes there is money to be made with a property that has a public funded water source.  What happened to wanting "nothing to do" with the LDPCSD?  Oh.  Money to be made.)
THIS PROPERTY IS OUTSIDE THE MERCED RIVER WATER ENTITLED SUBDIVISION, and therefore has no CC&Rs (Covenants, Codes and Restrictions) attached to the property like every single Lake Don Pedro Owners Association property does.   As any subdivision property owner knows, CC&Rs are far more restrictive on how a property owner may develop their subdivision land when compared to the much less restrictive properties which are only subject to county regulations.
This is an important variable when considering the ultimate future water demand of the subdivision since further subdividing (splitting of lots) in the existing LDP subdivision is generally prohibited along with other activities depending upon which Unit of the subdivision the property is located.   Also of extreme importance is the fact subdivision properties (unless otherwise designated as commercial, natural park, tank site, etc.) are intended for residential purposes only.  RESIDENTIAL PURPOSES ONLY – not developing a catfish farm, commercial cattle ranching business, truck/car wash, water slide, etc. with the treated (chlorinated) water clearly intended for human consumption in a residential subdivision environment.
The district should be dedicated to the proposition of reducing the amount of properties that receive such an expensive publicly subsidized special benefit GROUNDWATER SUBSTITUTION WATER SERVICE, not increasing the number of "favored recipients".  Every added property to that MANDATORY COMPLIANCE LIST SENT TO THE MERCED IRRIGATION DISTRICT EACH MONTH increases costs for that special benefit that are passed on to the innocent victim MR WECs of the LDP subdivision who have always been entitled to water service.
Pete Kampa's proposal to add another outside POU property to the GROUNDWATER SUBSTITUTION PROGRAM for LAFCO ANNEXED PROPERTIES violates both Resolution 2013-4 and the promises by Kampa and his board that the new groundwater wells developed with public funds WOULD NOT BE USED TO INCREASE THAT GROUNDWATER DEMAND – which is exactly what passage of this special interest proposed resolution will do.
And finally, the most important issue –
the cyclical nature of drought.  The severe drought which we all recently experienced will likely return again at some point and what we do now will either better prepare us for the next one, or as Kampa (and his board?) propose now, make water availability even worse.
WHY WOULD ANYONE SELL OUR LIMITED EMERGENCY DROUGHT WATER SUPPLY – DEVELOPED WITH PUBLIC FUNDS AND RESOURCES PRIMARILY FROM THE SUBDIVISION CUSTOMERS – TO PROPERTY OWNERS OUTSIDE THE LEGAL PLACE OF USE FOR MERCED RIVER WATER (aka, the LEGAL RESIDENTIAL SUBDIVISION) WHICH OUR DISTRICT HAS NO LEGAL DUTY OR MORAL OBLIGATION TO PROVIDE WATER SERVICE IN THE FIRST PLACE?
Why provide such expensive groundwater to properties NOT REGULATED by CC&Rs as subdivision properties have been since created in the late 1960s?
Why should private real estate and land development speculators be permitted to use public resources for personal and/or commercial monetary gain?
LDPCSD experience has clearly demonstrated once such special benefit water service has been provided OUTSIDE THE POU, many others will demand the same special service.  Why should some receive such and others not?   This foolishness must stop somewhere.  I now understand why some other local real estate owners and land development companies were so frustrated and angry with being denied groundwater substitution for their proposed developments when other such developments could be secretly approved and effectively concealed from the public for over 20 years until Pete Kampa was returned to provide the required government grant money to develop the necessary "ALTERNATE SOURCE WATER" with expensive groundwater wells.  Sneaky and unethical.
This continuing "KAMPAGANDA SPEAK" in concert with his duplicitous activities begs the big question:
how will this continuing, expensive, and futile cycle of further groundwater substitution and water well development due to expansion of OUTSIDE POU district water service to other LAFCO ANNEXED PROPERTIES;  (in our historically drought prone foothills no less) EVER STOP when the Board of Directors refuse to stand up for the thousands of property owners within the LDP subdivision (as they were elected/appointed to do) and simply say
NO MORE
to Pete Kampa's obvious and determined special interest in providing expensive groundwater service for LAFCO annexations he set up 20 years ago – all the while forcing the MR WECs of the subdivision (mandatory customers of the LDPCSD naturally) to pay for such treachery, deceit, and devaluation of their subdivision property investment?   (The advantageous position of being ENTITLED TO QUALITY WATER SERVICE is lost when surrounding OUTSIDE PLACE OF USE lands without CC&Rs are included.
Why be part of a subdivision with CC&Rs, violation committees, another Board of Directors, annual assessments, etc. when "open FREE land" devoid of such regulations is available with the same water service at the same cost?)
Speaking of "same water", please also realize that the thousands of subdivision property owners who are entitled to the quality MERCED RIVER WATER flowing from Yosemite National Park are now forced to consume water that must be treated for contaminants contained in groundwater such as arsenic!  Consider the additional groundwater treatment, monitoring equipment, state reporting, etc.  which all adds to the cost of water service to the subdivision owner who is entitled to Merced River water by virtue of purchasing their Lake Don Pedro property!
What is the purpose of a Community Services District (CSD) – when not hijacked by a carpet-bagging  exploiter like Pete Kampa who (with his board's' assistance) turned a surface water treatment plant into a groundwater substitution facility for LAFRCO annexed properties?
What is a CSD? CSDs were designed and intended to:
Provide a limited service to a defined geographical area. (This aspect of a CSD was violated when Local Agency Formation Commissions (LAFCOs) ANNEXE OTHER PROPERTIES INTO A DESIGNATED WATER DISTRICT BOUNDARY.  The "limited service"  is also expanded beyond intent when "GROUNDWATER SUBSTITUTION" PREVIOUSLY USED AS A LEGAL REMEDY FOR WATER LICENSE VIOLATIONS IS TRANSFORMED INTO A METHOD TO INTENTIONALLY CIRCUMVENT WATER LICENSE RESTRICTIONS REGARDING SERVICE OUTSIDE THE LICENSE PLACE OF USE);
A limited service to a particular group of people – as in a defined subdivision of residents. (Again, expanding a special benefit groundwater service INCREASES THE POPULATION OF THAT PREVIOUSLY ESTABLISHED KNOWN GROUP and violates the "particular group" because it is always subject to change and increase.)
The service is provided to customers for only the costs necessary in providing that "limited service". (Again, another primary element of properly functioning CSD is destroyed when the intended beneficiaries are paying far more for their water service than is necessary due to the SPECIAL BENEFIT GROUNDWATER SERVICE TO LAFCO ANNEXED PROPERTIES OUTSIDE THE WATER LICENSE PLACE OF USE!)
Calculating the water demand for a defined subdivision with only a certain number of properties that can only develop in a particular way due to CC&Rs and their residential use requirements is a far cry from open large parcels of land annexed into the CSD by LAFCO where CC&Rs do not exist and the ultimate use of the property is unknown (potential further subdivisions, water parks, cattle ranching, etc.) and a realistic future water demand cannot be accurately determined.
The Lake Don Pedro Community Services District is an icon for CSD corruption and a good example as to why such organizations should likely be abolished in California as discussed by the Little Hoover Commission last year.  Seriously, our subdivision is only half developed; absentee property owners are not permitted to vote in district elections despite the fact they have paid a STANDBY FEE on their property taxes since subdivision property purchase,
Whereas,
LAFCO ANNEXED PROPERTY OWNERS (often real estate-land developer speculative interests and not "true intended resident homeowners") who often do not receive District water service, pay nothing to the district in rates or fees can never-the-less vote in, and determine, which directors will represent the thousands of MR WECS of the LDP subdivision (the 99% of CSD customers!).
FOLKS THIS IS A MAJOR CONTINUING SCAM THAT MUST STOP!
Frankly I am still shocked such outrageous activity has been permitted to continue for so many years but a close look at the history and motivations of some of the local players does reveal much.  Being "hoodwinked" by exploiters like Pete Kampa is one thing but systematic betrayal by local residents working with him is another.
Speaking of SCAMS…..
the LDPCSD is still waiting for the STATE WATER RESOURCES CONTROL BOARD decision regarding the September 28th, 2018 NOTICE OF VIOLATION – should such arrogant attempts to further expand the  OUTSIDE POU GROUNDWATER SUBSTITUTION PROGRAM take place until that decision is announced?
What Pete Kampa has done to this CSD (with local  special interest assistance) is a good example of why California citizens pay far more for less with their tax dollars.  Shame, shame, shame.
OK, got to get back to work.  Just figured the above was important enough to repeat, yes the above
IS IMPORTANT ENOUGH TO REPEAT!
HERE ARE SOME THOUGHTS WES BARTON RECENTLY DISTRIBUTED:
(lakedonpedro.org file photo of WES BARTON)
Sorry, for missing my first thought on the return of the CSD:
RED HERRINGS !
In this case pages and pages  and pages of repeated Paperwork !
DID PETE CHANGE ONE PARAGRAPH FROM THE TIME BEFORE ?
Question: Is Wes paranoid, need brain and eye surgery, OR JUST OBSERVANT !
~~~
Good to see the "gang" is back and in splendid form!      Pete may have fine tuned his "capacity" !
I'm sure every thing I will note, this Board has already seen:
1) no President report
2) no GM report
3) no document of no August minutes/ meetings
Approval and consent:
5a) First, I don't question that the attorney may have commented as Pete declares; but do you
Wonder what his full letter said concerning the "yo-yo" activity of CSD concerning this request?
I believe "Martin" (ask Emory) did something similar but not to ask to be forgiven (yet?).  I assume
If the other 1700 non-improved properties ask for their $60 back it is ok and if they finally sell they
Can repay?  (I understand not apple to apples, but close enough to show this Board's disregard for
Anything consistent and honoring the true members, isn't necessary.)       If I'm not mistaken, the 2013
Decision said something about "no forgiveness" if they pulled out of the CSD (regardless how they got-in).
Come-on, Pete, can't say they made you do it.  This is just a way to build your "questionable value" at the
Expense of the community.  Even Danny, 2 x, has agreed if you are out, you are out.  I haven't tried to study
The map to see if this is an example of the first, second, third, fourth, etc original map BUT IT DOESN'T
MATTER, until the current/new seller/buyer sues.      Sales folks engineer firm suppose to try to serve their
Clients;  CSD is to serve their members.  To break the established rules, visit near cronyism, seldom serves
Anyone, especially CSD members.
5b) To near quote our last GM, John's good for he is cheap and I can control.  The next CPA is more expensive
And I don't think I can control.  John is currently under a complaint review by CA Licensing unless something
Has changed since July 2018.  Of all of the CPA alternatives, John certainly is the least staffed and I would
Think challenging his longevity is fair.  At best one year at a time is less risk.
5c) Given all the money CSD has paid out to Kennedy-Jenks and their activity in 5d) to come, too; whether
This engineer firm is the best or sent planning to deposit their bid in the "junk file", I don't know !  What I
Do know is that the GM at Groveland CSD recommends this engineer.  Whooops that's old Pete again.
Share those resources, Pete, build your game plan.  "Jerry" is leaving, maybe you can drive his blue Plymouth.
Finally, got the waste (shrink) reports.  2 mos at 25% +/-.  As Randy says, the intake shrink is still flowing
Because PG & E won't move the pole.  Wonder how much that leak alone would up the intake waste
CSD refuses to accept as real.  Water is cheap!     I wonder if CSD paid the old PG & E $16k complaint from a year
Or so ago, PG & E might bring the pole down?    At least, with continuing running the water down the road,
The turkeys drink, unite.
Wes Barton