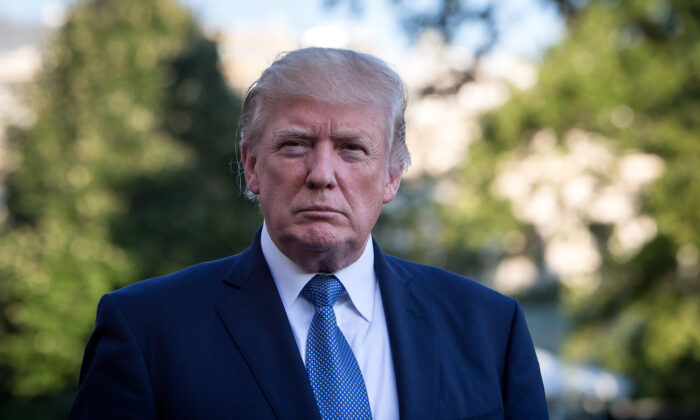 Then-President Donald Trump arrives on the South Lawn of the White House in Washington, on Sept. 24, 2017. (Samira Bouaou/The Epoch Times) Donald Trump
By Jack Phillips March 31, 2021 Updated: March 31, 2021 biggersmallerPrint
Former President Donald Trump, in a new interview, suggested there is "hope" for a 2024 presidential run, although he did not specifically say whether he would again launch another campaign.
In an interview with his daughter-in-law Lara Trump in her podcast, the former president was asked, "Do we have hope that there's a possibility to see Donald Trump run again in 2024?"
"You do have hope, that I can tell you," Trump told her. "You do have hope. We love our country—this country. We all owe a lot to our country but now we have to help our country."
"And we were there. We were so good. What we did with Iran, what we did with China," the former commander-in-chief said. "We were all set to do some great things. And then you see what's going on right now."
During the 18-minute interview, Trump spoke about President Joe Biden's policies, the incident where he fell several times on the stairs to Air Force One, and how "boring" Twitter had become after he was suspended.
"People saw a lot of things happening long-prior to the press conference—and even the trip up the stairs, up and down, three-times—there are a lot of things going on, so we'll see what happens," Trump remarked, saying that during his presidency, he was not afforded the same media coverage and suspected that if the same thing had happened to him, he would have been criticized.
"It was not on the evening news," the 45th president said. "It got almost no coverage," he added, saying it is a "sad situation" because "we don't have freedom of the press anymore." In late 2020, Trump said the media entered a "new phase" in that certain news outlets are now refusing to cover potentially damaging information about a political candidate or politician.
But Trump added: "I hope [Biden's] in good shape. I hope he's OK for the sake of the country."
In the interview, Trump, who turns 75 over the summer, was asked about the prospect of him holding rallies in the future. Throughout his 2016 and 2020 campaign efforts, the former president's rallies were popular among his supporters.
Should Trump run again, it would likely involve large rallies.
"Will we ever be able to attend another Trump rally?" Lara Trump asked him.
"Oh yeah, sure, I think so," Donald Trump said. "In fact, we're thinking about doing one relatively soon just to let everybody know that there's hope in the future." He did not elaborate on a possible date.