While reading a recent agenda packet for the Mariposa County Board of Supervisors I discovered a submitted support letter for trail indemnification by one who had previously advocated there was nothing wrong with asphalt paving and dual use of Pedestrian & Equestrian Trails with motor vehicles (despite the prohibition of such under Mariposa County Ordinance 950).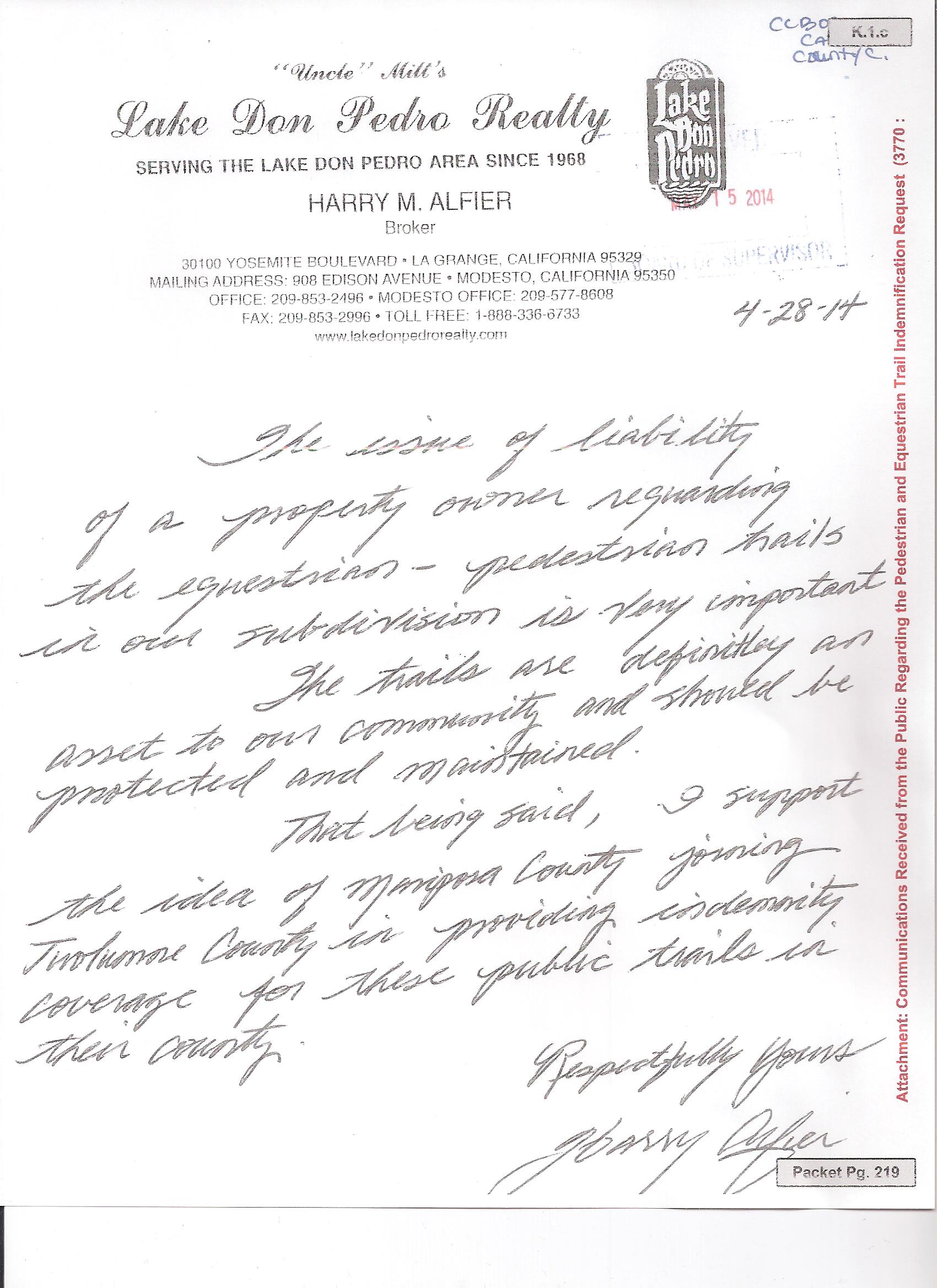 Obviously Mr. Alfier is referring to P&E, not E&P Trails.  Citing this real estate term backwards would not be an earth shattering mistake if committed by an average individual unfamiliar with real estate jargon, however, Mr. Alfier has represented for decades that he is a professional real estate business owner very familiar with the Lake Don Pedro area – in fact his company's motto is: "Serving the Lake Don Pedro area since 1968".   Two observations immediately became apparent to me after reading Mr. Alfier's letter, bare in mind this is only my personal opinion.
1) Mr. Alfier's comments regarding this proposed indemnity program not only evidences his confusion of the subject matter but reeks of hypocrisy considering his past support in the paving of a P&E Trail that is on his property and serves as a motor vehicle "driveway" for his formerly proposed home site;   and,
2) What Harry Alfier actually served in Lake Don Pedro was Harry Alfier.
This observation is especially repugnant when you consider he doesn't live here but routinely refers to the area as "our community" as if he shares in such problems as an average resident rather than a perpetrator and/or benefactor.  Mr. Alfier resides in Modesto California yet now attempts to evade potential liability for an absolute mess he helped facilitate regarding an extremely dangerous road serving his Alamo Drive property.
[Incidentally, that property is now for sale and that dangerous nightmare of a road is advertised as a "large asphalt semi-private driveway".   Perhaps a bit misleading since there is no mention of the fact this "driveway" is located on top of a dedicated P&E Trail open for public use.  Prospective purchasers might not know or care for the fact a public easement is approximately 10 feet from the previously proposed residence which was never constructed.  (A sign on one of  the neighboring properties compromised by this road and indicating the location of the trail somehow mysteriously disappeared – right around the time the property went up for sale – imagine that.)  Here is an old blog about that ad which might more accurately be renamed:  
POTENTIAL LIABILITY FOR SALE
?]
Certainly the possession of such a dangerous nuisance on one's property could produce a "law suit anxiety" for any owner, resident or absentee, because it is only a matter of time before someone is injured, killed or private property damaged or destroyed as a direct result of using that pathetic excuse for a traditional conforming roadway.  [When considering liability issues do not forget property damage – ie, vehicle damage from a wheel abruptly leaving the drop off roadway surface or accidently starting a grass fire with a hot catalytic converter, etc..  Foothill fires are something of which every resident in the area should be concerned – fire does not recognize the limits of particular property lines.]
REAL ESTATE LETTERHEAD CORRESPONDENCE
So as not to be confusing, I will clearly identify
Mr. Alfier's comments in red

, and my personal comments in

BLUE CAPATILIZED LETTERS.
$$$$$$$$$$$$$
April 28th, 2014
The issue of liability of a property owner regarding the equestrian-pedestrian trails in our subdivision is very important.
(LEW'S VIEW) I CAN CERTAINLY UNDERSTAND WHY THIS ISSUE IS ESPECIALLY "VERY IMPORTANT" TO MR. ALFIER SINCE HIS PROPERTY IS ACCESSED BY ONE OF THE MOST DANGEROUS DEVELOPER CONVENIENCE ROADS THAT WERE CONSTRUCTED 12 YEARS AFTER THE 1991 STATE RESPONSIBILITY AREA (SRA) MINIMUM ROADWAY STANDARDS WERE ESTABLISHED. THOSE REGULATIONS WERE SPECIFICALLY CREATED TO PROTECT LIFE AND PROPERTY LOSS IN A DESIGNATED HIGH FIRE SEVERITY ZONE.  MR. ALFIER'S ROAD IS NON COMPLIANT WITH SEVEN (7) OF THOSE PUBLIC SAFETY FIRE SAFE REGULATIONS.
1) NARROW ROADWAY/SRA SECTION 1273.01
2) RADIUS OF ROADWAY TURN/SRA SECTION 1273.04
3) ROADWAY SURFACE/SRA SECTION 1273.02
4) ROADWAY GRADE/SRA SECTION 1273.03
5) ROADWAY TURNOUT/SRA SECTION 1273.06
6) ROADWAY TURNAROUND/SRA 1273.05
7) DEAD-END ROAD/SRA SECTION 1273.09
The trails are definitely an asset to our community and should be protected and maintained.
(LEW'S VIEW) THERE'S THAT "OUR COMMUNITY" MISREPRESENTATION AGAIN, ALTHOUGH I CERTAINLY AGREE THE TRAIL ON ALFIER'S LOT (AND OTHERS) SHOULD HAVE BEEN PROTECTED FROM UNCONTROLLED DEVELOPMENT, THEY WERE NOT.   [THERE IS A BIG DIFFERENCE BETWEEN OBTAINING A PROPER GRADING PERMIT FOR ROADWAY CONSTRUCTION WHICH WOULD HAVE REQUIRED A CALFIRE INSPECTION PRIOR TO ANY WORK VERSUS OBTAINING A SIMPLE  ENCROACHMENT PERMIT FOR A TRADITIONAL DRIVEWAY AND THEN CONSTRUCTING A 1,600 FOOT INFERIOR AND DANGEROUS PAVED ROAD ACCESSING MULTIPLE PROPERTIES.]   MR. ALFIER'S STATED CONCERN REGARDING THE PROTECTION AND MAINTENANCE OF PEDESTRIAN & ESQUESTRIAN TRAILS SEEMS TO HAVE MATERIALZED ONLY AFTER THE LIABILITY ISSUE BECAME MORE APPARENT AND PERHAPS PERSONAL TO MR. ALFIER.
That being said, I support the idea of Mariposa County joining Tuolumne County in providing indemnity coverage for these public trails in their county.
(LEW'S VIEW)  NOT A BIG SURPIRSE AND PERFECTLY UNDERSTANDABLE MR. ALFIER WOULD SUPPORT ANYTHING – OR ANYONE – THAT MIGHT ABSOLVE OR MINIMIZE HIS LIABILITY EXPOSURE FOR INJURY OR DEATH RESULTING FROM HIS DANGEROUS "LARGE ASPHALT SEMI-PRIVATE DRIVEWAY".   PLEASE DO NOT FORGET IT WAS HIS PREVIOUS "SUPPORT" FOR SUCH ROADS THAT ASSISTED IN CREATING THE PROBLEM HE NOW SEEKS TO AVOID WITH SOMEONE ELSE'S MONEY.   [ALSO REMEMBER THIS IS NOT A DRIVEWAY, BUT A ROADWAY SINCE IT WAS SPECIFICALLY DESIGNED AND CONSTRUCTED TO SERVE MULTIPLE RESIDENCES.  CALFIRE IS ON RECORD AS NOT RECOGNIZING IT AS A NECESSARY ACCESS ROAD; NOT HAVING THE OPPORTUNITY TO INSPECT PRIOR TO CONSTRUCTION AS IS THE NORMAL PROCEDURE FOR ROAD CONSTRUCTION; AND WOULD NEVER HAVE APPROVED IT AS A COMPLIANT ROADWAY UNDER SRA FIRE SAFE REGULATIONS.]
Respectfully yours, Harry Alfier
$$$$$$$$$$$$$
I realize the quality and production of the below video is quite poor but hope it will suffice to get the general idea of just how dangerous this road is and why it reasonably represents potential liability to the owners of properties it traverses.
VIDEO LINK: ROAD SERVING MR. ALFIER'S PROPERTY
This is the point:  such a dangerous road COULD NEVER HAVE BEEN CONSTRUCTED IN THE FIRST PLACE IF PERTINENT LAWS, CODES, AND REGULATIONS DESIGNED TO PROTECT PUBLIC SAFETY WERE FOLLOWED. As in the past, I publically challenge ANYONE to drive that roadway and tell me with a straight face it is reasonably safe for the terrain and intended purpose of serving several homes in a designated high fire severity zone.  Looks more like a golf cart path meandering through a grassy hillside.  How comfortable would you sleep at night knowing the types of accidents which could result and the financial loss you might face as the property owner?
INITIALLY THOUGHT INDEMNIFICATION WAS A GOOD IDEA

When I first learned of this indemnity concept (where property owners who have a P&E Trail on their land would be insured by the County of Mariposa against injuries, death, and property damage resulting from trail use) I thought it was a reasonable request. Unfortunately, after reading Mr. Alfier's comments I believe I now understand the true motive involved.  I whole heartedly agree with, and support, County Administrative Officer Rick Benson and County Counsel Steve Dahlem's recommendation that the County NOT pursue this liability insurance business because it simply is not fair.
Here is that July 17th letter to the Mariposa County Board of Supervisors.
Even if such a program were to be developed it should exclude all properties with such major modifications to a trail that obviously creates a greater liability exposure, such as Mr. Alfier's advertised "large asphalt semi-private driveway" which is open to the public.   Personally I believe those who circumvent established regulations designed for public safety and compromise a public trail with the intent to profit from such activity should be required to bear the resulting negative consequences of their actions.   But sadly, most of us are aware of this modus operandi … intentionally violate regulations for convenience and profit then mitigate the negative consequences for compliance which usually entails some kind of detriment to other innocent parties.
Property owners who advocate Mariposa should furnish indemnification like Tuolumne County overlook a very important distinction between the two counties: Tuolumne County did not permit such developer convenience road construction on their side of the subdivision and thus effectively prevented the enhanced danger to public users.  Typical isn't it?  Only a few ruin it for the vast majority who had done nothing wrong.
UNDERLYING RATIONALE
It is not fair for public tax dollars received from everyone in Mariposa County to be used in creating a special benefit for only those in Lake Don Pedro who have a P&E Trail on their property. This seems to be a pretty straight forward and reasonable argument.
ALREADY GOT AWAY WITH IT INITIALLY
When I complained to the Mariposa County Grand Jury about not being able to obtain work order records from the Public Works Department (which used public funds to clean up that disastrous erosion problem on Alamo Drive which affected a public roadway drainage system due to Deerwood's redirecting of hillside natural runoff for his [and Mr. Alfier's] developer convenience road), I was advised no such records were available. How convenient.
FOIA (Freedom Of Information Act) requests are meaningless if evidence is intentionally destroyed by a public agency to conceal wrongful activity benefitting private concerns.  No records?  Case closed.  "Move on – nothing to see here folks", while every taxpayer in Mariposa once again paid for an environmental clean up perpetrated by a private profit driven land development corporation exploiting the natural resources of our foothill community.  Naturally, the first line of defense, that being our owners' association, did absolutely nothing because the voting power of the land development corporation had already packed the board with supporters who betrayed their fiduciary duty to every single property owner now and for perpetuity.  Dirty local politics my friends and Mr. Harry Alfier has been up to his eyeballs in such stuff since day one – in my opinion.
That "multi-million dollar corporation" was unconcerned with potential liability, much less the safety of any person who will ever use that road, when it created those convenience roads during its uncontrolled tunnel vision pursuit of profit.  Why should every innocent taxpayer in the County of Mariposa again  be responsible for this resulting liability exposure?
SAME ARGUMENT, JUST ANOTHER EXAMPLE
So, everyone should not be financially responsible for a special benefit to a select class if everyone does not share in that benefit?   Doesn't this seem similar to the argument I have repeatedly used against having 99% of our legal users (and future legal users) of water in the Lake Don Pedro Community Services District paying for expensive ground wells to serve 36 properties not legally entitled to such?
Does it seem fair that property owners who chose not to live in a Community Interest Development with the all too familiar constraining CC&Rs, annual assessments, board of directors, etc., can never-the-less obtain one of the greatest benefits of purchasing property in a planned community development – that being potable water?
When a recently elected CSD director announced during a board meeting that he had concluded from his experience and research that those 36 consumers OUTSIDE THE LEGAL AREA OF SERVICE UNDER THE WATER LICENSE COULD BE PAYING LESS FOR THEIR WATER than the 99% of legal users in the subdivision, well, I almost fell out of my chair.
Make no mistake, this isn't just about 36 properties outside the legal place of use and future ground wells to supply that current demand – it is only a "foot in the door" for massive expansion plans. There are countless other properties and tens of millions of dollars in profit to be made if otherwise dry, drought prone foothill land could receive water – especially if subsidized by 99% of legal users who are ignorant as to what is really at stake for their future CSD account billing. Ever wonder why property owners outside the legal service area that do not receive water or financially contribute to the district can participate in district elections anyway?  How fair does that seem?
Let me make something perfectly clear – once again. Contrary to what these current and wannabe "special benefit consumers" might spread through the community, I am not, nor have I ever been, against development around Lake Don Pedro. I do not wish to discontinue service to ANYONE either, however, I sincerely believe those who receive this special benefit of water service outside the legal place of use should be required to pay the additional costs of supplying that valuable benefit themselves.
Doesn't that make sense?
Much more on this later, but until then, and as always –
My best to you and yours, Lew