Reading Time:
20
minutes
SO WWW? 2017  (older pages)
????????????????
Tuesday, October 30th, 2018
Here's another good example of the
CAPTIONING
vs
WHAT WAS ACTUALLY SAID PROBLEM
The OAN (One America News) Channel has been running a couple of commercials highlighting portions of some old Malcolm X speeches/statements, yet even this EXCELLENT SOURCE FOR FAST & ACCURATE NEWS uses material with inaccurate captioning.
Does this suggest some sort of "universal captioning process" by particular entities doing most of the television captioning for whatever is presented to the public?  (Is it "captioning software"?)
Who/what is confusing information that should be presented in a clear understandable form?
ANYWAY, while listening to this commercial (while engaged in doing something else) I couldn't understand a particular word so I looked up at the television to view the captioning for clarification (keep it on because it is sometimes correct – lol) only to see the word "forced".   "Strange,I don't recall hearing the word forced in that speech" I said to myself – prompting the impromptu research of what was presented versus actually spoken.
   CAPTIONING:
"When you live in a poor neighborhood you're living in an area where you have forced to when you have four schools you have poor teachers?  When you have poor teachers you get a poor education when you have poor education you can only work on?  The job and you live again in a poor neighborhood.  So it's a vicious cycle."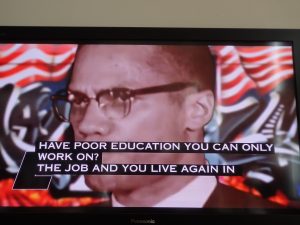 NOW, WHAT WAS ACTUALLY SAID:
"When you live in a poor neighborhood you're living in an area where you have poor schools.  When you have poor schools you have poor teachers.  When you have poor teachers you get  a poor education.  When you have poor education you can only work on a poor paying job and you live, again, in a poor neighborhood so it is a very vicious cycle.  We have a self help program, a do it yourself philosophy and the best place to start is right in the community where we live."
Yes, I realize: the time allotted dictates commercial speed and the available space for text, just seems like another way of presenting the information might preserve the brilliance of this cause and effect observation.  Perhaps more words in larger "blocks" super-imposed, or layered, on the background video image?  Must be some way to protect the integrity of the thought process because, after all, this obviously wasn't a "live performance".   Not only inaccurate but seems disrespectful to the original author.
My best to you and yours, Lew
???????
Just a thought. ???
Saturday, OCTOBER 27th, 2018
Peculiar.  Look at the timing of the LAFCo creation of the Lake Don Pedro CSD, in August of 1980.
What had just happened only a month before regarding water license 11395 that the LDPCSD has used since that creation?
July 24, 1980: STATE OF CALIFORNIA PROOF OF MAXIMUM BENEFICIAL USE OF WATER UNDER THE LICENSE – the Merced River was fully appropriated — then the next month Mariposa County LAFCO apparently secretly expands the water service area outside the Lake Don Pedro residential subdivision  5 months before the California Public Utility Commission (CPUC) approved the transfer of Sierra Highland's facility and assets to the new district effective February 1981!
Everyone knew exactly what the CPUC was prepared to approve as a service area for the new district and all these "PROPOSED OUTSIDE POU WATER SERVICES FOR LAFCO ANNEXATIONS" were clearly not accepted in the transfer.  Such OUTSIDE POU water agreements WERE NOT TO BECOME OBLIGATIONS OF THE NEW DISTRICT!
Yup, the service area was evidently greatly, and quietly, expanded beyond the Place of Use restrictions only weeks after the State of California declared the Merced River fully appropriated and the water per WL11395 was being used to maximum beneficial use.
Is this the SIMPLE EXPLANATION as to why the original water service boundary map created in 1980 (based on the existing 11 pages of metes and bounds survey language) has never been produced in 38 years despite multiple requests from various individuals and government entities?
Because it would evidence the major differences in the APPROVED LDPCSD WATER SERVICE AREA by the State Water Board, the CPUC, and the POU restrictions contained in WL11395 – with what is represented by Mariposa County LAFCO, and "interpreted" by LDPCSD GM Pete Kampa?
Could that original map possibly be "interpreted" as evidence of a sophisticated and calculated deception in creating a special services district to gain access to WL11395 which could then be surreptitiously exploited into developing the vast acreage of rural foothill grazing lands within Tuolumne and Mariposa counties?   What a benefit to those local governments and  their land development speculators who don't want to finance their own groundwater wells.
Yup.  Foothill development with a special benefit groundwater substitution program paid for by the unorganized and oblivious thousands of MERCED RIVER WATER ENTITLED CUSTOMERS OF THE Lake Don Pedro residential subdivision (half absentee owners) who were the perfect perpetual victims since they are mandatory customers of the LDPCSD due to CCRs which run with their subdivision property purchase!  Can't escape, can't drill their own private water wells and must pay whatever the LDPCSD demands regardless of the fact the district has violated every single characteristic of a California Special District.
No defined geographic area of service – or map of such service area; the defined group of entitled customers in the subdivision has been, and continues to be, expanded beyond the POU, and water service charges are much more expensive due to the district simultaneously providing a special benefit groundwater substitution program for LAFCO ANNEXED PROPERTIES outside the POU which our district has no legal duty or moral obligation to provide water service.  This appears to be a "gift" of public funds and resources for private land developer benefit.
Counties get all the development inspection and permitting fees, taxes due, and such without the financial liability of having to provide those necessary and extremely expensive groundwater wells in a drought prone area.
This whole thing stinks and the fact that extremely important public records regarding these LAFCO ANNEXATIONS into the Lake Don Pedro CSD have been denied to the public for inspection is disconcerting and only encourages distrust.
Below is a link to some interesting reading about water right Due Diligence in western states:
?????????????
October 23, 2018
Extroverted hermit
Internet the key
Blogging personal thoughts and such
Inexpensive therapy?
No chitchat two way blah blah blah
No time to read and reply
Only one-way personal weBLOG blasts
Public corruption the reason why.
What to do when heart and mind
Agree something is terribly wrong?
Use what capabilities I have left
Composing "almost music" songs?
All my life too embarrassed
To consider such performance attempts
But like a switch, inhibitions turned off
Thanks to deceitful government events!
The other day I commented
How one party consistently misrepresents
Here's a perfect California example
The Prop 6 title the AG "bent"
PROPOSED LAW SECTION 1. Statement of Findings and Purposes.(a)California's taxes on gasoline and car ownership are among the highest in the nation. (b) These taxes have been raised without the consent of the people. (c) Therefore, the people hereby amend the Constitution to require voter approval of the recent increase in the gas and car tax enacted by Chapter 5 of the Statutes of 2017 and any future increases in the gas and car tax. SEC. 2. Voter Approval for Increases in Gas and Car Tax. SEC. 2.1. Section 3.5 is added to Article XIII A of the California Constitution, to read: seC. 3.5. (a) Notwithstanding any other provision of law, the Legislature shall not impose, increase or extend any tax, as defined in Section 3, on the sale, storage, use, or consumption of motor vehicle gasoline or diesel fuel, or on the privilege of a resident of California to operate on the public highways a vehicle or trailer coach, unless and until that proposed tax is submitted to the electorate and approved by a majority vote. (b) This section does not apply to taxes on motor vehicle gasoline or diesel fuel, or on the privilege of operating a vehicle or trailer coach at the rates that were in effect on January 1, 2017. Any increase in the rate of such taxes imposed after January 1, 2017, shall cease to be imposed unless and until approved by the electorate as required by this section.
The entire proposition was
Less than half a page- distinguished from others
Yet still this clear common sense proposal
Was corrupted with party druthers.
AG restated "repeal the gas tax"
Transformed it into threatened losses
For better roads, bridges, and infrastructure
Failing due to current political bosses.
Just like our CSD GM
When officials consistently misrepresent fact
What they are doing is likely a scam
When integrity is something they lack.
I for one will vote yes on Prop 6
They already stole illegal fire tax funds
A CA surplus without ethical bounds?
Time to change how California runs.
Retired Judge Steven Bailey
Is absolutely correct on this:
Answers are not "party limited"
And "right answers" will not miss!
That other party is "off the rail"
For average USA supporting constituents
Apparently morphing into aggressive mobs
Of disrespectful often paid miscreants.
My party isn't perfect either
Yet it meets most serious concerns
Republic form of democracy, strong national defense,
Honest public service, and together, the rest we can earn.
?????&&&&&!!!!!
California Public Records Act Government Code §6250, et seq.
The purpose of the California Public Records Act (CPRA) is to enable the public to have access to information needed to monitor the functioning of government. The public has a right to inspect public records during the office hours of any government agency and to request and obtain copies of records subject to the payment of fees covering the direct costs of duplication or a statutory fee if applicable. The CPRA contains a number of exemptions for certain classes of documents. These exemptions generally cover documents that are privileged or confidential, or which would infringe on the individual right to privacy. Examples of some common exemptions include documents protected by attorney client
privilege, attorney work products, preliminary draft documents not retained by the agency in the ordinary course of business, and personnel records for which the disclosure would constitute an unwarranted invasion of privacy.
HOWDY!  It is Saturday,  October 20th, 2018 and looks to be a beautiful day up here in the foothills of Lake Don Pedro.
Did a quick check of the MARIPOSA COUNTY WEBSITE FOR LAFCO (Local Agency Formation Commission)  RESOLUTIONS but 13 years of official LAFCO records still have not been posted for public review.   I am still looking for legitimate information regarding the DOSCHER/LAKE SHORE RANCH proposed 900 acre residential subdivision across the street from the LDPCSD administration office which was stated to have been approved for DISTRICT ANNEXATION in 1995 when Kampa was here the first time, yet was actively kept a secret from the public and board members until early in 2014 only a few months before Pete Kampa returned through an unethical "closed recruitment process" for GM.
The announcement that the property had been approved was agreed to between LAFCO and LDPCSD officials in a "semi-closed public meeting" in Mariposa to update the LAFCO manual.    Strange, I had been planning on attending that meeting for some time with one of the civilian commissioners, Ken Kennedy also from Lake Don Pedro – and was even going to catch a ride with him to Mariposa.  Then all of a sudden both the  LDPCSD President and GM repeatedly advised that I could not attend due to the Brown Act and the fact outside  WL11395 Place of Use commercial cattle rancher and sitting LDPCSD Director Emery Ross was going to attend with the CSD president.  (A quorum of directors could be considered a Brown Act violation if all participated in LDPCSD business decisions without proper notice to the public of the meeting.  I contend Ross should not have been there to begin with due to his conflict of interest in being an outside WL11395 POU customer receiving special benefit GROUNDWATER SUBSTITUTION and being on record as to advocating further outside POU water service for other LAFCO annexations.)
What?   Emery Ross runs a commercial cattle ranching business outside the POU of WL11395 with chlorinated water intended for domestic human consumption for the residential subdivision!  Considering the concept of CONFLICT OF INTEREST –  how could Emery Ross be attending a meeting discussing whether certain property had previously (much less legally) been annexed into the district when Ross  had clearly circumvented the repeated denials by the LDPCSD in refusing GROUNDWATER SUBSTITUTION SERVICES for his proposed cattle ranch – yet Ross has been successfully watering his cattle for over 20 years with a water meter belonging to another cattle rancher?  What is more, as a result of that  investigation, it turned out there were several other properties also received GROUNDWATER SUBSTITUTION WATER SERVICE through water meters wrongfully taken from that same rancher.
Why would a clearly SPECIAL INTEREST DIRECTOR be permitted to attend that "SEMI CLOSED MEETING" when another sitting LDPCSD director had no such CONFLICT OF INTEREST and had studied the POU matter for almost four years but denied access? 
That is unless of course, LAFCO and the LDPCSD wanted a unanimous decision by all those involved THAT A PROPOSED 900 acre residential  subdivision had been annexed in 1995 just as the Mariposa County Planning Director and LAFCO Executive Officer  later relayed to me in Mariposa.  Sorry, don't believe this story.
What I have seen of that annexation record is extremely unprofessional and clearly lacking in basic information and also appears to have been  resuscitated many times during on again, off again annexation attempts by the LDPCSD.  Even the proper name of the project is unreadable in the alleged approved annexation resolution.  (The possibility exists that multiple poorly constructed annexation resolutions (with limited information) have been utilized and merged to produce the purported annexation of this special project of Pete Kampa's from over twenty years ago during 1994-1997 when he started his infamous career in the California water industry?)
The fact extremely important LAFCO annexation records are still not on the Mariposa County website is frustrating and I believe cause for concern for anyone who believes in the concept of TRANSPARENCY OF GOVERNMENT PROCESS.  If everything was above board and legal, why isn't that information posted on the website for public  review and research?  Why have repeated requests to the Mariposa County Planning Department/LAFCO not even received a courtesy acknowledgement of receipt or reasonable explanation as to why the requested information is not provided?  (My original request was actually dictated by the Planning Director/LAFCO Executive in front of another Planning Department witness inside the Planning Department Office when I questioned how the request should best be written!)
Pertinent records for years 1996-2004 and 2015-2018 are still absent.  Why if such annexations into the LDPCSD were following LAFCO and other related laws as to how properties should be annexed for special district services.
Gosh, and now we find out that PETE KAMPA was working with CSDA and CALAFCO up in Sacramento during 2016 on the proper formation of LAFCOs?   This state is in severe trouble with "SPECIAL DISTRICT CHARACTERS" like Pete Kampa orchestrating the "proper way" to do things between LAFCOs  and SPECIAL DISTRICTS.  Consider the districts  Kampa has exploited since transplanting his apparent ultra liberal European socialist agenda into the Lake Don Pedro area in 1993.
WHY ARE OVER A DOZEN YEARS OF PUBLIC RECORDS MISSING FROM THE MARIPOSA COUNTY WEBSITE UNDER THE TITLE LAFCO RESOLUTIONS?
(1996-2004 and 2015-2018)
Are these records being studied by interested law enforcement entities or simply "sanitized" to removed all the suspicious indications of substandard work, special interest tampering or corruption?  Did Mariposa County Planning usurp the LAFCO resolution business for those years?  What has happened to LAFCO in Mariposa County?  Seems much of the LAFCO process has been taken over by the Planning Department.
**************************
HELLO!  Below is the link to that thesis I mentioned in the last post – gets a little technical in places but worth the time.  Feel like I have actually been to McCloud now and certainly recognized some of the topics such as dysfunctional development reliant upon natural resource extraction.  More later – I'm out of time again!   later, Lew
___
Thursday, June 28th, 2018
NESTLES BACKLASH OVER BOTTLED WATER
PAST KAMPA CONCERN FOR ANOTHER CSD HE REPRESENTED
Pete Kampa's potential connection with European interests exploiting "the Waters of the United States of America" for business profit certainly wouldn't be earth shattering news considering his reported past employment as General Manager of Delft University, Netherlands (I seriously doubt he was permitted to "remote manage" that position), AND his special interest management activities assisting LAFCO (Local Agency Formation Commission) ANNEXED PROPERTIES he worked with 20 years ago when starting his infamous water career here at the Lake Don Pedro Community Services District (LDPCSD).
You may recall that all these COUNTY LAFCO ANNEXED PROPERTIES (located in both Tuolumne and Mariposa) must be served with an ALTERNATE SOURCE of water to actually develop the various proposed projects (which even includes an adjacent – therefore "competing subdivision" next to the MERCED RIVER WATER ENTITLED LAKE DON PEDRO SUBDIVISION).
"Alternate source water" in the drought prone fractured rock foothills of the Lake Don Pedro area meant developing extremely expensive and often unreliable GROUNDWATER WELLS to produce the "REPLACEMENT WATER" for every unit of MERCED RIVER WATER from Lake McClure that LEAVES THE ENTITLED SUBDIVISION AND GOLF COURSE AREA to THESE LAFCO ANNEXED PROPERTIES.   
WHY?
(you know this one)
BEC
WHY?
(you know this one)
BECAUSE LAFCO ANNEXATIONS ARE OUTSIDE THE PLACE OF USE FOR MERCED RIVER WATER per WATER LICENSE 11395.
Sure, LAFCO could "annex" those other properties into the "LDPCSD DISTRICT BOUNDARY"  but not the boundary that really meant something for projects requiring water –
THE PLACE OF USE BOUNDARY PER THE STATE WATER LICENSE!
Which is under the jurisdiction of……????
YES!
THE CALIFORNIA STATE WATER RESOURCES CONTROL BOARD
aka
STATE WATER BOARD!
Gosh, all this sounds so familiar…..do I repeat myself?  I was asking myself that just yesterday.
Hum, do I repeat myself?
🙂
$$$$$$$$$$$
Monday, June 25th, 2018
I wonder……
HAS MID "STEPPED BACK" FROM LICENSE INTEGRITY RESPONSIBILITIES WITH "SILENT SUPPORT" FOR "KAMPA-GANDA"  ATTEMPTED POU

CHANGE?
ANY SUGGESTION OF ACTIVE PARTICIPATION WITH "KAMPA LDPCSD" IN MISREPRESENTING THE LONG ESTABLISHED WL11395 POU SINCE 2014? BEFORE THAT? 
WHEN WAS MID FIRST MADE AWARE OF

MERCED RIVER WATER

SERVICE OUTSIDE THE POU? 
WHAT ACTIONS WERE TAKEN TO STOP AND PREVENT FUTURE WATER RIGHT VIOLATIONS?
HASN'T MID PROPOSED, ADVOCATED, NEGOTIATED AND APPROVED ANNEXATIONS OUTSIDE THEIR OWN WL11395 IN ORDER TO OBTAIN THE ANNEXED OWNER'S WATER RIGHTS WITH THE UNDERSTANDING THE

LDPCSD WOULD PROVIDE FUTURE WATER SERVICE

OUTSIDE THEIR LICENSE POU FOR PROJECT DEVELOPMENT?
WASN'T THE PINEY CREEK LARGE "SERVICE ISLAND" OF LAFCO ANNEXATIONS BASED ON OBTAINING WATER RIGHTS THAT ULTIMATELY WERE LATER DISCOVERED NOT TO HAVE EXISTED AFTER ANNEXATION INTO THE LDPCSD SERVICE AREA THAT WAS STILL OUTSIDE THE PERMITTED POU FOR

MERCED RIVER WATER?
WERE THE ABOVE MERCED IRRIGATION DISTRICT INTENDED BENEFITS ESSENTIALLY PAID FOR WITH A CORRESPONDING IMPOSED FINANCIAL BURDEN/LIABILITY ON THE LDPCSD AND MR WECsTO PROVIDE AN EXTREMELY EXPENSIVE "ALTERNATE SOURCE GROUNDWATER SUBSTITUTION PROGRAM" IN THE FUTURE TO CIRCUMVENT THE POU RESTRICTIONS IN MID'S LICENSE REGARDING

MERCED RIVER WATER DIVERSION AND USE?
A GRANT FUNDING PLAN TO PROVIDE GROUNDWATER WELLS FOR "ALTERNATE SOURCE WATER PRODUCTION" FOR VARIOUS LAFCO ANNEXED PROPERTIES WOULD HAVE BEEN QUITE HELPFUL, YEAH?
$$$$$$$$$$$$$
???
Now June 2018?  Had our first day of Summer already?
Phew!  Time flies when you get preoccupied with what appears to have all the earmarks of a continuing CRIMINAL CONSPIRACY TO SUBSTITUTE AN INCORRECT WATER LICENSE PLACE OF USE "shapefile" (digital map) obtained from a conditionally approved 1993 project that failed to meet state development conditions and was abandoned FOR THE OFFICIAL, AND LEGITIMATE,  WL11395 POU MAP on file with the SWRCB (State Water Resources Control Board) since June 1978. 
[IMPORTANT NOTE AS TO PRIOR POU ATTEMPTED DECEPTION FROM THE BEGINNING:
The prior 1977 POU MAP, initially submitted to the state for licensing purposes, was apparently found to have included NUMEROUS PROPERTIES RESERVING FUTURE WATER that were not entitled to Merced River water per WL11395

(INCLUDING KAMPAS "SLUMBERING 1995 PROPOSED SUBDIVISION ANNEXATION)

– as was also clearly documented in the January 1981 CALIFORNIA PUBLIC UTILITIES COMMISSION (CPUC) Transfer of Facilities and Assets of  Sierra Highlands Water Company to the August 1980

LAFCO FORMED Lake Don Pedro CSD

.
The 1977 INCORRECT MAP is what PETE KAMPA continues to display on the LDPCSD WEBSITE which is a great example of his arrogant and contemptuous disregard for the truth much less our legal system of justice in this country.
SIDE NOTE:  POSSIBLE NETHERLANDS CONNECTION?  Kampa was doing this "if you're not going to use all this water I know property owners who will" attitude in Lake Don Pedro in 1994.  Prior internet advertisements for his KAMPA COMMUNITY SOLUTIONS, llc  aka KAMPACS, special district management company, reported he had been manager and general manager at Delft University, Netherlands.  While researching property ownership laws I ran across the "squatter movement" in the Netherlands.  Absolutely wild.  I ended up watching a 1+ hour film documentary on the issue entitled "THE STREET IS OURS"  "De stad was van ons" "The city was ours" — fortunately it had English captioning.
Not that it necessarily has anything to do with what Kampa was doing in Lake Don Pedro around the same time period, but what was happening in the Netherlands where Kampa likely was before being hired here in the United States in 1994?
Due to widespread homelessness in the country, especially cities, organized gangs of homeless people were breaking into various vacant homes, apartments, commercial buildings, etc., and claiming the property has their home despite repeated requests (and some violence) by the lawful owners of the property for the trespassers to leave.   I believe the phrase "use it or loose it" was used in this particular "squatting documentary" but I'm not going to spend almost and hour and a half to review it again – especially since I also watched a couple of videos regarding individuals claiming an adverse possession to another person's property in the Netherlands.  I believe this "squatters movement" also occurred in San Francisco a decade or two earlier.   The rationale was, "why should a building sit vacant if a bunch of people could live in it instead of on the street?"   Can you imagine the destruction, vandalism and health concerns if there was no running water, electric, or sewer and  sanitation disposal service?   So what happens?  The judicial system upholds that the "squatters could stay" if they had certain common household furniture and necessities in the occupied buildings so the squatters would cause a disturbance in one part of the region to draw law enforcement while simultaneously breaking into buildings in the city and hauling truck and bus loads of furniture and such for placement in the "squatted building" to prove residency!   Anyway, this adversarial possession stuff continued for a while until someone purchased the property and negotiated a settlement with the squatters, with some of them surprisingly quite angry that such a settlement obviously recognized a new owner of the property they were adversely possessing.
The United States of America is not the Netherlands.
We are a republican form of democracy with a Constitution that protects the rights of each individual citizen.
Our system of government does not operate by a simple direct majority type rule that can arbitrarily violate the rights of the individual because it might be more convenient.
Taking someone's building under some adverse possession rationalized cry of "use it or lose it" might work in the Netherlands but not in this country.  Other than situations of eminent domain proceedings in the name of pubic good it is the property owners right to do what he wants with his own property so long as it conforms to established land use regulations of that jurisdiction. 
A water right violation is a trespass also.  Someone's RIGHT to water per the license has been trespassed upon when the "licensed water" is put to other uses or used in areas outside the PLACE OF USE authorized in the license.
Thank Heavens there are SWRCB employees hired, trained and dedicated to enforcing the laws of this state in protecting the rights of water license holders and other junior users of this precious natural resource.
SURE WOULD LIKE TO MEET ONE.
OK, let's see if I can figure out how to post this as a new page for 2018 (just in case I decide to "drop in" next year!   lol
I KNEW THIS CURRENT BLAH BLAH BLAH SOUNDED FAMILIAR!
Just found a draft WITH the film link!
???
Was Pete Kampa hired by the LDPCSD in 1994 to continue the same type of LAFCO (Local Agency Formation Commission) expansion of district water services previously attempted/accomplished by his predecessor General Manager Wes Snyder who was the first GM inherited from the prior SIERRA HIGHLANDS WATER COMPANY?
(OH YEAH, our 50 year old consulting engineers (who have also been pushing expansion since BEFORE LDPCSD FORMATION in August 1980) announced (June 18th, 2018 agenda packet) they are leaving and we need a new engineering consultant.  Gee, wonder what qualifications KAMPA will accept for his purposes?   His proposed selection process was very detailed and outlined much information that the engineer should have but DID NOT MENTION THE GROUNDWATER SUBSTITUTION PROGRAM one time that I could see strange, don't you think?)
DID PETE KAMPA PLANT THE SEEDS FOR FURTHER annexed property water demand 20 years earlier
UTILIZING PUBLIC FUNDS & RESOURCES,
LETTING DEMAND GROW with special interest organized district dysfunction and
apparent self-serving assistance of co-operative PARENT COUNTY LAFCOs?
Did he return in 2014 through a BOARD ORCHESTRATED UNETHICAL APPOINTMENT
SELECTION PROCESS AS GENERAL MANAGER AND BOARD TREASURER

with the added cover and assistance of his limited liability management company and a
20 year Board Member affiliation with one of the largest special district and water lobbying associations in the state?
Did he not use one million dollars in LDPCSD cash saved after near bankruptcy and resulting passage of a Prop 218  to leverage government grants?
DID KAMPA MISREPRESENT THE ACTUAL PURPOSE for acquiring those grants
that were intended and conditioned upon exclusive use in assistance of existing customers during historic drought?
Was he SPECIFICALLY ADVISED THE GRANTS WERE NOT FOR INCREASING CUSTOMER CONNECTIONS?
Did KAMPA from the start intend to USE THOSE FURTHER SUBSTANTIAL PUBLIC FUNDS to expand a SPECIAL BENEFIT GROUNDWATER SUBSTITUTION PROGRAM BY DEVELOPING MORE GROUNDWATER WELLS required for creation of an ALTERNATE SOURCE OF WATER PRODUCTION NEEDED to replace the MERCED RIVER WATER BEING DIVERTED FROM THE SUBDIVISION POU SO AS TO LEGALLY CIRCUMVENT THE PLACE OF USE RESTRICTIONS OF WL11395?
(While simultaneously destroying the intent and purpose of those license restrictions no less.)
Was PETE KAMPA returned  to provide the subsidized water necessary for development and ultimate INCREASED PROFIT HARVESTS that he planted 20 years earlier?
? ? ? ? ? ? ? ? ? ? ? ? ?
Many facts and questions about PETER KAMPA remain unknown and unanswered, from the original board that hired him without a background check, to the one that supports him today despite his continued not telling the truth and repeated attempts at deception.  This leaves others concerned about his (& Board's) suspicious activities in the difficult position of having to surmise, assume, extrapolate, and JUST GUESS at the actual motives for his continuing disingenuous behavior against the interests of <MR WECs> of the LAKE DON PEDRO SUBDIVISION.
IF that's the way they want it? 
Fine by me. 
Let's guess!
WHY CONCEAL HIS NETHERLANDS BACKGROUND?
One aspect that I find particularly curious is why PETE KAMPA removed his prior NETHERLANDS EMPLOYMENT BACKGROUND from the internet as well as other little tidbits and clues to his past and present activities?  Could that Netherlands connection have anything to do with this nation's recent focus on citizenship status?   Indicative of environmental development regarding education, employment, perspectives on personal property ownership, etc.  Did Kampa attend and graduate from Delft University?  Was Kampa actually employed at Delft University, Netherlands as a manager then General Manager as previously reported?
(Just because the information has been taken down, don't forget the NSA (National Security Administration) probably has it backed up and stored in Utah!   Not sure whether to "lol" on that one or not considering some of my own internet research …ahh, you know,   ….emmm, ahhh,…. well,…ahhhhhh..nervously clearing throat…..ahhh, well……. back to the topic in at hand……..  LOL!    Finally had another use for strike out.)
Was Kampa from the Netherlands prior to being employed by LDPCSD in 1994?
Could there be a family/friend relationship or business connection going back to the Netherlands regarding the "slumbering 1995 proposed subdivision" Kampa has actively concealed from the public?
What about any of the other proposed large developments back then – are they to be brought back to life with this new KAMPA POU MAP SCAM?
I DO NOT KNOW
BUT HAVE BEEN STUDYING AND TRYING TO FIGURE THIS OUT FOR YEARS BECAUSE IT SURE APPEARS AS THOUGH SERIOUS FELONIES HAVE BEEN COMMITTED……but why?

WHAT AM I MISSING?
FAR MORE SERIOUS VIOLATIONS OF LAW HAVE BEEN COMMITTED WITH COMPLEX DAMAGES TO THE PUBLIC INFORMATION SYSTEM, YET EVERY DAY REGULAR CITIZENS CONVICTED OF FAR LESS SERIOUS TRANSGRESSIONS ARE SENT TO JAIL AND PRISON BECAUSE THEY INTENTIONALLY VIOLATED SOME LAW.
Please take some time to view the below documentary which explains why it was considered appropriate for many homeless individuals in the Netherlands to form "gangs" and forcibly break into homes and buildings belonging to others claiming them as their own – even to the point of armed resistance against the police.
AND THE NETHERLANDS COURT CAVED INTO THE SQUATTERS!
How did such a situation play out here in America with its distinction between private vs public property ownership and the specific protections afforded the former?
Why such apparent apathy for the continuing corruption of our local public agency and victimization of MR WECs by special interests clearly being served by a public official who refuses to tell the truth?
I must say the video and information accompanying it was rather surprising but it might possibly shed some light on Kampa's personal philosophy and how he apparently believes his perspective and business goals should overrule STATE WATER BOARD regulations and general law?   Evidently he believed it 20 years ago as he does today.  Maybe other significant players in this nightmare performance of public betrayal are of a similar background, belief and perspective?
Maybe there has been a "KRACKEN GANG" regarding water operations in Lake Don Pedro even before the LDPCSD was formed so they consider it theirs to be used as they wish and the law be damned?
"KRACKEN"
<<<HOUSE SQUATTING IN THE NETHERLANDS>>>
Notice a similarity with KAMPA's apparent ideology that the SUBDIVISION'S ENTITLED WATER belongs to everyone and should be taken through any means possible?
Shades of the in your face BERKLEY FREE SPEECH MOVEMENT IN THE 1960's?
WHICH HAS NOW ALSO APPARENTLY BEEN REPLACED WITH THE FASCIST INTOLERANCE OF THE ANTI-AMERICAN FAR LEFT!
What has happened to this country?
Why do so many people come to the UNITED STATES
claiming to seek OUR CONSTITUTIONAL FREEDOMS
then IMMEDIATELY BEGIN WORKING TO
CHANGE OUR AMERICAN SYSTEM INTO
A FORM OF THE GOVERNMENT THEY LEFT?
I was aware of some facts about the Netherlands such as the many political factions governing their geographically separate entities, the far left and liberal perspectives on drugs and prostitution (not being judgemental), but really not much else except for what I occasionally hear on the national news.
My comments are certainly not intended to be insulting, judgemental, or dismissive of another recognized government, way of life, culture, perspective, etc.  The Netherlands appears to be a very beautiful area with a rich and interesting history, however, it is not my home.   Yes!  diversity is good but how the citizens of the Netherlands want to run their home is their business and if it works for them – fantastic.  I am concerned with my home country, not the Netherlands, and US LAW should be respected and enforced regardless of what PRIVATE THIRD PARTY PROPOSED DEVELOPMENTS PETE KAMPA MIGHT POSSIBLY BELIEVE SHOULD BE ACCOMPLISHED WITH PUBLIC FUNDS AND RESOURCES.
I believe my financial investment in, and hard work for, my Lake Don Pedro Subdivision property has been severely devalued due to the failure of:  the Lake Don Pedro Owners Association (LDPOA); LAFCO and Planning Departments of both Tuolumne County and Mariposa County; and now even the SWRCB to protect the subdivision's entitled water under WL11395 which is the most valuable selling point for any LDPOA property served water by the LDPCSD in these drought prone foothills.  Worse yet, property values will continue to decline so long as the special interests of land developers owning LAFCO annexed parcels (requiring GROUNDWATER SUBSTITUTION FOR PROPOSED DEVELOPMENT) continues to misdirect our CSD operations to the further financial detriment of mandatory customers who are forced to subsidize such development.
PUBLIC OFFICIALS WHO INTENTIONALLY VIOLATE LAW AND USE PUBLIC FUNDS FOR THE PURPOSE OF PRIVATE SPECIAL INTEREST PROFIT SHOULD BE HELD ACCOUNTABLE TO THE SAME DEGREE AS THEIR KNOWLEDGE OF, AND PARTICIPATION IN, SUCH BETRAYAL OF PUBLIC TRUST.

Sounds familiar…..
Oh yeah,
DRAIN THE SWAMP!
I've had it with this foolishness and outrageously corrupt public agency management.
LAKE DON PEDRO CSD is only a microcosm of the same type of garbage in Washington D.C. and Sacramento, heck, probably every where to one degree or another.  Frankly I'm glad OUR PRESIDENT voices his preferences for candidates running for office – saves me the time of reading all the other "sounds too good to be true junk" which also provides more time to focus on draining our own local swamp.
President Trump is taking common sense, long overdue, hard stands on difficult issues that have detrimentally affected THIS NATION AND  ALL HER CITIZENS for a very long time – and if he prefers to work with a particular individual – that is where my vote will go if I have the option!  More on this later-
and as George Costanza on Seinfeld would say,
"I'M OUT BABY!  
I AM OUT!"
lol
My best to you and yours,  Lew