That is what LDPCSD GM/TREASURER PETE KAMPA and HIS BOARD OF DIRECTORS
would have you believe if another one of KAMPA's infamous "sandbagging handout maneuvers"
at the Monday Board meeting passed!
(I'm so exhausted at first glace the above looked like
 "at the Monkey Bored meeting"
better quit soon.   lol)
Yup, a routine ploy by Pete Kampa to thwart any potential blow back questioning from the public that might possibly jeopardize or slow down whatever sneaky thing he is trying to quietly ratify at the time through his non-questioning bobble headed yes nodding Board of Directors.
This time it appears to be a KAMPA ORCHESTRATED (with knowing assistance?) QUICK & CONVENIENT END TO A STATE WATER BOARD INVESTIGATION already plagued with extreme internal difficulties in even getting it started but when violations were detected and reported in a September 28, 2017, STATE WATER BOARD NOTICE OF VIOLATION (NOV) , to LDPCSD GM/TREASURER PETE KAMPA, other highly suspicious errors regarding reporting the truth to the public occurred.
Once again,  (yes I repeat myself much but a couple of more meetings like yesterday's and you may not have to ever hear it again!  Effective solution for both of us yeah?  lol) how could water right violation locations occurring in Tuolumne County and Mariposa County – detected through an excellent in depth 18 month investigation which finally set the record straight on numerous issues after decades of repeated false information to the MR WECs of the Lake Don Pedro subdivision by local real estate, speculative land developers and even some involved county departments and officials  – suddenly take a turn BACK TO THE DARK SIDE and incorrectly report to the public IN SOME SORT OF DETERMINATION on their own STATE WATER BOARD WEBSITE the WRONG VIOLATION LOCATIONS as Stanislaus County and Sutter County? (Sounds like that old Mariposa County Grand Jury foreman who intentionally misrepresented two images on this website by omitting embedded written explanations in his concocted portrayal to completely distort the obvious meaning when considered as the one image that it was.  These people are EVERYWHERE!   Maybe Emery is right, there are more evil people than good but I still don't want to believe that.  Hang on –  have to dial a telephone number.)

(Was that NOV just routine SWRCB business?   Was there an initial serious investigation and attempt to reveal the truth that was interrupted with personnel changes for one reason or another?  Remember all the SWRCB job changes KAMPA discussed during several meetings and how difficult it was for him to eventually reach the investigators in charge because the SWRCB was moving personnel all over the place?   He reported calling time and time again to explain his KAMPAGANDIZED PERSPECTIVE OF THE TRUTH TO INVESTIGATORS.  What?  I thought Kampa was just supposed to provide the requested NOV response as required for SWRCB evaluation and further action, not participate in an ongoing one sided portrayal of the facts essentially having multiple "bites at the apple" to defend his actions and get his story straight, all the while continuing to misrepresent facts.)

Anyway, same situation as with my post that riled the SWRCB EMPLOYEES WHEN GUESSING ABOUT WHAT WAS REALLY GOING ON – this is what happens when the truth is intentionally withheld.  Reminds me, not to be disrespectful, because I seriously, honestly, do not know but wonder…. does the SWRCB have "safe rooms" or "protected environments" for sensitive employees who are miffed that a citizen questions the apparent, and suspicious, closure of an investigation riddled with incorrect information while investigators maintain an absolute refusal to accept further complaint information regarding continued blatant misrepresentation of the facts by the same perpetrator?

Anyway, the employee name is not important but I find myself in the same situation as this weekend of wanting to express some thoughts about all this that will no doubt again offend or disturb some folks.  I don't want to upset people, Good Heavens it's not healthy.  I understand.  I hear much disturbing information at LDPCSD board meetings every month and it is indeed frustrating to watch if you have some semblance of a conscience for wanting to do what is right.    My Mom says – forget it, you can't fight city hall, why ruin your life over them, you can afford what ever increases they impose, no one else cares, why should you,…etc.  Sad to say, perhaps she is correct.   I know Liz hates my "time of the month". 
(OH CRAP….IT WAS INNOCENT I SWEAR!!!  I DIDN'T MEAN ANYTHING BY IT SO HELP ME!   I JUST MEANT OUR MEETINGS OCCUR EVERY THIRD MONDAY SO THE TIME OF THE MONTH IS KNOWN AND BEEN REPEATED FOR YEARS AND MY DOG RECOGNIZES I GET UPSET AT THE COMPUTER AND DON'T PLAY WITH HER……NOTHING TO DO WITH A TEMPORARY BAD MOOD BEING ASSOCIATED WITH A WOMAN'S MONTHLY …… HANG ON….NEED TO DIAL A NUMBER)
So here I am again wanting to believe the best in people despite reasonable evidence that reliance on someone's word or blindly trusting anyone is always a risky proposition.  Reminds me of another very interesting observation we'll get to later if things continue TOWARDS THE DARK SIDE…….(errie music in background)

ANYWAY, I received my digital agenda/packet that was sent late Friday afternoon on Saturday morning which once again resulted in a screeching halt to more preferable activities in these beautiful foothills – that have unfortunately been cursed with a COMMUNITY SERVICES DISTRICT subject to many years of uncontrolled special interest corruption.
LDPCSD often sends the digital AGENDA & PACKET which contains controversial material to subscribers late Friday afternoon which guarantees insufficient time for customers to read the material and question any errors or outright FALSE INFORMATION during normal business hours with the meeting taking place on Monday at 1300hrs.
This partially explains why postings on this site just before a  scheduled monthly LDPCSD meeting often reflect an angrier and more aggressive writing style but that is only because I am angry and aggressively clicking away at the keyboard with an indignant sense of betrayal due to a hi-jacked local public agency that is selling, perhaps even giving away through known theft, the MR WECs most valuable asset and selling point of their LAKE DON PEDRO OWNERS ASSOCIATION PROPERTY – quality MERCED RIVER WATER from Lake McClure.
I was recently advised that my last posting was not well received by some STATE WATER BOARD EMPLOYEES and considered inappropriate and unfair in some respect which has indeed caused me to really think hard about what I post because believe me, you folks only get a fraction of what I write about this continuing garbage.   Much more on that later since I have pages of material I worked on until very early this morning and have repeatedly tried to send to a FAX NUMBER provided by a STATE WATER BOARD employee who assured me material I believed relevant to the investigation would be accepted (I was previously told not to send any information as the investigation was ongoing by this same individual.)  I confirmed the FAX number more than once with this employee advising I would be sending material very soon.  He made assurances of impartiality in the investigation which was a bit comforting as I was (and am)  becoming more doubtful about the validity of the investigation after seeing Kampa's closure of the matter in his resolution.
Anyway, back to the agenda packet and PETE KAMPA's JUNE 18th, 2018 SURPRISE MEETING HANDOUTS ANNOUNCING A NEW WL11395 PLACE OF USE TO BE APPROVED BY THE BOARD OF DIRECTORS.   (Isn't this exciting?)
Need to make a FAX TRANSMISSION call….
As mentioned in the earlier post before the meeting (about the SWRCB employee who apparently closed the case) there was NO MAP IN THE DIGITAL AGENDA PACKET or RESOLUTION.  THEY WERE NOT IN THE NOTICED AND CHRONOLOGICALLY NUMBERED PACKET PRESENTED AT THE MEETING, but on the boardroom table Monday there THEY WERE resting comfortably.   Kampa pulled that same gag with his second failed attempt at abolishing RESOLUTION 2012-4 in 2016 which PROHIBITED THE FURNISHING OF MORE SUBSIDIZED GROUNDWATER SUBSTITUTED SERVICE FOR ALL THE LAFCO ANNEXED PROPERTIES OUTSIDE THE WL11395 POU WHO ARE PROHIBITED MERCED RIVER WATER.
Yup, Pete did the same thing….the agenda packet page that should have contained the resolution was blank.  Empty.  Void of information.  Just like Kampa regarding concern for victims left in the wake of his march towards a Kampa&Kompany foothill water empire financed for perpetuity by ……..?
Come on…..you know this one……..
Right!
The MR WECs of the Lake Don Pedro Subdivision!
Using our public funds since the beginning to create, maintain and expand a special interest GROUNDWATER SUBSTITUTION benefit for private land developers.
First the PETE KAMPA WL11395 POU MAP: 
THE PRODUCT OF THE BOARD APPROVED $35,000 MAPPING PROJECT
AND FINAL ANSWER TO THE POU CONTROVERSY: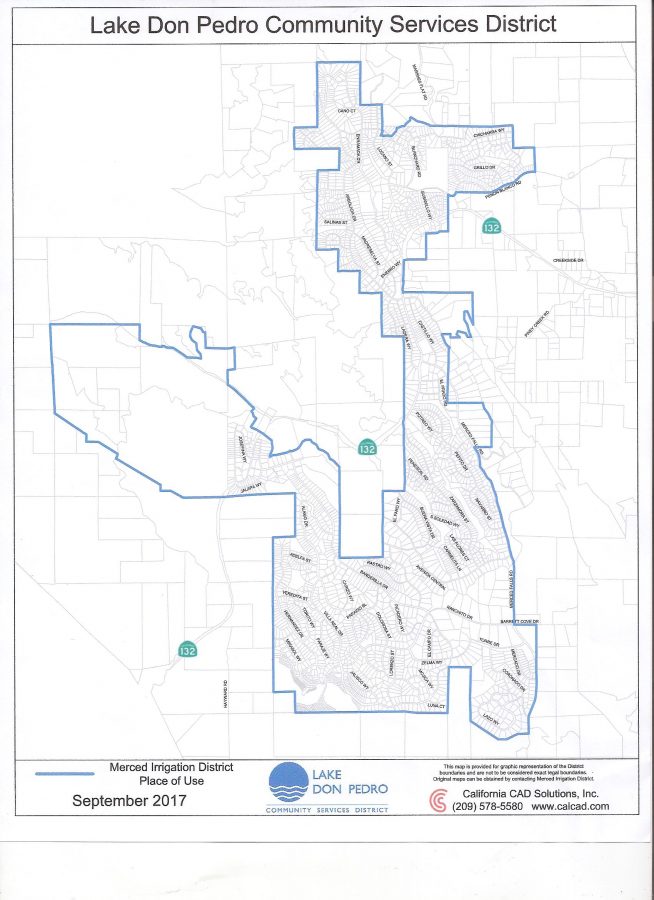 AMAZING!  NOT ONE WORD ABOUT WATER LICENSE 11395 on this map –
MUCH LESS DEPICTING THE ACTUAL POU BOUNDARY!
$35,000 BOARD APPROVED MAPPING PROJECT PRODUCT!
might as well have been drawn on a bar napkin
Now the KAMPA WL11395 BOUNDARY MAP RESOLUTION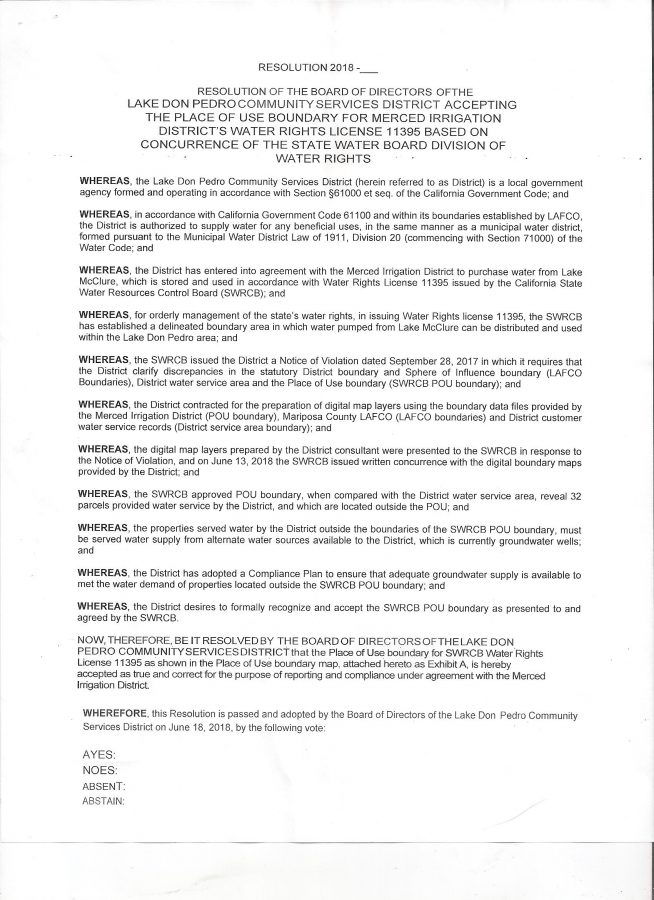 PLEASE CAREFULLY READ AND UNDERSTAND THE FOLLOWING:
NOTICE THE AGENDA ITEM 5.b. TITLE DESCRIPTION which is part of the BROWN ACT PROPERLY NOTICED AGENDA and PACKET  states "Concurrence of the State Water Board Division of Water Rights", which is factually correct since a  recently hired "Engineering Geologist with the Sacramento Valley Enforcement Unit, Division of Water Rights" was assigned a water right's complaint and personally agreed with the information PETE KAMPA provided as to HOW, WHEN and WHERE THE WL11395 POU BOUNDARY HAD BEEN CHANGED 25 YEARS EARLIER.  ok?
NOW HERE'S THE TYPICAL KAMPAGANDA "BAIT AND SWITCH" SCAM:
The FORMAL RESOLUTION IS UNATTACHED TO THE PROPERLY NOTICED AGENDA/PACKET AS WELL AND IF PASSED BY BOARD COULD LATER BE MISREPRESENTED AS EVIDENCE THAT A LEGITIMATE SWRCB (STATE WATER RESOURCES CONTROL BOARD) DECISION HAD ACTUALLY CHANGED THE WL11395 POU.
IF IT DIDN'T PASS, THE UNATTACHED RESOLUTION AND MAP JUST LATER DISAPPEAR SINCE THEY WERE NOT CONTAINED IN THE PACKET.   (Plus without page numbers or with his page numbering tricks, ANYTHING COULD BE LATER QUIETLY REMOVED, REPLACED, SUBSTITUTED, FABRICATED,….etc….)

Hang on….dialing………
NOTICE: "….On June 13, 2018 the SWRCB issued written concurrence with the digital boundary maps provided by the District" – in the Resolution there is no qualifying "DIVISION OF WATER RIGHTS" following SWRCB.
State Water Resources Control
BOARD!
As in Board of Directors – where the buck stops regarding water license regulation.
Not SWRCB, Division of "WE DO WHAT WE WANT", "THIS WILL GET 'EM", "HA WE DON'T  HAVE TO ANSWER", or whatever qualifier follows SWRCB.
Going to dial again…..
I honestly don't know if the board approved THE NEW WL11395 POU RESOLUTION or not because I walked out in complete disgust – my heart can't take the constant deceit and lies from the Board and GM with only snippets of time to comment while the lies and deceit only grows as the meeting progresses.   NEVER ANY MEANINGFUL DISCUSSION ABOUT OBVIOUS CONTRADICTIONS WITH KAMPA's MAP AND THE LEGITIMATE OFFICIALLY RECORDED DOCUMENTS ON FILE THAT CLEARLY DEFINE THE POU.
BOARD/GM answers are never forthcoming and the corruption just snowballs further out of control.   I have difficulty sitting quietly listening to people preaching as to how they are only helping the community when they OBVIOUSLY COULD CARE LESS FOR OBTAINING THE TRUTH AND HAVE DEMONSTRATED THIS FOR YEARS!
YEAH YEAH YEAH…..  I know I always say it will be my last meeting but as the frustration and discomfort winds down and fades between meetings I always cave in and return to the same KAMPAGANDA SPECIAL INTEREST DIRTY TRICKS, BOARD ACQUIESCENCE OF GM WRONGDOING, AND PROHIBITION OF DISCUSSING THE TRUTH WHILE THE BOARD POLITELY ASKS KAMPA HOW THEY SHOULD PROCEED IN SERVICE TO THE COMMUNITY?
Bogus FAX number?
SWRCB FAX TURNED OFF?
Sun spots in a neighboring solar system affecting only select FAX numbers in the greater Sacramento area?
Whatever.
Have some things I MUST DO – SINCE THE SWRCB IS NOT APPARENTLY INTERESTED, GUESS I'll SHARE WITH YOU FOLKS, NO SENSE IN LETTING ALL THAT WORK LAST NIGHT AND EARLY THIS MORNING GO TO WASTE RIGHT?
My best to you and yours, Lew