Nope.  Not yet the result of a major stroke – which is no laughing matter – painfully clear to those that have had to experience the results or witness them through other family members and friends.   Such a life changing event could happen to any of us at any time and often without any easily discernible warnings.  ( Medical body scanning commercials hammer this point.)   Yup, an absolutely terrifying prospect when you stop and think about it which is why I believe most people understand the reality but simply file such information away (perhaps making "healthy life choices" also) while "auto-avoiding" dwelling on the possibility interrupting our own – what we think are at the time – already difficult lives full of challenging circumstances to overcome.
No, the idea for this peculiar posting has floated around my old grey matter for a while but there isn't usually enough time for such frivolous creative diversions but three things pushed me into quickly kicking something out.
Years of incorrect wording in television captioning that is often quite funny,
Automatically filling in words for songs I don't know, can't remember, or don't understand and,
Of the two major political parties in the United States of America, one seems to consistently misrepresent basic information; exploits and harms the very people they claim to protect and serve, and repeatedly advocates abolishing the rights and freedoms which define our great nation and the citizens who continue to support and defend their home.     I have noticed much of the same activity and method of operation here in Lake Don Pedro regarding the Community Services District for years.
Sadly, not everyone residing and making money in this country feels the same and actively seek to change our country and system of justice into something with which they are more comfortable and can more easily relate and navigate.  Strangely, this is usually the country or region they vacated because of their inability to make desired changes there.
Apparently a "by any means necessary" approach has also been accepted which encompasses everything from outright treason, armed rebellion and DEEP STATE TACTICS (corrupting normal functioning of government process by individual public employees refusing to perform assigned duties due to personal, political, religious, or socioeconomic bias) to actually assaulting people in public places and causing peace disturbances due to the victim having more conservative beliefs.   Riots in Berkley to stop free speech?  What has happened to this country?
INVASION
So essentially, our UNITED STATES OF AMERICA – the "USA", our home, is under attack from within.
But how could any of this be accomplished within the GREATEST FREEDOM EXPERIENCING COUNTRY IN THE WORLD?
MISREPRESENTATION OF TRUTHFUL FACT TO THE VERY SUPPORTERS THESE PROFESSED "LEADERS" CONTINUE TO EXPLOIT IN ORDER TO MAINTAIN POWER AND CONTROL.
OH!  Before I forget, guess what I learned today (Sunday, October 14th, 2018)?  I received my October meeting agenda and did a little research on Kampa's LAFCO presentation which – once again has been KAMPAGANDIZED to a point where legitimate, common sense information is ignored, repressed and downplayed while the SPECIAL INTEREST KAMPA SPEAK takes main stage on why it is perfectly acceptable to steal water, service and public resources from the entitled Lake Don Pedro residential subdivision to be used for private land developers holding LAFCO ANNEXED PROPERTIES PETER KAMPA SECRETLY SET UP IN THE MID 1990s.    Records indicate even Board Directors voting on the matter back then were unaware of the proposed 900 acre residential subdivision right across the street and requested an informative report on the matter that was never made!  Guess who was there during this time of massive outside water license Place of Use expansion with a CONCEALED PROPOSED SUBDIVISION?  Pete Kampa.
That subdivision was supposedly approved in 1995 but kept a secret from directors, the public, and other government entities for over TWENTY YEARS until only a few months prior to Kampa's UNETHICAL RETURN TO LAKE DON PEDRO CSD AS GM IN OCT 2014 when Mariposa County LAFCO suddenly changed the property's designation from SOI (Sphere of Influence) to being within the LDPCSD's LAFCO expanded service boundary)
Yup, good old PETE KAMPA had to keep certain information away from the Board back then – but now has a completely cooperative Board that has been willingly to betray their fiduciary duty to this district and legal customers by permitting Kampa to pursue his special benefit agenda for LAFCO ANNEXED PROPERTIES by NOT ONLY CONTINUING SUBSIDIZED WATER SERVICE, BUT EXPANDING THAT PROGRAM EVEN FURTHER ON THE FINANCIAL BACKS OF MR WECs !
.)
ANYWAY, what I just discovered…….PETE KAMPA was 1 of 5 acknowledged contributing individuals to the 2016 SPECIAL DISTRICT FORMATION GUIDE created by the CSDA (California Special Districts Association – where Kampa has also been a director for approximately 20 years – strange the CSDA did not even mention KAMPA's CSDA board position or his employment history in this acknowledgement  like with the other contributors) and CALAFCO (California Local Agency Formation Commission)!  (below – oh yeah, it's a printer ink outage weekend so scanned/printed colors are not accurate – this posting is a real "RUSHED JOB")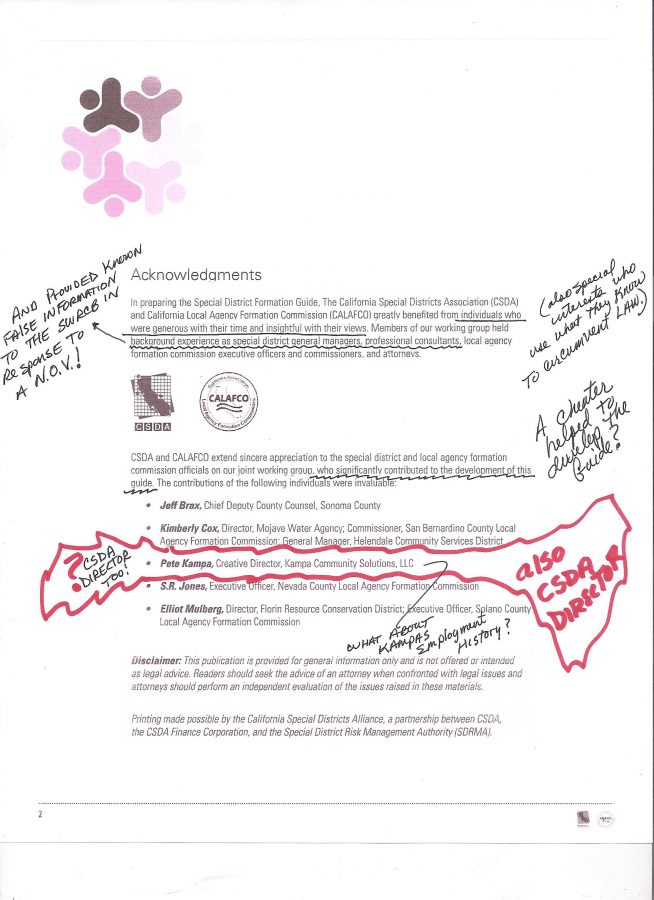 CREATIVE DIRECTOR?
Seems fitting.
Haven't had a chance to read the whole thing but did see this (below) and thought it interesting since the Mariposa County LAFCO has never been able (or has refused to do so) to provide the map which should have been created from those 11 pages of metes and bounds survey language.
NO CORRESPONDING LAFCO MAP FOR 38 YEARS IS EXTREMELY SUSPICIOUS AND SOMETHING KAMPA IS EXPLOITING AGAIN NOW.
Walk with me a bit here.
This information makes Kampa's duplicity even more serious as to misrepresented facts about water license 11395 regulations and how they related to his special interest LAFCO ANNEXED PROPERTIES he set up in the mid 1990s with the future goal of providing subsidized water for these private outside Place of Use developments with CSD public funds and misappropriated government grant money.  Yup, I checked about any possible involvement with MARIPOSA COUNTY LAFCO but was advised Kampa had attended no meetings what-so-ever AND NOW I know why.  Why would he bother?  Heck, he has been influencing the top LAFCO officials up in Sacramento (and elsewhere) within CALAFCO through his CSDA board director connections which aren't even acknowledged by the CSDA.
Recall I researched metes and bounds descriptions around the area of the Ross Cattle Ranch and believe they indicted Mariposa County LAFCO indeed expanded the service area with the Sturtevant Ranch property (and others?) beyond not only the 1977 State Water Board established POU for water license 11395 but also beyond what they knew the California Public Utilities Commission (CPUC) was actually going to approve in the pending transfer of Sierra Highland's facility and assets to the new LDPCSD in January 1981, effective 30 days from that date.  (Yes, that also indicates Mariposa County had quietly made these major modifications to the service area in 1980 BEFORE ACTUALLY obtaining the facilities and assets in February 1981.)
Now we learn from Pete Kampa that there are even more parcels of land that were quietly slipped into the LDPCSD service area through those same 11 pages of metes and bounds survey (just like they tried with the 1977 RESERVED WATER FOR LAFCO ANNEXATIONS the State refused back then) which just coincidentally happens to be in engineering/survey language the average person could not possibly understand without the corresponding map which has been MISSING FOR 38 YEARS?)
NO WONDER THE 1980 MAP IS MISSING!
The document could be considered evidence of an elaborate criminal conspiracy to create and utilize a local CSD to intentionally violate state water license restrictions on Merced River water diversions and use in order to encourage massive land development projects in the sprawling drought prone rural foothill grazing lands in two separate counties?
All surreptitiously paid for by the oblivious Lake Don Pedro subdivision property owners whose subdivision is not even half developed yet and who are the legally entitled users of Merced River Water and have paid for that entitlement since property purchase? 
How would MR WECs ever know of the deceptions
(remember the charging of $60/year back then for public information to be mailed to absentee customers interested in LDPCSD operations?)
perpetrated by the County LAFCos working quietly with amenable officials within Mariposa and Tuolumne County government departments,
(sometimes, as in Mariposa, the Planning Department Head is also the LAFCO Executive Director)
the LDPCSD and elsewhere, with various component plans all carefully orchestrated under an intricate political umbrella of influential support and protection through KAMPA CONTACTS WITHIN THE CALIFORNIA WATER INDUSTRY
(cultivated through his 20 years with the CSDA et al)
to assist in creating regulations conducive to expanding the PUBLICLY SUBSIDIZED "GROUNDWATER SUBSTITUTION PROGRAM" for THOUSANDS OF ACRES OF LAFCO ANNEXED PROPERTIES.   
Not sure – but sure seems like there is a conflict of interest in there somewhere.
LOOK HOW THIS MAN HAS LIED TO THE MR WECs OF THIS DISTRICT for decades (and recently to the State Water Board through his fabricated POU map defense)-
CAN YOU IMAGINE THE MISINFORMATION/DISINFORMATION PETER KAMPA HAS BEEN MANUFACTURING AND SPREADING IN SACRAMENTO (and elsewhere) TO THE "MOVERS AND SHAKERS" FOR THE LAST TWENTY (20) YEARS WHO THEN DRAFT AND ESTABLISH THE REGULATIONS AND LAWS BY WHICH YOU AND I MUST LIVE?
Yup, very suspicious that with all his education and training he would present a known incorrect PLACE OF USE map to the State Water Board in answer to their Notice of Violation regarding WL11395 water rights.  Not to mention his almost successful quiet end to the investigation by apparently exploiting the naivete of a three month new State Water Board employee through presentation of incorrect information Kampa has been pushing for decades.  (Of course that's providing benefit of doubt for the employee because the possibility exists he could have been a "Kampa Operative" SPECIFICALLY PLACED in that new SWRCB position for just such a favorable decision to end A LONG OVER DUE SERIOUS INVESTIGATION REGARDING THE CORRUPTION AT THE LDPCSD.)
Heck, this makes his unethical appointment as GM/Treasurer look like child's play compared to the influence peddling he has been exercising in Sacramento and elsewhere (but obviously all part of the scheme).  I can not imagine the devious damage Kampa has done to this state through misrepresentations of truthful fact and his introduction of FABRICATED GOVERNMENT DOCUMENTS into STATE OF CALIFORNIA OFFICIAL RECORDS on behalf of his special interest PRIVATE land developers – whether residing here in California or elsewhere.
Have European socialist ideals and goals been transplanted here in Lake Don Pedro by Pete Kampa and his associates?  Within a State that is often misguided into drifting a little too far in the ultra liberal-socialist-progressive-world government, etc. realm?   How long has Pete Kampa been working with the LAFCOs of TUOLUMNE – MARIPOSA?  Could Pete Kampa have conspired with, and been a "SECRET AGENT" for, both COUNTY LAFCOs for many years?  Quietly waiting and setting up for the perfect opportunity to put all theIR FABRICATED DOCUMENTS and "wink and nod deals" together to once and for all FORCE A PERPETUAL GROUNDWATER SUBSTITUTION PROGRAM on the financial backs of the MR WECs of the LAKE DON PEDRO residential subdivision which is only half developed and unorganized to resist a RECONFIGURATION of their SURFACE WATER TREATMENT PLANT?   Who knows?
This website has always been primarily focused on local stuff, but you know what?  What happens here is only a microcosm of the entire state and nation.
Our California living environment is deteriorating rapidly – along with government responsiveness to crime and public corruption (referencing the present system in general "AS INTERPRETED BY THOSE IN POWER" and not necessarily local individuals who, if they could do more within this LIBERAL POLITICIZED ENVIRONMENT, I believe they would).   Our values, beliefs, and trust in honest government is circling the bowl and if serious productive change is not made soon, what desirable elements are left of this once great state will also be lost  – just like the pride we all once shared for this now greatly suffering State.
I look at what PETER KAMPA has done with the LDPCSD
(thanks to a board of directors who betrayed the legal customers as directors and were too afraid to ask the tough questions, make sound honest decisions, and challenge Pete Kampa's obvious misrepresentations.  They refused to simply request a legitimate WL11395 POU MAP!!! How negligent and lazy is that?)
and perceive a similar pattern on the state level (fortunately national/geopolitical issues are finally being cleaned up!) –
(where voters believe things are too hopeless and fail to demand a positive change by removing those responsible for the failure, corruption, and decline) –
simply, a lack of respect for other people, their property, and our system of law and justice specifically designed and established to protect citizens and their property from wrongful transgressions.
OK, enough for now – just think about JOHN COX for Governor in November, OK?
<traditional repeat – in 3, 2, 1 …..lol>
JOHN COX
for
CALIFORNIA GOVERNOR!
**************
Recall the SWRCB email last June which appeared to quickly end the investigation because of information provided by PETE KAMPA?   Previous posted scan of that email (with my inserted question) below:
Now please review the below SWRCB letter from the same individual
in this month's KAMPAGANDA AGENDA PACKET:
There is so much more to this investigation (and lack thereof) which clearly defies common sense while simultaneously suggesting some "meeting of the minds" had occurred between Kampa and individuals at the SWRCB which I absolutely believe was not only responsible for an attempted investigation closure, but also, the insincere, almost lackadaisical approach to evaluating the information obtained from an initial excellent detailed investigation – but we'll get to that at the appropriate time.
Folks this is all utter bullshit and a good example of what has been wrong in California for a very long time –
NO RESPONSIBILITY OR ACCOUNTABILITY FOR INTENTIONAL VIOLATIONS OF EXISTING ESTABLISHED LAW!
Since October 2014 Kampa and his Board of Defectors began intentionally misrepresenting this WL11395 POU issue and their previously stated intent of obtaining and using government grants in circumvention of water license restrictions on Merced River water diversions outside the Place of Use (POU) of the Lake Don Pedro residential subdivision to service OUTSIDE MIDPOU parcels.
They told customers and granting authorities that due to the emergency state wide drought and possibility water could not be pumped from traditional intake pumps or barge at the receding Lake McClure, the grants would be used to develop groundwater wells for emergency water to existing customers, yet they were actually from the start, intended to create an "ALTERNATE SOURCE OF WATER" for an EXPANDED GROUNDWATER SUBSTITUTION PROGRAM in order to provide a special benefit subsidized water service to private land developers owning LAFCO ANNEXED PROPERTIES outside the POU entitled subdivision.
So here we are four years later October 2018 and they must now admit to doing exactly what they earlier denied planning in advance to do, all based on THE PETER KAMPA INTERPRETATION OF WHAT PARCELS THE ORIGINAL DRAFTER FORTY-ONE (41) YEARS AGO ACTUALLY INTENDED TO INCLUDE?
Imagine the amount of public funds already spent on this KAMPAGANDA?  And what will need to be expended to clean up the intentional deceptions which have contaminated government record stream with information Kampa knew to be false?
Call it "DEEP STATE" or whatever you want.  Government employees are using their official positions to wrongfully impose their own politically biased agendas on the pubic by refusing to properly perform their duties.
You know, as each day passes I become more convinced and confident that
POSITIVE CHANGE
TO MAKE
CALIFORNIA GREAT ONCE AGAIN
IS COMING
NOVEMBER 6, 2018!
VOTE JOHN COX
CALIFORNIA GOVERNOR
!!!!!!!!!!!!!!!!!!!!!!!!!!
Here is some quick blah, blah, blah on the KAMPAGANDA in this month's agenda packet:
VIDEO POST blah blah blah…..Contributed by Lew Richardson "Creative Director" lakedonpedro.org …(LOL) as already stated, this was a real rushed job – probably a lot of mistakes – I had a lot of ideas for additional "almost music" but, well, you know, that time thing – hard to stay focused as there are SO MANY IDEAS SWIRLING AROUND WITHIN MY GREY MATTER RIGHT NOW……I believe Kampa's involvement with the CSDA and CALAFCO in creation of that SPECIAL DISTRICT FORMATION  GUIDE is major information to consider when evaluating the intentional nature of KAMPA's  (and his board's) activities in violating restrictions in the water license to serve LAFCO ANNEXATIONS Kampa set up in the 1990s.
Still it appears as though Pete is attempting to distance himself from that "intentional aspect" (because State has recently discovered KAMPA HAD AGAIN DECEIVED THEM AS TO THE FACTS?) with a ……
"Oh golly gee!  So much new and confusing information….. gosh darn it all!  How could anyone (even a highly educated and trained professional special district management owner and 20 year active CSDA Board Member) possibly understand this water license place of use information about the Merced River water with all this conflicting and contradictory information scattered about in so many different locations, agencies and departments?  Gosh dang it, so darn confusing.  Heck, even the State Water Board has listed on their website the alleged violations took place in Stanislaus and Sutter Counties, not Mariposa and Tuolumne.  Geewiz, even the State doesn't know where Merced River water is going.  hee hee hee."
Nice try SNEAKY PETE.
YOU (and your co-conspirators) HAVE BEEN, AND ARE, DIRECTLY INVOLVED WITH THE CREATION, DISSEMINATION, AND EXPLOITATION OF INCORRECT  INFORMATION (fabricated government documents) THAT HAVE ASSISTED YOU (and your co-conspirators) WITH A SPECIAL INTEREST LAND DEVELOPMENT AGENDA AND WRONGFUL RECONFIGURATION OF OUR SURFACE WATER TREATMENT PLANT INTO A GROUNDWATER SUBSTITUTION FACILITY FOR YOUR PRIVATE LAND DEVELOPER ASSOCIATES HOLDING THOUSANDS OF ACRES OF LAFCO ANNEXED PROPERTIES OUTSIDE WL11395 POU FOR MERCED RIVER WATER SERVICE WHO REQUIRE THOSE EXTREMELY EXPENSIVE GROUNDWATER WELLS TO REPLACE ALL THE MERCED RIVER WATER ILLEGALLY LEAVING THE ENTITLED LAKE DON PEDRO SUBDIVISION WITH AN "ALTERNATE SOURCE OF WATER". 
You and the board repeatedly told the public (and government officials) the new groundwater wells (designed, constructed, developed and maintained with public funds and resources)  were not going to be used to expand outside POU special benefit groundwater substitution service to LAFCO ANNEXATIONS ——-
but that is exactly what you (and your board) are doing.  
$ $ $ $ $
Oh well.   I'll order my audio recording of the meeting and listen later.
Anyway…back to the video posting blah blah blah…….
Party representatives shared with reporters (while systematically repeating self-congratulatory comments among themselves) their policy of providing complete verbatim transcripts of all audio/video statements by government officials (absolutely free – including postage and handling in whatever language selected) to any resident of this country (whether documented or not, or currently wanted by law enforcement authorities or not) so these deserving residents will be better informed as to the important issues their party is actively involved.
Those opposing the praised "communication accomplishment" were obviously less enthusiastic, with one commenting,
"Perfect example of the age old problem of major change to an established decision, method of operation, procedure, etc, based on a "late on the scene" RE-interpretation/evaluation of the original work.  Typically the subsequent demand for change is motivated through the contradictory special interests of an extremely small minority of development speculators seeking a publicly subsidized financial benefit".
Another quipped
"The comments and suggestion made in those original home video clips were, for the most part, clear and understandable, and although not professionally produced and quite subjective in perspective, I never-the-less look forward to reading the transcript prepared by my colleagues on the other side of the aisle <<<Party VERBATIM TRANSCRIPT>>> who have been publishing  such constituent information for decades.  However, I wonder what exactly is accomplished where transcriptions are made from misunderstood, misinterpreted, or intentionally fabricated original understandable speech?