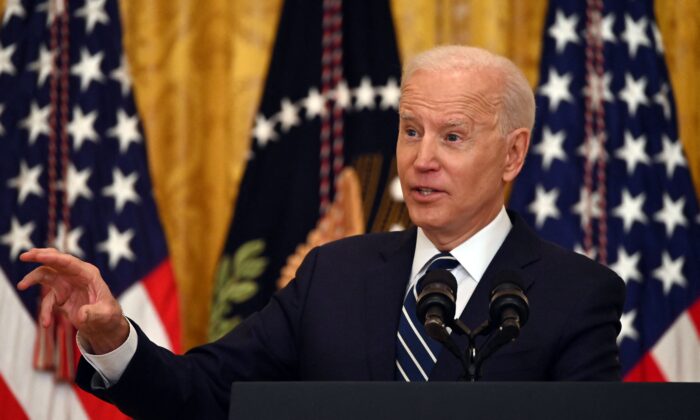 President Joe Biden answers a question during his first press briefing in the East Room of the White House in Washington on March 25, 2021. (Jim Watson/AFP via Getty Images) Executive Branch
Besides seeking to fix crumbling bridges, it features an expansive climate change agenda, paid for by tax hikes By Tom Ozimek March 31, 2021 Updated: March 31, 2021 biggersmallerPrint
President Joe Biden will on Wednesday begin promoting his $2 trillion infrastructure plan, which besides aiming to fix roads and bridges also features an expansive climate change and social welfare agenda, with the White House calling it "the moment to reimagine and rebuild a new economy."
White House officials said on a call with reporters that Biden will call for a dramatic and more permanent shift in the direction of the U.S. economy, with a "generational investment in upgrading and reorienting our power infrastructure in this country for the carbon-free electric future."
"Every dollar spent on rebuilding our infrastructure during the Biden administration will be used to prevent, reduce, and withstand the impacts of the climate crisis," the White House said.
They also said Biden's proposal—which is detailed in a White House briefing paper and which the president plans to discuss in an afternoon speech in Pittsburgh—also features a major social justice thrust.
"Unlike past major investments, the plan prioritizes addressing long-standing and persistent racial injustice. The plan targets 40 percent of the benefits of climate and clean infrastructure investments to disadvantaged communities," the White House noted.
Called the American Jobs Plan, it calls for $621 billion to rebuild the nation's infrastructure, including a $174 billion investment in the electric vehicle market that sets a goal of a nationwide charging network by 2030.
Congress will also be asked to put $400 billion toward affordable housing and community-based care for aging Americans and people with disabilities.
There is $213 billion provided to build and retrofit affordable and sustainable homes along with hundreds of billions to support U.S. manufacturing, bolster the nation's electric grid, enact nationwide high-speed broadband, and revamp the nation's water systems to ensure clean drinking water.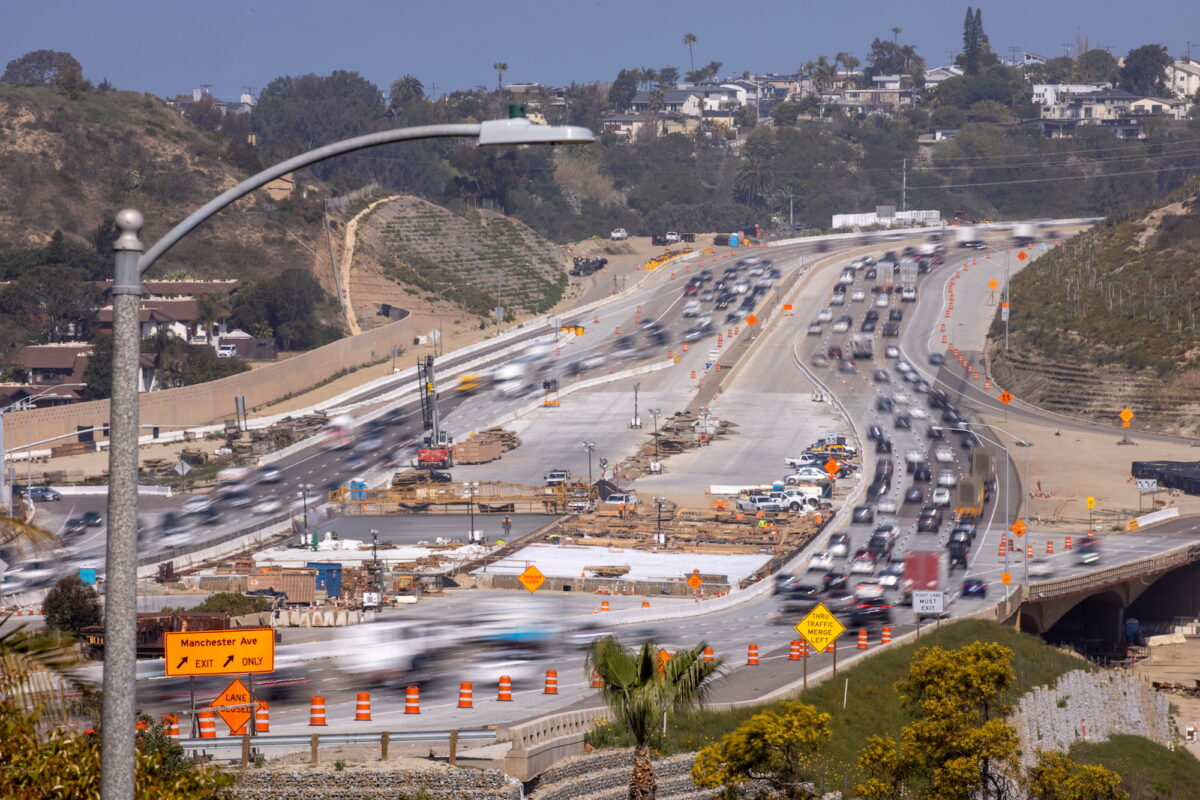 Corporate Tax Hike
Biden aims to put corporate America on the hook for the tab, which is expected to grow to a combined $4 trillion once he rolls out the second part of his economic plan in April.
"If passed alongside President Biden's Made in America corporate tax plan, it will be fully paid for within the next 15 years and reduce deficits in the years after," the White House said, with a senior administration official saying that the cost for all the plan's projects would be spread out over an eight-year period.
Biden has proposed several changes to the tax code, including raising the corporate tax rate to 28 percent from the current 21 percent—the level that the Trump administration brought it down to from 35 percent.
The Tax Foundation said in a report released Feb. 24 that Biden's plans to hike the tax rate for corporations would eliminate 159,000 jobs, depress wages by 0.7 percent, and reduce long-run economic output by 0.8 percent.
For now, Biden is sparing wealthier Americans from any tax increases, with the senior administration official telling reporters that the infrastructure plan would not include increases in the top marginal tax rate or to the capital gains tax, but would focus on raising the corporate tax rate to 28 percent and changing the tax code to close loopholes that allow companies to move profits overseas.
Coupled with his recently enacted $1.9 trillion COVID-19 relief package, Biden's infrastructure initiative would give the federal government a bigger role in the U.S. economy than it has had in generations, accounting for 20 percent or more of annual output.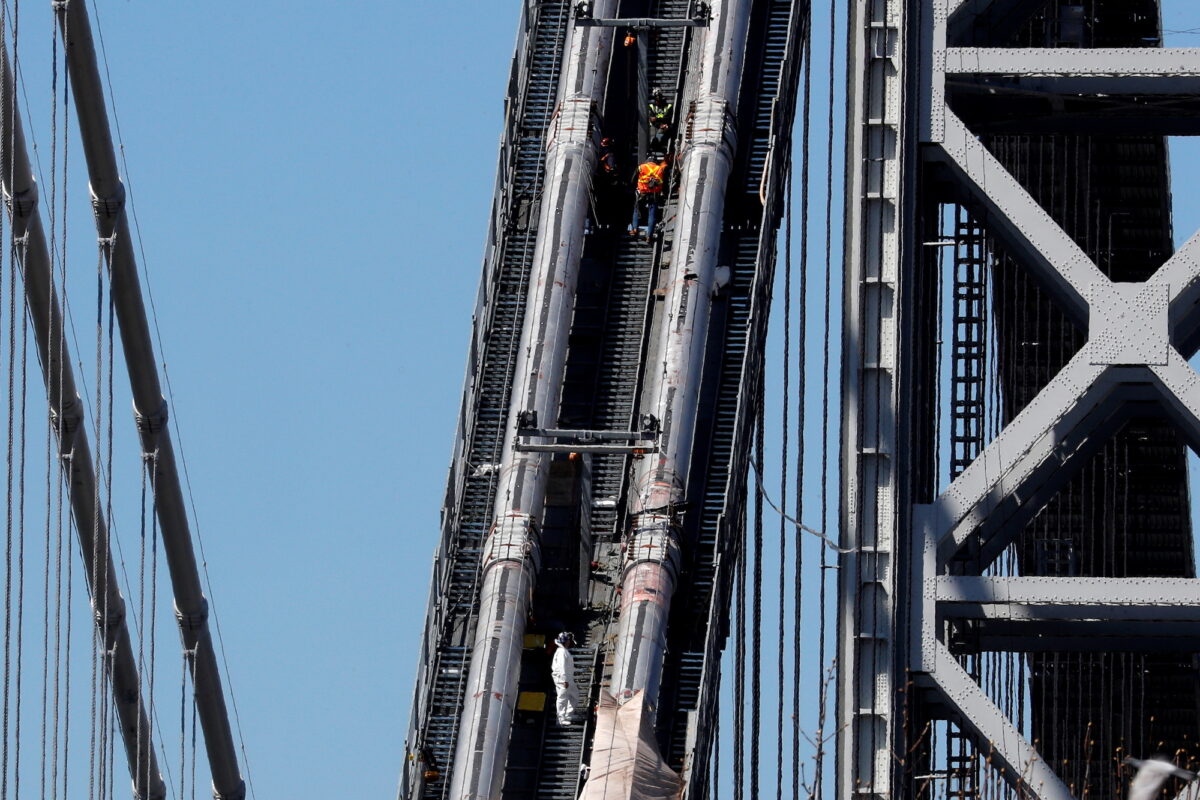 Jockeying Begins
The announcement of the plan sets the stage for the next partisan clash in Congress where members largely agree that capital investments are needed but are divided on the total size and inclusion of programs traditionally seen as social services programs.
Rep. Garret Graves (R-La.), the GOP's senior member on the House Select Committee on climate change, said he was keeping an open mind but was concerned that Democrats were leveraging the popularity of infrastructure to usher in a broad expansion of social welfare.
"If they're just going to encapsulate a cow pie in a candy shell, then I'm not there," Graves said in an interview on Tuesday.
Some of the administration's Democrat allies are pushing for inclusion of their priorities in the upcoming legislative thrust.
Rep. Pramila Jayapal (D-Wash.), a leading progressive Democrat, said on Tuesday that "we'd like to see a plan that goes big," and noted that some groups pegged the infrastructure plan Biden rolled out on the campaign trail as worth between $6.5 trillion and $11 trillion over 10 years.
"We really think that there's ample room to get the overall number up to somewhere in that range in order to really tackle the scale of investments that we need to make," she said.
Moderate Democrats have said the package should be more targeted to traditional infrastructure projects to attract Republican votes, seeking a return to bipartisan policymaking.
The White House has said the administration will introduce a second legislative package within weeks. It is unclear whether the administration will seek to have both efforts pass at the same time or try to get Congress to approve one first.
The second package is expected to include an expansion in health insurance coverage, an extension of the expanded child tax benefit, and paid family and medical leave, among other efforts aimed at families, according to administration officials.
Reuters contributed to this report. Follow Tom on Twitter: @OZImekTOM