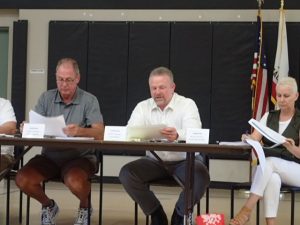 Why does the Lake Don Pedro CSD consistently refuse to post a legitimate map displaying where Merced River Water (pumped under Merced Irrigation District water license 11395) can legally be used in this area? Properties outside the 11395 Place of Use MUST use ground water. Why should 99% of legal Merced River water users in the subdivision (for whom the water plant was constructed) pay for this ground water special benefit for land developers outside the subdivision?
Yes indeed.  Miserably hot, but usually in the wee early morning hours some relief with a cooler breeze.  Sometimes I break down and decide to use the air conditioner, but then I must listen to the sound of the air compressor kicking on and off, on and off, on and off….  Geez, every time it kicks on I imagine the sound of rolling silver dollars criss-crossing and traveling across the floor and "plunking" down the stairs yet never to be seen again.   Air conditioning is great, but expensive.
COOL AIR NOISE
Sometimes while half awake – I catch myself counting the times the compressor starts.  (Instead of counting sheep)  Then I try to count how long it stays on but usually drift asleep during the count until startled by the next "Varooom" of the air conditioning forced air cycle.  "Five!" I blurt out instinctively from my quasi-sleep state.
Often, rather than waiting for the next startup and tolerating those imaginary annoying coins rolling everywhere (but in my pocket)  I get up, walk over to the thermostat, reluctantly turn it off, return to bed and drift off again trying to avoid a nightmare of some hellish sci-Fi environment as I toss and turn to the rising temperature.  Open windows, a wet washcloth, and a spinning fan on high also work well and avoids those noisy coins rolling everywhere.  lol
BACK TO DISTRICT BUSINESS
So what is KAMPA & KOMPANY so darn afraid of by just honestly posting official maps which dictate how his District should operate?  (Remember, my reference to KAMPA & KOMPANY refers to Pete Kampa and those that support his reconfiguration of our SURFACE WATER TREATMENT PLANT operations into a ground water substitution program where new ground wells, will of necessity, be continuously added to our inventory as further outside POU properties are served ground water.)
Kampa is setting all of us up for an extremely ugly never ending cycle:
more Outside MIDPOU customers, more ground wells, more customers, more ground wells, higher OUTSIDE MIDPOU use, more ground wells, further expansion – more ground wells, etc.
How many viewers out there honestly believe government agencies are going to provide more money for this lunacy which defies responsible use of our resources?
How can the District refuse to provide customers the maps which detail how it SHOULD HAVE been operating the last 35 years or so?
What other things are Kampa & Kompany concealing from the bill paying customers?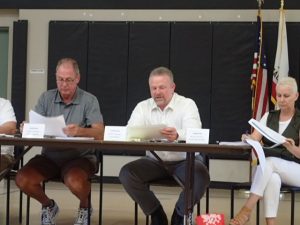 Why doesn't the District permit other customers to read brief descriptions of Monthly Meeting Public Comments where speakers are required to use the podium and microphone so comments can be recorded?  Why on earth are they recorded anyway?  The Public Comment subject matter is no longer published for other customers to consider.
Certainly the technology exists to where a simple sentence or two could be used to adequately describe a comment – even if a whole three (3) minutes were used!  lol
EXAMPLES: "A public member again questioned why specific information about grant funding discrepancies and major project changes [that was agreed to be furnished], has not been furnished in over three months".
Another public member commented that all existing and available official maps regarding LDPCSD water service should be published on the website for all customers to view and appreciate for themselves.
Another speaker said "customers deserve the truth" and Public Comments should not be stopped at 3 minutes without a reasonable cause to do so.
One speaker suggested using a light bulb to signal the end of a speaker's time rather than that annoying "beep beep beep" which distracts both customers and audience from the presentation.
SIMPLE BRIEF DESCRIPTION OF COMMENTS
Yes, it was done in the past and could be done again — but ONLY IF MANAGEMENT actually cares (OR THE BOARD INSTRUCTS MANAGEMENT TO DO SO) about what customers think.   According to the GM and directors themselves, the district has evidently received much "questioning" regarding their activities.
GOOD JOB CUSTOMERS!  Like the old bumper sticker says: 
QUESTION AUTHORITY!
EVEN IF YOU CAN NOT ATTEND MEETINGS – YOU CAN STILL ASK QUESTIONS ABOUT WHAT THE HECK THEY ARE DOING WITH OUR MONEY & GOVERNMENT PUBLIC FUNDS THAT WERE INTENDED TO BE USED FOR EXISTING CUSTOMER BENEFIT DURING THE DROUGHT EMERGENCY AND NOT CREATING NEW OUTSIDE MID-POU GROUND WATER SUBSTITUTION SERVICE.
Director Warren questioned the large amount of water being used by some OUTSIDE MERCED IRRIGATION DISTRICT PLACE OF USE PROPERTIES, one in particular that was supposedly a leak that had been repaired a month or so ago, but it has been high for months and wondered  whether it was due to cattle ranching or perhaps another illegal marijuana grow.
CHECK OUT THIS PECULIAR RESPONSE BY KAMPA:
Pete Kampa commented he did not want to disrupt the apple cart by changing the OUTSIDE MID-POU report which "everyone seems to really really love but in reality It's singling out individual people, their name, and their water use and not something we do on a regular basis for anybody inside the district."
LEW'S VIEW:      DIRECTOR EMERY ROSS has attempted many times through the years to permanently abandon the OUTSIDE MIDPOU report because he does not like the idea of entitled MERCED RIVER WATER using customers seeing exactly how much GROUND WATER his cattle ranching business actually requires.   (Or understanding how that mystery stock pond suddenly rises?  MYSTERY POND PHOTOS)  Director Ross once even unilaterally had the office change the reporting procedure from name to account number without ANY involvement of other directors, much less an entire board action.  The next time the report came out PRESTO!  Only account numbers without a clue to the property owner or address of use and all he had to do was "instruct" Syndie in the office to make the change.  (Amazing what could be done in the "good 'ol days of complete "non-transparency" of public agency operation) The reporting process was eventually returned to the original format despite quite vocal objections by Mr. Ross and his privacy concerns. 
WHAT?  His privacy concerns?  
– when he wrongfully obtained another individual's meter and started a cattle ranching business?  After being specifically informed and denied a water meter, by not only the seller, but the district as well?  He is lucky to even have continued water service after his wrongful meter acquisition and other sneaky activities to obtain such.  (Sound familiar? Like the sort of management we are currently experiencing?)
I have always believed customers should have access to such information because it makes understanding not only where the OUTSIDE MIDPOU water is actually going, but who is the responsible party.   Does Ross object to the fire department, elementary school, or sewer plant's usage being disclosed?   I doubt it.  Emery created and runs a commercial cattle ranch with chlorinated water, OK, what's done is done.  But he shouldn't cry about his privacy rights when that water was intended for an established residential subdivision.   Anyone who takes the time to study those old reports will also notice that sometimes during very high water demands Ross's water use was unavailable, but that is probably just another coincidence, like the fact an UN-monitored OUTSIDE MIDPOU water line crosses his ranch from Granite Springs Road to HWY 132 without a District maintenance easement for access.   What pipeline?

How many viewers believe such an "unchecked water line" with potential "free water diversions" would be permitted to traverse their expansive ranch property?  (Heck, that isn't fair to Emery either, I mean, decades of questions about that waterline going without answers.)

ANYWAY, so here is PETE KAMPA parroting some of the same verbiage as Ross about privacy concerns for OUTSIDE MIDPOU groundwater use by a sitting director customer who should never have received water from the District IN THE FIRST PLACE! 
Give them an inch, and they'll take a mile but promise it will never happen again.  "Riiiiiiiiiggghht"- (Austin Powers-lol)
Remember when Ross suggested that ALL ENTITLED MERCED RIVER WATER USING CUSTOMERS OF THE SUBDIVISION SHOULD BE REQUIRED TO PUBLICLY REPORT THEIR WATER USE LIKE THOSE RECEIVING THE SPECIAL BENEFIT GROUND WATER SUBSTITUTION?
What sort of mind comes up with garbage like that?  ABSURD.   Still, KAMPA refuses to acknowledge that this groundwater substitution program is a special benefit which does require special reporting to the State anyway, besides, legal MERCED RIVER WATER customers should be allowed to understand exactly who is receiving this special benefit for which they pay – along with to what degree of use AND/OR WASTE.
Would a commercial "water slide" from Coulterville to Waterford be permitted with chlorinated water intended for human consumption in the subdivision?  Perhaps only a few million gallons every couple of weeks – like our unaccounted for water loss?  Maybe a snow making machine for "SKIING LAKE DON PEDRO IN THE SUMMER?"  Ice rinks?  A snow cone machine in every garage?
How about more stock watering ponds that magically appear during Summer drought conditions – they look nice with all the contrasting dry grass and trees around?
Kampa stated if the District were still under the mandatory 30% restrictions, they would be enforcing those water use regulations. Kampa continued by saying the District did not have any restrictions on the amount of ground well water these property owners could purchase and use. 
LEW VIEW:  So, in other words, the water production from these extremely expensive ground wells that were constructed and developed with public funds, can be pumped until bone dry by property owners otherwise not entitled to our traditional District service under MID's WL 11395?  And who NEVER PAID A FAIR AVAILABILITY FEE IN DECADES ANYWAY? 
And when those wells are exhausted through over use (perhaps involving enormous waste as well) the 99% of legal users in the subdivision will be responsible to pay for the expensive replacement of those wells for which they receive NO BENEFIT?
What about the ONLY POSSIBLE BENEFIT for the "entitled river water users" that would be lost?
Think about that:  Unrestrained OUTSIDE MIDPOU use could result in inadequate water production from ground wells necessary to actually save entitled users from complete loss of water if the lake goes completely dry.   What a scam!
Sure seems the far majority of legal customers are being victimized for the special benefit of third party profit margins, all facilitated through the reconfiguration of a NON PROFIT PUBLIC AGENCY under the CONTROL OF A FOR-PROFIT MANAGEMENT COMPANY SET ON BUILDING A WATER EMPIRE IN A DROUGHT PRONE, FRACTURED ROCK GEOLOGIC FOOTHILL AREA WITH PUBLIC FUNDS FOCUSED ON PRIVATE PROFIT LAND DEVELOPMENT.
HOW MUCH OF THIS MESS CAN BE DIRECTLY ATTRIBUTABLE TO COUNTY INVOLVEMENT USING LAFCo ANNEXATIONS AND PROJECT APPROVALS THAT WERE NOT PROPERLY INVESTIGATED PRIOR TO APPROVAL?
Kampa said he would look into the matter of this potential excessive outside MIDPOU water use.  Boy am I relieved.  NOT!
The Agenda's Consent calendar was approved unanimously.  
Must leave……
NEXT POSTING AGENDA ITEM:  DISCUSSION AND ACTION REGARDING THE DISTRICT ORGANIZATIONAL CHART, PERSONNEL RESPONSIBILITIES AND POSITION REQUIREMENTS –    PAGES 25-26 –
This is an extremely important subject matter.  KAMPA is requesting EVEN MORE AUTHORITY & POWER in continued misdirection of our SURFACE WATER TREATMENT PLANT OPERATIONS to OUTSIDE MIDPOU SPECIAL INTEREST BENEFIT along with what is best for PETE KAMPA to expand his management company services as well.
PREPARE FOR THE CREATION OF ADDITIONAL
DISTRICT EMPLOYEE POSITIONS
(Probably an effort to"COOKIE CUTTER" RECONFIGURE
our LAKE DON PEDRO CSD into a mirrored image of other current clients
so as to make his job of remote and simultaneous management of multiple agencies

much easier for him, while as always, passing the increased expenses on to innocent customers who have been
intentionally deceived about their NON PROFIT PUBLIC AGENCY CSD FOR DECADES –
but who are now starting to wake up and smell the chlorine!)
Better get involved – the District Election is in October.



Reminds me, have you, –  yes you!  
Requested the monthly Board Agenda/packet material
be sent to your email address?
PLEASE JOIN YOUR FELLOW ENTITLED MERCED RIVER WATER
PROPERTY OWNERS/CSD CUSTOMERS
IN DEMANDING THEIR CSD SERVE THEM AS INTENDED.
HECK, THE WORST THING THAT MIGHT HAPPEN IS YOU WILL
UNDERSTAND WHY YOUR RATES & FEES ARE PLANNED TO BE GREATLY INCREASED.
   IGNORANCE IS NOT ALWAYS BLISS – REQUEST YOUR CSD 411 AND LEARN.

Call the LDPCSD Office @ 209 852-2331 and make
arrangements for delivery of your electronic copy.
(below)
MAPS ILLUSTRATING THE LEGAL PLACE OF USE UNDER WATER LICENSE 11395 ARE NOT DIFFICULT TO OBTAIN, SO
WHY DOES THE DISTRICT CONSISTENTLY REFUSE TO POST AND SHOW CUSTOMERS THE TRUTH?
MERCED IRRIGATION DISTRICT PLACE OF USE MAP
per WL11395 restrictions under which our
LAKE DON PEDRO CSD
has always pumped
MERCED RIVER WATER
from LAKE McCLURE
(BELOW)
(BELOW)
My unprofessional rendition of the WL11395 MIDPOU SERVICE MAP
along with
THOSE PROPERTIES THAT MUST BE FURNISHED
OUR EMERGENCY GROUND WATER
as SUBSTITUTION FOR
MERCED RIVER WATER
NOTE the large white block of 2,010 acres to the west of the subdivision
that was approved for 772 acre feet of MERCED RIVER WATER a year,
yet never developed.  Our DISTRICT receives absolutely nothing in financial support.
Speculative land development and special benefit water service
SHOULD NOT BE THE FINANCIAL RESPONSIBILITY
of the 99% OF LEGALLY ENTITLED MERCED RIVER WATER USING CUSTOMERS
OF THE LAKE DON PEDRO SUBDIVISION.
OK….for sure this time…..later….
My best to you and yours, Lew