EXCERPTS FROM THE FEB 21 2018 PACKET,
THEN MIGHT I SUGGEST MUNCHING THROUGH THE ENTIRE ENCHILADA BELOW? lol

COVER LETTER TO ELECTRONIC AGENDA PACKET
(Ask for yours yet?  They might make nice souvenirs?)
AGENDA PACKET

HIGHLIGHTS

CURIOUS ACTIVITY

Page 1:  
Agenda Item 5.b. (more below regarding this highly suspicious proposal)
Kampa proposes ACCEPTING "LATE AUDIT REPORT" WITHOUT ANY ADEQUATE REVIEW? 
Typical Kampa method of operation – QUICK!  HURRY!  TIME IS OF THE ESSENCE!
Approve without a semblance of reasonable attention! 
That's what got us into this KAMPA KOMPANY KRAP!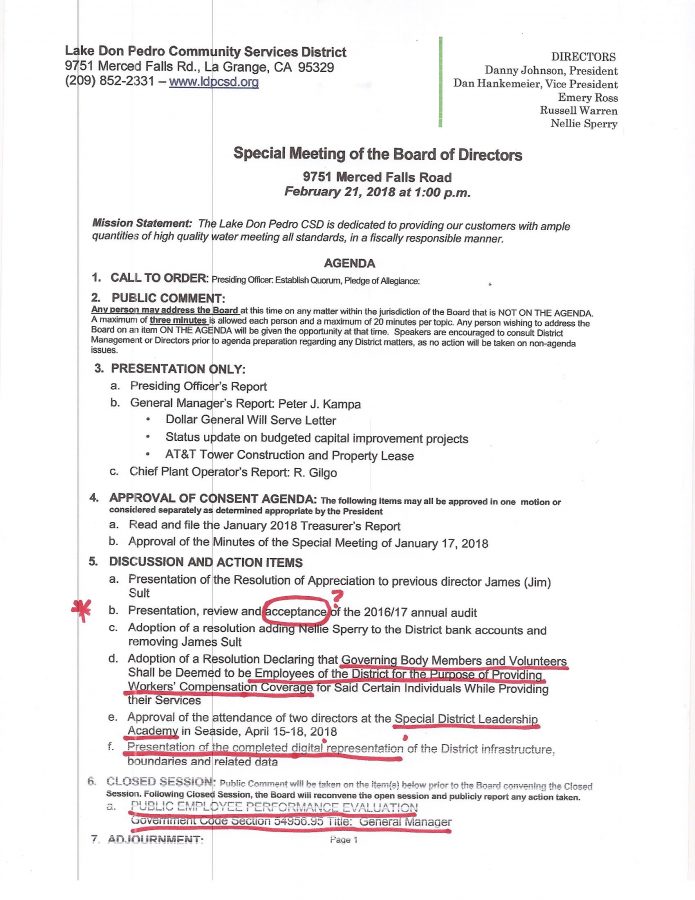 Page 7:  
39%

TREATED WATER LOSS FOR JANUARY 2018
NATURALLY NO OUTSIDE PLACE OF USE REPORT AGAIN
who knows what the raw water  loss between McClure and treatment plant might be?
Page 13
Yet another

unsigned certification of adequate revenue

for next six months?
Page 23
 WILL BOARD ACCEPT KAMPA'S RIDICULOUS PROPOSED MOTION?

"I MOVE TO ACCEPT THE 2016/2017 ANNUAL AUDIT"
 WITHOUT READING OR STUDYING THE MATERIAL FOR ACCURACY?
$$$$$$$$$$$$$$$$$$$$   START IMPORTANT BACK TRACK 411   $$$$$$$$$$$$$$$$$$$$  
RECALL THE LAST AUDITOR'S VISIT WITH THE WRONG FINANCIAL INFORMATION ALREADY PREPARED AND FORMALLY BOUND FOR BOARD "SNAP" APPROVAL?
SAID THEY WERE GOING TO MAKE CORRECTIONS FOR A LATER APPROVAL – YET THE MOTION ON THE MATTER MADE NO MENTION OF THE NECESSARY CORRECTIVE CHANGES TO BE MADE FOR IT TO BE CORRECT?
I AM NOT POSITIVE, BUT BELIEVE THERE WERE TWO OTHER  OCCASIONS FOR SUCH NECESSARY AUDIT CHANGES SO THIS WOULD BE THE THIRD TIME.
AND WHAT DOES

PETE KAMPA NOW PROPOSE IN THIS RESOLUTION? 

 
FOR THE BOARD OF DIRECTORS TO ONCE AGAIN IGNORE THEIR FIDUCIARY DUTY TO THIS DISTRICT AND

BLINDLY TAKE PETE KAMPA'S WORD THAT THE NUMBERS ARE CORRECT AND NECESSARY CHANGES HAVE BEEN MADE

TO PRODUCE AN ACCURATE AUDIT? 
Seems to me
common sense would dictate a responsible review of this very important financial information prior to approval –
ESPECIALLY AFTER MULTIPLE FAILED ATTEMPTS TO APPROVE IT WITH MISTAKES!
 OLD POST WITH A VIDEO OF THE "KAMPA MOTION OF AUDIT APPROVAL" (WITHOUT MENTION OF THE CORRECTIONS TO BE MADE) AND WES BARTON'S COMMENTS ON RELATED FINANCIAL MATTERS:
LINK BELOW
There he (WES BARTON) Goes Again! and Thank You!
LINK TO VIDEO OF KAMPA AUDIT MOTION WITH POST:
<<<VIDEO of motion with original POSTING  >>>
$$$$$$$$$$$$$$$$$$$$  END IMPORTANT BACK TRACK 411 – RETURN TO FEB 21 2018   $$$$$$$$$$$$$$$$$$$$  
Page 26
WORKERS' COMPENSATION COVERAGE FOR
DIRECTORS and
ALL PERSONS PERFORMING
VOLUNTARY SERVICES
(Wonder if the 3-4 hard core meeting CUSTOMER ATTENDEES might qualify as DISTRICT VOLUNTEERS FOR COVERAGE?  lol)
Future WORKERS' COMPENSATION for medical/psychological/psychiatric assistance due to the stress and discomfort involved in running a CSD the KAMPA KOMPANY WAY? 
(aka, cheating and exploiting the far majority of customers may be easy for some of these directors but the "getting caught" part might be a bit uncomfortable.)
Perhaps ADDITIONAL INSURANCE COVERAGE while wining and dining with KAMPA'S CSDA ASSOCIATES ON THESE PROPOSED "EDUCATIONAL JAUNTS"?
Page 29:  PRESENTATION OF COMPLETED DIGITAL "REPRESENTATION" of infrastructure, boundaries and related data  (Recall one of the reasons KAMPA's $35,000 DIGITAL MAPPING PROJECT WAS DESIRABLE?  
Because it would be so easy to make paper copies for distribution – right?

JUST ANOTHER KAMPA MEETING "SAND BAGGING"
Why no paper copies of these KAMPA INFLUENCED MAPS (based on highly suspicious 24+ year old "shape file" information from an abandoned project when KAMPA was employed here between 1993-1997) in the agenda packet so CUSTOMERS COULD REVIEW THESE "DIGITAL REPRESENTATIONS" PRIOR TO THE WEDNESDAY MEETING?  
Kampa is apparently still pushing the infrastructure constructed for LAFCo annexed properties (and others?) that are

OUTSIDE

THE WATER LICENSE PLACE OF USE according to the STATE OF CALIFORNIA.
Alright then. There it is.  Still a little hungry?
Below is the whole greasy meal!
My best to you and yours, Lew
2018-2-21 Special Meeting Agenda Supporting Documents