Reading Time:
10
minutes
OK, I distrust Pete Kampa and for good reason, but the following post, even though perhaps tainted with my own acknowledged potential bias, still just doesn't seem right – especially for a community services district which has had a massive water loss for decades while simultaneously continuing a war over who has a right to water service per Merced Irrigation District water license 11395 besides the Lake Don Pedro residential subdivision and golf course area.
True, I do not trust anything Kampa has done with this district because of what I have observed him (and his supportive Board of Defectors) accomplish without a hint of accountability. Increasing costs everywhere possible, returning Post Retirement Medical Benefits; placing Barge in non operational status; budgeting $35,000 for creation of a "FAKE WL11395 POU MAP" as defense for wrongful activities with the intent to ultimately replace the legitimate POU MAP ON FILE in Sacramento, etc.
Since DAY ONE! Kampa was an unethically returned former rogue employee with an influential 20 year history with the powerful CSDA (California Special Districts Association), who with others, have greatly assisted in the further exploitation of this "facade of a PUBLIC AGENCY", in other words, we've been essentially "privatized" by cheats who can apparently violate the law with impunity because some of the officials in charge of enforcing the law ARE ALSO APPARENTLY SUPPORTIVE OF THIS CONTINUING FRAUD.
Thank you Democrat, Progressive, Socialist, Left activists for destroying a public agency and continuing the FRAUD AGAINST THE MR WECs of the Lake Don Pedro subdivision while continuing your "REDISTRIBUTION of water service" to those not provided such by law.
EVERY SINGLE DIRECTOR SINCE 2014 has failed one simple COMMON SENSE REQUEST:
Contact the SWRCB about what you and your GM were doing regarding the water license 11395 POU for Merced River Water.
Wouldn't even make a simple telephone call to request the official map on file with the SWRCB – all because they were going to once again attempt to illegally change that POU MAP but this time utilizing the services of a sitting CALIFORNIA SPECIAL DISTRICT BOARD DIRECTOR (CSDA)_ OF APPROX 20 years to complete the fraud!
I am a stupid man. Why in the world would the "Board of Directors" possibly want a legitimate POU MAP from Sacramento that would contradict exactly what they were/are doing?
Perhaps they believe holding their hands over their eyes, ears, and mouths while out loud repeating the chant "NAH NAH NAH NAH NAH NAH NAH….we can't hear you" would actually work to confuse and mislead the public as to their individual duplicity in following an individual with a VERY CLEAR AND DOCUMENTED 20 year history of intentionally misrepresenting the Merced Irrigation District (MID) Outside Place of Use Merced River water issue per water license 11395 .
Yes indeed, utilizing the name and resources of the LDPCSD [A SPECIAL DISTRICT] and government grants to develop an "alternate source water" ($400,000 – $600,000 groundwater wells) with which to:
1) circumvent the water license restrictions on water service outside the subdivision by
2) maintaining "water license compliance" with a GROUNDWATER SUBSTITUTION PROGRAM paid for by the thousands of subdivision property owners who do not require "GROUNDWATER SUBSTITUTION FOR MERCED RIVER WATER TRANSFERS OUTSIDE THE SUBDIVISION", so they could
3) sell more groundwater LAFCO ANNEXATION property owners outside the subdivision who did not want to drill their own private groundwater wells for their own projects!
(There are other reasons for this continuing fraud as well: assisting in the "cover up" that this entire criminal enterprise was orchestrated between county LAFCOS and the previous owners, engineers, and general manager of the Sierra Highlands Water Company some ten years prior to the LAFCOs forming the Lake Don Pedro CSD in August 1980 to essentially
"launder Merced River water" through that district for LAFCO APPROVED LAND DEVELOPMENTS OUTSIDE THE LICENSE PERMITTED PLACE OF USE. Absolutely devious!
Did a little research on the founders of LAFCO and its control of special districts IN THIS STATE OF CONFUSION with their SPHERES of INFLUENCE (SOI -where services are likely to be provided in the future) …. Based on the Cortese-Knox-Hertzburg legislation. (Probably not necessary to point out the fact all were DEMOCRATS.)
Let's see….LAFCOs were formed in 1963 and in 1969 the CALIFORNIA SPECIAL DISTRICTS ASSOCIATION (CSDA) was formed to assist communities with the rapidly developing……… let's call it the "special district concept" of:
limited services, to a defined group of people, in a designated geographical area, for only the costs necessary in providing that limited service.
Wild yeah? Every single one of those SPECIAL DISTRICT characteristics was completely destroyed by the very organization (MARIPOSA COUNTY LAFCO and to a lessor degree Tuolumne County LAFCO) which formed the LDPCSD Special District to supposedly continue the (legal) water service to the WL11395 entitled residential subdivision.
Ahhhh, but there's the catch! The LIMITED WATER SERVICE, to the SUBDIVISION POPULATION, WITHIN THE SUBDIVISION BOUNDARIES, for ONLY THE COST IN PROVIDING THAT LIMITED SERVICE…..was completely ignored and changed by these LAFCOs in order to provide…
UNLIMITED WATER SERVICE, TO ANYONE HOLDING LAFCO ANNEXED PROPERTY, ANYWHERE WITHIN THE SOI THAT LAFCOS DEVELOPED, FOR ANY AMOUNT OF MONEY REQUIRED TO SUPPLY THE WATER OUTSIDE THE LEGAL USE AREA! (Oh yeah…..and paid for by the MR WECS (Merced River Water Entitled Customers) of the Lake Don Pedro subdivision!
(Paragraph colors meant to accurately reflect political party dominance of issue – lol)
WHAT A FRIGG'N FOOTHILL WATER SCAM FOR DECADES!
Can you even begin to imagine the thousands of prospective home builders who (through the last four decades) simply gave up and sold their Lake Don Pedro Owners Association (LDPOA) property at a loss (remember the large property auctions?) due to the corruption of this area by special interest exploiters virtually immune from prosecution for wrongful acts because they were essentially enabled by the local county political establishment exercising STATE AUTHORITY AND POWER UNDER the title of LAFCO ORGANIZATION AND REORGANIZATION?
Just a small step away from "STATE RE-DISTRIBUTION OF RESOURCES" yes?
I've been meaning to take a drive over there for a while now when I heard the LDPCSD would be working in the Caracol Circle area which overlooks the golf course. Prime "view lots" of the golf course and valley. I was interested because years ago that specific area had experienced some DEERWOOD CORPORATION development with two homes not quite "up to par" with state fire regulations due to a substandard roadway which was quickly constructed (many were) to access multiple properties for residential development without the trouble and expense of constructing individual FIRE SAFE DRIVEWAYS as the State of California required in SRA (State Responsibility Area) FIRE SAFE regulations passed in 1991.
Yes, that's right, the legislature passed those fire safe minimum roadway standards 12 years before Thomas Porter (RIP) and his DEERWOOD LAND DEVELOPMENT and MORTGAGE CORPORATION began carving up our EXISTING CALIFORNIA SUBDIVISION MAP ACT approved/established residential subdivision with substandard DEVELOPER CONVENIENCE ROADWAYS (specifically for "difficult to develop properties") with some roads violating up to six separate minimum roadway standards in this designated HIGH FIRE SEVERITY ZONE – all these regulations specifically enacted to prevent loss of life and property due to wild fire based on experience in foothill residential environments.
Recall that my friends Jim and Marion Dean who lived on Alamo Drive ("REMEMBER THE ALAMO FRAUD!") lost approximately ½ million dollars of their "golden years retirement fund" in a failed attempt to get the County of Mariposa and the State of California to obey their own existing regulations and laws! (Actually, the Mariposa County Superior Court Judge who ruled against them later lost his own house to fire and the road to that residence was very similar to the Dean road complaint in that it also had a "hairpin" turn difficult for fire equipment to navigate.) BELOW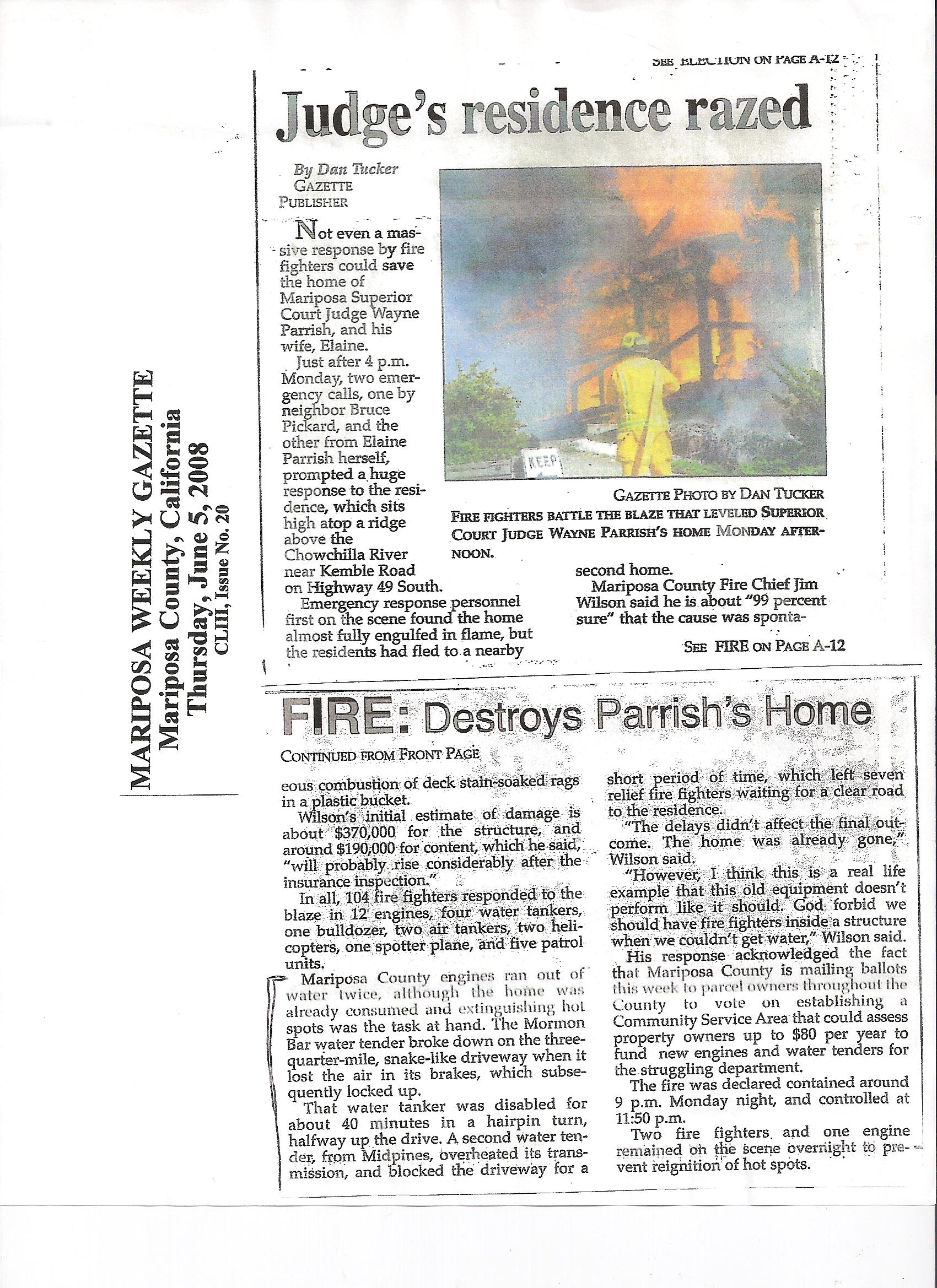 The Deans lost their money attempting to compel the government to only enforce its own rules and died with such worries all because of the insatiable greed of others without the slightest concern for the people who will traverse such dangerous roadways in the future. Absolutely shameful – but perfectly acceptable by the DEMOCRAT, PROGRESSIVE, SOCIALIST, LEFT controlling, and destroying, this once proud and prosperous state.
When the Department of "JUST US" (other states call it the Department of Justice) refused to act on my 85 page complaint regarding PETE KAMPA and his supporters' activities, Attorney General Xavier Becerra, (through his "Just Us" DOJ), suggested I obtain a lawyer to represent my concerns about the obvious corruption of the LDPCSD. (Creating a "fake POU map" demonstrates pretty obvious intent to violate State Water Law – especially when orchestrated by a 20 year director on the CALIFORNIA SPECIAL DISTRICTS ASSOCIATION with "hands-on experience" in setting up the LAFCO ANNEXED beneficiaries of such continuing fraud!)
WOW! I should risk my financial security with expensive attorney fees to investigate PUBLIC AGENCY CORRUPTION that the DOJ is supposed to investigate with our TAX DOLLARS?
Imagine, I sure didn't have to look very far for an example of what happens to good people and their money in a special interest land development corrupted environment! County of Mariposa and State of California both ignored their own rules and regulations that were specifically created to protect life and property. What does that tell you about their concern for the "average citizen"?
And for what? Greed! An increased tax revenue stream for allowing potential "great views" with code violating and existing extremely dangerous substandard roads within a CALIFORNIA SUBDIVISION MAP ACT approved residential subdivision. In Califusion, a citizen cannot count on law enforcement if it contradicts the DEMOCRAT, PROGRESSIVE, SOCIALIST, LEFT movement.
Yesterday, when I first saw how the roadways around the Caracol Circle area were cut up for the lateral replacement project (actually the work itself looked pretty to me, but that is not the issue) I immediately thought to myself…..
there is NO WAY EVERY SINGLE ONE OF THOSE OLD LINES/METER BOXES WERE LEAKING! (Recall when I asked in a meeting about maintenance records of which pipes had the most "band aid" repair couplings and how Kampa was going to choose which lines to replace? Yet the answers could be summed up with……….crickets! lol )
Of course we know from the meeting audio a couple of months ago (representative from the construction company acknowledged the fact) that some of the lines were indeed running to vacant homes and unimproved properties, HOWEVER, it sure looked to me like the far majority of the work around Caracol Circle/Hernandez Drive was primarily performed for vacant lots – many of which are considered "difficult to develop properties" due to steep rock faces, hillsides with driveway/septic system issues. (That's why in that area you will see "SEWER" metal cap markers on the street, because an onsite private septic system will not work in such rocky steep slopes.
Was this "leaking lateral replacement" actually intended to be some sort of increased selling point for these difficult to develop properties around the golf course? Strange, there was even a pile of real estate signs on the side of the road near the work!
Is this why Kampa refused to answer specific questions about this project such as, how many NON LEAKING LINES ARE ACTUALLY BEING REPLACED? (Could it be that the water loss IS NOT FROM LATERAL LEAKS as KAMPA originally claimed while applying for grants? But since the grants were obtained to replace "leaking laterals" Kampa believes this also means "any laterals….anywhere that might leak later?" A "must spend all the money now, because we are going to be asking MR WECs for a lot more very soon?"
Kampa and his "board of defectors" have told the public that money is in short supply for projects designed to stop our massive water loss,(LAFCO ANNEXATION GROUNDWATER WELLS WERE THE PRIORITY DURING THE EMERGENCY DROUGHT WHEN THE TREATMENT PLANT AND INFRASTRUCTURE WAS IGNORED IN FAVOR OF LAFCO EXPANSIONS)  and another PROPOSITION 218 will be required to again raise the rates and fees for MR WECS (MERCED RIVER WATER ENTITLED CUSTOMERS), so those necessary projects can be completed and the massive water loss stopped.  Oh really?
If this is true, why doesn't the LDPCSD state in POLICY:  THERE WILL BE NO MORE WATER SERVICE OUTSIDE THE LEGAL WL11395 LDP SUBDIVISION USING GRANT FUNDED GROUNDWATER WELLS INTENDED FOR DROUGHT RELIEF ONLY?
THOSE EXTREMELY EXPENSIVE GROUNDWATER WELLS ARE BEING USED FOR THE EXACT PURPOSE WHICH KAMPA & KOMPANY REPEATEDLY SAID THEY WOULD NOT BE UTILIZED…..FOR THE BENEFIT OF LAFCO ANNEXATIONS AND MAINTAINING LICENSE COMPLIANCE DUE TO WATER SERVICE TO THOSE LAFCO ANNEXATIONS!
WHY? Because KAMPA & KOMPANY have thousands of acres they want to provide FURTHER groundwater substitution to get around the water license…..BUT WHY SHOULD MR WECS (Merced River Water Entitled Customers) of the subdivision pay for something they do not need?  Frankly, I miss being served quality lake water instead of a blended product that had to have arsenic and other contaminants removed.
NEED MORE MONEY?
Does spending precious funds on replacing water lines that don't leak seem right to you? I would imagine the argument to do such a thing was, since others in the area are leaking, replace them all in that area since equipment already there.
However, as most would also probably agree, it is the repetitious on/off of water valves that cause the movement in pipes, so without the perpetual and immediate ON/OFF of water pressure (no household or irrigation…just vacant lots with no meters) would it be surprising those lines were no leaking?
Of course there is road traffic as well, like around the waste water facility where those large tankers were going in delivering leachate from the land fill for disposal at the waste water plant.  Such heavy traffic loads can stress water lines under the ground….heck probably even stressed the Ranchito Bridge that later washed out in that vicinity March of 2018.
I just think it looks very suspicious (especially by someone who has so clearly misrepresented facts in the past), our system losing so much treated and raw water yet replacing non leaking service lines.  (Consider, if there was such an area of massive leaking pipes Kampa & Kompany would have been waving them around as evidence countering the argument of "wink and nod utility thefts for decades".
Wonder if any new water services are also being installed for these developer convenience roads all over the subdivision on the Mariposa side?  Or outside the water license POU? Recall commercial cattle rancher Director Emery Ross questioning whether his "private water line" OUTSIDE THE MIDPOU would be affected?
Well, this photo stuff isn't going to work…is taking WAY TOO MUCH SPACE……let's throw them into a video!
My best to you and yours, Lew   
PS: "EXPLAIN IT ALL WITH ONLY ONE PHOTO" contest —