PREVIEW TO MY PERSONAL ANSWER TO GM McGOWEN'S REQUEST FOR MORE FINANCIAL 411: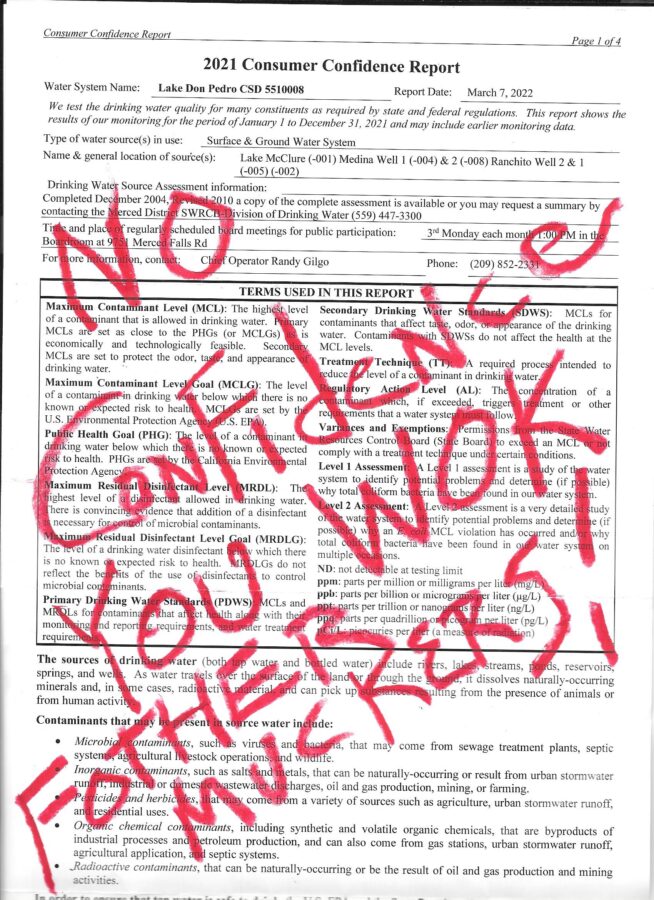 During such a perilous time in OUR COUNTRY'S history the LAKE DON PEDRO COMMUNITY SERVICES DISTRICT GM has the absolute fucking audacity to request legal customers co-operate with DETERMINING HOW DEEP THE MONEY POCKET IS FOR MORE FRAUDULENT GOVERNMENT GRANTS?
STATE AND FEDERAL GRANT MONEY IS NOT FREE
Those GRANTS are not FREE MONEY! (Why do you think they now want to know how much money you have? LOL They only want to know how much they can take away next time from you for such hair brained ideas as providing extremely expensive groundwater substitution services during another SEVERE DROUGHT IN A FUCKING DROUGHT PRONE REGION TO PROPERTY OWNERS NOT LEGALLY ENTITLED TO THE WATER! LET THEM DRILL THEIR OWN FUCKING WELLS LIKE OTHERS DID!
GRANTS COME WITH "STRINGS ATTACHED" TO THE MONEY
Grants are provided with a whole laundry list of attorney written and enforced prerequisites and requirements in order to receive that money (THAT'S WHY "SNEAKY PETE" KAMPA HAD TO FABRICATE THAT POU MAP AND MISREPRESENT OUR ACTUAL SERVICE BOUNDARIES TO GRANT PROVIDING ENTITIES TO EVEN QUALIFY!)
CROOKED OPERATIVES!
KAMPA HAS BEEN NOTHING MORE THAN A PROFESSIONAL "CSD ECONOMIC HIT MAN CHEAT" FOR THE CSDA (California Special Districts Association) for over 20 years! A socialist right straight out of Europe if one was to believe his own previously posted employment history regarding DELFT UNIVERSITY – which has of course been removed from the internet once discovered. (Strange… even the (then) newly hired State Water Board employee who ran "interference" for Kampa during the water right investigation originally came from a European University also. Not surprising, why would Califusion hire American citizens educated here in the United States when LEFTIST TRAINED STUDENTS FROM THE OTHER SIDE OF THE PLANET CAN BE HIRED TO SUBVERT OUR RULE OF LAW WITHIN THAT STATE ENTITY?
GRANT STRINGS
Grant funding requires routine customer billing increases to pay for all that wrongfully perceived FREE MONEY! It's a SCAM just like everything else the WOK LEFT DOES —– FROM CONSPIRING FRAUDULENT PRESIDENTIAL IMPEACHMENT CAMPAIGNS TO CORRUPTING A US NATIONAL ELECTION WITH CHEATING SO OVER THE TOP YOU WOULD THINK THE UNITED STATES OF AMERICA WAS ALREADY A THIRD WORLD PISS POOR COMMUNIST STATE!
I've said it before and I'll say it again – to my utter chagrin…. I honestly tend to believe PUTIN far more than I do SHIFTY ADAM SCHIFF AND HIS LEFTIST SUPPORTING AMERICAN TRAITORS!
BUT IF DESTRUCTION OF AMERICA IS WHAT YOU SEEK….RELAX
YUP! Those desiring such destruction of the USA can relax – the LDPCSD like other WOK PUBLIC AGENCIES THAT HAVE BEEN INFILTRATED BY THE LEFT ARE WORKING EXTREMELY HARD TO FURNISH YOU JUST THAT…… A DESTROYED AMERICAN ECONOMY AND GOVERNMENT WITHIN WHICH "THEY" WILL DECIDE WHO IS MORE DESERVING OF YOUR EXISTING MONEY……WATER……AIR…..etc.
COVID-19 PANDEMIC: THE GREAT TEACHER
Think about that…..THE COVID-19 DECEPTION HAS CLEARLY REVEALED EXACTLY WHAT THESE USA TRAITORS ACTUALLY THINK ABOUT YOUR OWN LIFE AND THE LIVES OF YOUR FAMILY, FRIENDS – OTHER AMERICAN CITIZENS – NOT TO MENTION OUR GOD GIVEN HUMAN RIGHTS! (They are generally Godless manipulators without a conscience anyway – so that part of their evil plan was relatively easy — we don't even deserve to LIVE if not on board with the loss of liberty!
SAME CORRUPTION – SAME UNJUST RESULTS – THEY DON'T CARE – IT'S NOT ABOUT us (MR WEcs)
The continued idiocy of providing an expensive groundwater substitution special benefit water service for LAFCO PROPERTY ANNEXATIONS THAT LAFCO and KAMPA cooked up in the 1990s so the 99% majority of legal customers (the deep pocket) could be forced to unknowingly subsidize such outside place of use development sure appears to be a form of THEFT AND TAXATION WITHOUT REPRESENTATION BY ORGANIZED CRIMINAL ELEMENTS DETERMINED TO SUBVERT AND VIOLATE THE EXISTING LAW WHILE PASSING ALL ADDITIONAL AND SUBSTANTIAL COSTS TO THE LEGAL WATER USERS!
YUP! A CONTINUING MULTI-DECADE CRIMINAL CONSPIRACY TO VIOLATE STATE WATER LAW BY WAY OF ELABORATE DISINFORMATION AND FABRICATED POU MAPS INSERTED INTO VARIOUS STATE AND FEDERAL AGENCIES FOR THE PURPOSE OF RE-CONFIGURING THE LDPCSD INTO A LAND DEVELOPER'S DREAM OF SUBSIDIZED (and PROFITABLE) EXPANSION OUTSIDE THE ACTUAL CALIFORNIA PUBLIC UTILITIES APPROVED WATER SERVICE AREA!
A DUPLICITOUS AND ILLOGICAL PLAN (Throwing away another person's money is easy!)
This is an unbelievably ridiculous and unsustainable water plan ….. to continue drilling extremely expensive 1/2 -3/4 million dollar groundwater wells in a drought prone region where production quality and quantity are compromised (aka, unreliable production for the future) just to serve LAFCO PROPERTIES that are not entitled to such district service in the first place.
Now everyone must consume the same specially "blended Frankenstein concoction" WITHOUT MR WECs KNOWLEDGE OR APPROVAL OF WHO RECEIVES -or- WHERE THAT WATER EVEN GOES – (district unaware of where all the outside POU pipes installed in the past even are!) YET WE (MR WECS – MERCED RIVER WATER ENTITLED CUSTOMERS OF THE SUBDIVISION) PAY THE ESCALATING AND SUBSTANTIAL ADDITIONAL COSTS FOR THIRD PARTY BENEFICIARIES! WHAT A RACKET!
THE DISTRICT IS SELLING OUR EMERGENCY DROUGHT WATER DEVELOPED SOURCES (GROUNDWATER WELLS CREATED WITH PUBLIC FUNDS AND INTENDED FOR EXISTING LEGAL WATER SERVICE CUSTOMERS WITHIN THE SUBDIVISION) TO LAFCO ANNEXED PROPERTY OWNERS WHO ARE NOT ENTITLED TO THAT WATER!
Please – put on your thinking caps! Their entire goal is focused on
Providing extremely expensive groundwater to
LAFCO ANNEXATIONS
to which
OUR CSD
has
NO LEGAL DUTY
or
MORAL OBLIGATION
to provide
JACK SHIT
is
absolutely insane
and a major "in your face" betrayal
TO THE FAR MAJORITY OF LEGAL RATE PAYING
CUSTOMERS OF THE SUBDIVISION!
(Unless you've been Biden – ized and support the over-throw of the USA on the local level!)
REDUCED WATER QUALITY TO THOSE ENTITLED TO MERCED RIVER WATER FROM YOSEMITE
Legal customers of the subdivision previously received some of the highest quality water in this STATE OF CALIFUSION until PETE KAMPA and his WOK FOLLOWING "BORED OF DEFECTORS" (who obviously can not, or refuse to, study the issues and think for themselves utilizing independent personal judgement based on the FACTS AND TRUTH, but rather, only follow their LEFTIST WOK AGENDA using their power and authority to reconfigure OUR CSD into a LAFCO land development tool to obtain the necessary water to develop property annexations outside the subdivision.
(Including several quite large proposed residential subdivisions!)
get that?
INCLUDING SEVERAL QUITE LARGE
PROPOSED
RESIDENTIAL
SUBDIVISIONS!
(In other words, utilizing their substituted groundwater policy to make profits for land developers.)
These traitors to America and the rule of law hi-jacked our district and reconfigured it into a groundwater substitution facility to circumvent the legal restrictions in water license 11395 just to provide water service OUTSIDE THE APPROVED RESIDENTIAL SUBDIVISION for LAFCO ANNEXATIONS KAMPA ILLEGALLY SET UP 20 YEARS AGO WITHOUT LDPCSD BOARD AUTHORIZATION OR KNOWLEDGE (pss…t! that's why he quickly resigned when caught and went up north and fucked up another CALIFORNIA SPECIAL DISTRICT with the NESTLE WATER BOTTLING CORPORATION EXPLOITATION OF THAT AREA.)
PROFESSIONAL CSDA WATER CHEAT RETURNS TO FINISH his 1990s ANNEXATION ACTIVITIES WITH GRANT FUNDED GROUND WELLS
YUP, the "current crooked LDPCSD board" back in 2014 (with good 'ol FAKE COWBOY EMERY ROSS the commercial cattle rancher who has sat on that board for many years unable to read and understand the month's agenda packet upon which he was SUPPOSED TO BASE HIS DECISIONS – BUT INSTEAD – REQUIRED SOMEONE ELSE TO READ THE MATERIAL AND EXPLAIN TO HIM WHAT THE MATERIAL PURPORTEDLY SAID SO HE WOULD KNOW HOW TO VOTE! not so lol, yeah?)
LDPCSD ONLY A MICROCOSM OF THE WASHINGTON DC EVOLVING NIGHTMARE
ANYONE ELSE NOTICE THE SIMILARITY WITH OUR CURRENT APPOINTED AND DEMENTED FRAUD FOR A US PRESIDENT? DO YOU HONESTLY BELIEVE BIDEN IS CAPABLE OF SUCH NEFARIOUS AND COMPLICATED ACTIVITIES WITH HIS OBVIOUS COMPROMISED MENTAL ABILITIES?
Individuals like Ross and Biden are just "self serving manipulated pawns of the left"! EMERY ROSS WORKED WITH KAMPA IN THE 1990s AND WAS LIKELY IN COMMUNICATION WITH HIM FOR MANY YEARS LEADING UP TO KAMPA'S UNETHICAL RETURN AND RE-APPOINTMENT AS GM/TREASURER IN 2014.
BELOW: HERE'S A BLAST FROM THE PAST!
(Sure haven't changed MY TUNE over the years regarding these lying DEMO-RAT RINOs (Republican In Name Only) who have betrayed all legal water customers! )
https://lakedonpedro.org/?s=kampa+returns+to+ldpcsd
UN-FUCKING BELIEVABLE!
"Sneaky Pete" KAMPA is a traveling cancer to the concept of a CALIFORNIA SPECIAL DISTRICT with local control and responsibility for managing such a precious natural resource. Remember the motto of this website?
ANYTHING VALUABLE REQUIRES PROTECTION!
THINK FOLKS! This is all about
REDISTRIBUTION of WEALTH AND PROVIDING SERVICES TO THIRD PARTY PROPERTY OWNERS WHO ARE NOT SUBJECT TO LAKE DON PEDRO OWNERS ASSOCIATION CC&Rs AND ANNUAL ASSESSMENTS ETC. WHICH ENTITLE MR WECs (Merced River Water Entitled Customers) to that licensed water ever since their subdivision property purchase!
EXACTLY THE SAME TYPE OF SCAM PRACTICED IN EVERY FACET OF THE LEFT-SOCIALIST PLAN
Notice the similarities with our national borders and the hordes of people illegally entering this country and stressing our internal resources….. consuming food, services, various forms of assistance, etc. that were established via public funds (THROUGH THE TAXATION OF LEGAL CITIZENS) and clearly intended for serving the citizens of OUR COUNTRY?
RE-DISTRIBUTION OF WEALTH – JUST LIKE SLEEPY JOE ALLUDED TO WITH HIS "NEW WORLD ORDER" COMMENT THE OTHER DAY! (The above doesn't even address the additional crime, violence, injury, death and turmoil resulting from this DEMO-RAT RINO DESIGNED AND IMPLEMENTED MASSIVE HUMAN INVASION INTO OUR COUNTRY! (ARE THESE TRAITORS actually staging a foreign army within our national borders for future use against our legal citizens?) If those people truly wanted to be an American citizen (with all the rights, liberties and duties) they should have followed existing law to enter and join OUR CITIZENRY and that current moron in the oval office should know that!)
LIKEWISE ….
IF THESE OUTSIDE PLACE OF USE PROPERTY OWNERS WANT OUR SUBDIVISION WATER SO BAD – LET THEM ANNEX INTO THE LAKE DON PEDRO OWNERS ASSOCIATION LEGALLY (subject to the exact same rules, conditions, and financial obligations MR WECs has ALWAYS BEEN SADDLED WITH SINCE THEIR PROPERTY PURCHASE WITHIN THE SUBDIVISION) …… THEN, and only then, PROVIDE THEM WITH ALL THE FUCKING WATER THEY WANT TO PAY FOR AT THE SAME PRICE MR WECs IS BILLED!
REM?
"THEY DIDN'T WANT OUR SUBDIVISION PROPERTY WITH ENTITLED WATER RIGHTS –
ONLY OUR SUBDIVISION ENTITLED WATER RIGHTS ON THEIR OUTSIDE PRIVATE PROPERTY!"
LAFCO IS EXPLOITING A CSD IT FORMED AND CREATED IN ORDER TO SUPPORT RURAL DEVELOPMENTS WITH THE "DEEP POCKET MONEY OF MR WECs" to furnish a blended water to annexations THAT SHOULD NEVER HAVE BEEN MADE IN THE FIRST PLACE IF THE RULE OF LAW AND CONCEPT OF EQUAL JUSTICE WERE FOLLOWED –
YOU LAW VIOLATING WOK PIECES OF SHIT!
HERE IS MY PERSONAL AND HEART FELT RESPONSE TO YOUR EVIL REQUEST–
I refuse to co-operate with any further violation of my rights as a US CITIZEN!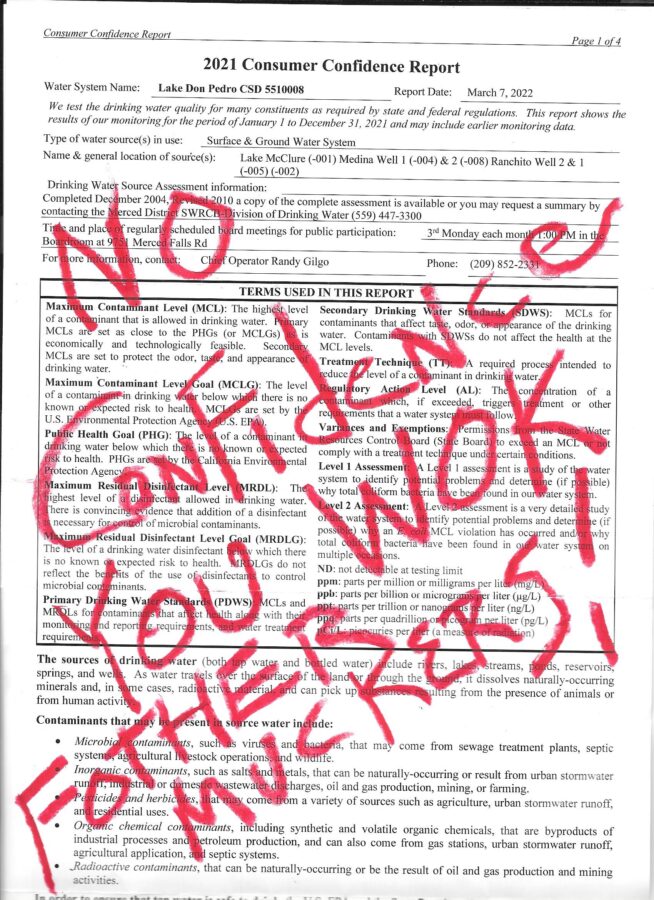 GOLLY GEE FOLKS…..
WHY DO THESE DOCUMENTED CHEATS WANT TO
KNOW HOW
MUCH MONEY YOU HAVE?
THINK! IT IS NOT ILLEGAL YET!
THEY NEED TO KNOW HOW FAR AND DEEP THEY CAN FORCE THEIR GREEDY LITTLE CORRUPTED HANDS IN YOUR POCKET!
ENOUGH!
My best (for the rest) to you and yours, Lew
GOD BLESS AMERICA and LET'S MAKE THESE TRAITORS ACCOUNTABLE BY PUTTING COMMON SENSE BACK INTO ALL LEVELS OF GOVERNMENT BY ELECTING A CLEAN-UP CREW OF POLITICIANS WHO BELIEVE IN THE US CONSTITUTION AND RULE OF LAW IN 2022!
VOTE SUCH SCUMBAGS OUT OF OFFICE AND HELP SAVE OUR AMERICA!
later, Lew
PS: You know, I promised myself I was only going to post my two page nasty response and get to my own work – but as usual, blah blah blah because it may be too late VERY SOON if serious corrections are not made to what these traitors to America have already accomplished with their continuing deceptions and scams! Sorry for the "bad language" but I believe it is more than warranted! Have a great weekend!