PART I
Where to begin?  The last regular monthly meeting (Monday, October 17th) went quite well with the Board deciding to research their apparent, and frequent, violation of District Policy regarding PUBLIC COMMENT REPORTING.  The issue will be addressed at the next regular monthly board meeting.  Below is the Public Comment I read and presented to directors (except Director Emery Ross who was absent), GM Kampa, Board Secretary Syndie Marchesiello, as well as audience attendees.
GM KAMPA explained that my September 19th PUBLIC COMMENT (and previous comments regarding Public Comment reporting in the Minutes per DISTRICT POLICY) was inadequate to initiate any corrective action.  Apparently speaking of such things in PUBLIC COMMENT does not necessarily start the process of correction since it was not a written request submitted to the GM to be discussed on the agenda by the board.  What?   How many other Public Comments have generated immediate scheduling action by the Board and GM because they wanted to act upon that particular information?   Thank you Vice President Dan Hankemeier for your support in providing this issue the attention it truly deserves.

Still it is quite frustrating to realize how several months of "customer suggestions, requests, and complaints" have been INTENTIONALLY IGNORED IN THE OFFICIAL MINUTES THAT WOULD HAVE OTHERWISE PERMITTED CUSTOMERS TO READ AND APPRECIATE WHAT THEIR NEIGHBORS AND FELLOW CUSTOMERS WERE SAYING AT MEETINGS, which needless to say, appears to be the underlying rationale for the policy:  A RIGHT TO BE HEARD.
Can  you imagine the INCORRECT CONCLUSIONS future readers of our Minutes will extrapolate from our historical record WITHOUT ANY MENTION OF THE MANY CONTRARY/CHALLENGING PUBLIC COMMENT CONTRIBUTIONS BY CUSTOMERS ?   …..THE OFFICIAL RECORD WILL SIMPLY INDICATE NO ONE CARED ENOUGH ABOUT DISTRICT ACTIVITIES TO EVEN MAKE A COMMENT or WHAT THEY HAD TO SAY WAS SO MEANINGLESS IT DID NOT DESERVE NOTATION IN THE MINUTES.

A very effective way to "SANITIZE THE OFFICIAL RECORD" of opposing views and/or controversial subjects.
Wes Barton's detailed research, questioning of, and reporting on, District Finances for several months was completely ignored and will simply DISAPPEAR BY WAY OF NONDISCLOSURE TO CUSTOMERS.   This is extremely unethical and the RECORD SHOULD BE CORRECTED WITH FACT!
Transparency of government action my ass.  It is only a carefully orchestrated

illusion

of transparency.
I'm starting to realize (way too late, incidentally) I too have been, and am, wasting precious time reporting on these issues because KAMPA & KOMPANY (supported by their influential special interest property owners and developers who need water outside the legal place of use to exponentially increase property values) are going to do exactly as they please regardless of law, logic, or their ethical duty to the Lake Don Pedro subdivision customers they are supposed to be serving.  Yeah?  So?
Just one more reason why our LAKE DON PEDRO subdivision has needlessly suffered so much through the years because our ONE BIG SELLING POINT OF AVAILABLE HIGH QUALITY MERCED RIVER WATER has been QUIETLY DIVERTED AWAY FROM THE INTENDED BENEFICIARIES TO OTHER SPECULATIVE INTERESTS OUTSIDE THE SUBDIVISION – and WE PAY FOR THIS FRAUD.  Decades of "water wars" because explicit regulations were completely ignored in favor of special interest advocacy and the claim that everybody will benefit and the area will greatly prosper by just violating those pesky PLACE OF USE restrictions in water license 11395.   Money always wins.

MASTER PLAN FOR THE BENEFIT OF……..?
Recall how PETE KAMPA attempted to get the County Planning Departments of Tuolumne and Mariposa to go along with his massive inclusion of other properties into the SPHERE OF INFLUENCE IN THE 1990's?   ( PREVIOUS BLOG POSTING ) And how he over-stepped his position back then by MISREPRESENTING WHAT THE LDPCSD WAS GOING TO DO IN THE FUTURE WITH THE PARKS IN THE LAKE DON PEDRO RESIDENTIAL SUBDIVISION?   While we wait for the "OFFICIAL MAP OF DISTRICT WATER SERVICE" (which is to be documented in an extremely expensive "DOG AND PONY SHOW" multi-map transparency presentation in hopes of diverting attention away from the fact that OPERATIONAL REGULATIONS WERE JUST PLAIN IGNORED), there's another peculiar CSD map that should be presented for your consideration: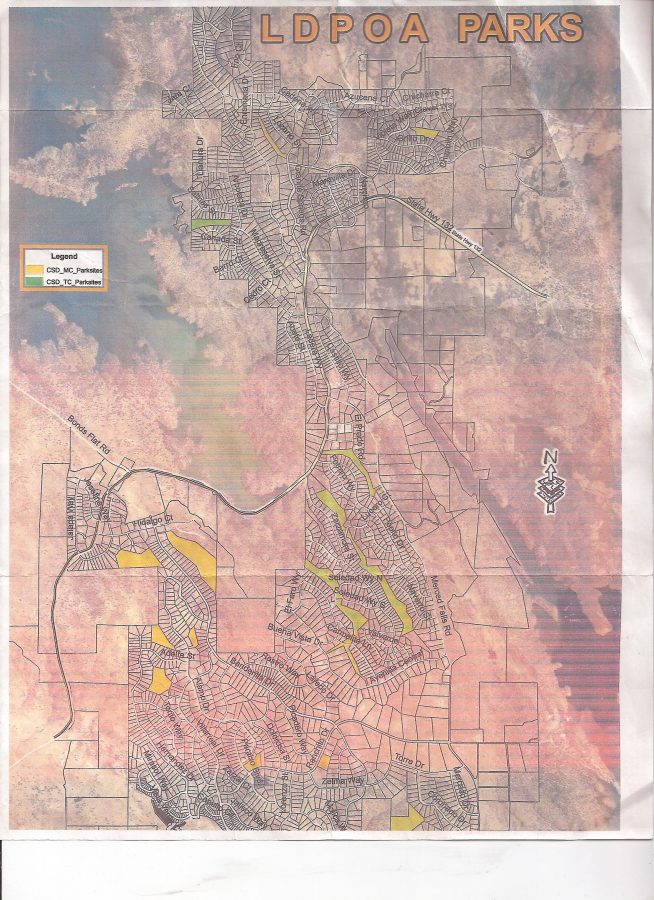 Although the map is clearly titled:  LDPOA PARKS (Lake Don Pedro Owners Association) notice the inserted legend in the top left portion:  "CSD MC Parksites, and CSD TC Parksites" (evidently referring to Mariposa County and Tuolumne County).
Why were these identified as CSD park sites?….Ahhhh, was the District going to "LIBERATE THOSE PARKS" from the subdivision like it did with the water?
I remember a while back that ORB HATTON (the owner of TRI-COUNTY REALTY at the time was supported to be on the LDPOA Board of Directors by an extremely influential "late on the scene" land development/real estate/mortgage  corporation from the Bay Area operating in LDP at the time) made that same pitch (with Dwight Mueller) that the "association" had numerous natural parks scattered throughout the subdivision that residents never used or even knew existed.  Waste of land and money.  He and his group advocated selling them for cash!  (This was another point at which I really got involved with the "crooked politics" of this area.  Selling our open natural parks for some quick cash that probably wouldn't last a year or two?   Dear God!  Who were/are these people who would do such a thing?)
HEARD THAT SAME CRAP 10 years AGO AND REPORTED THE INSANITY!

[Old posting on AHRC website (American Homeowners Resource Center) which initially hosted lakedonpedro.org]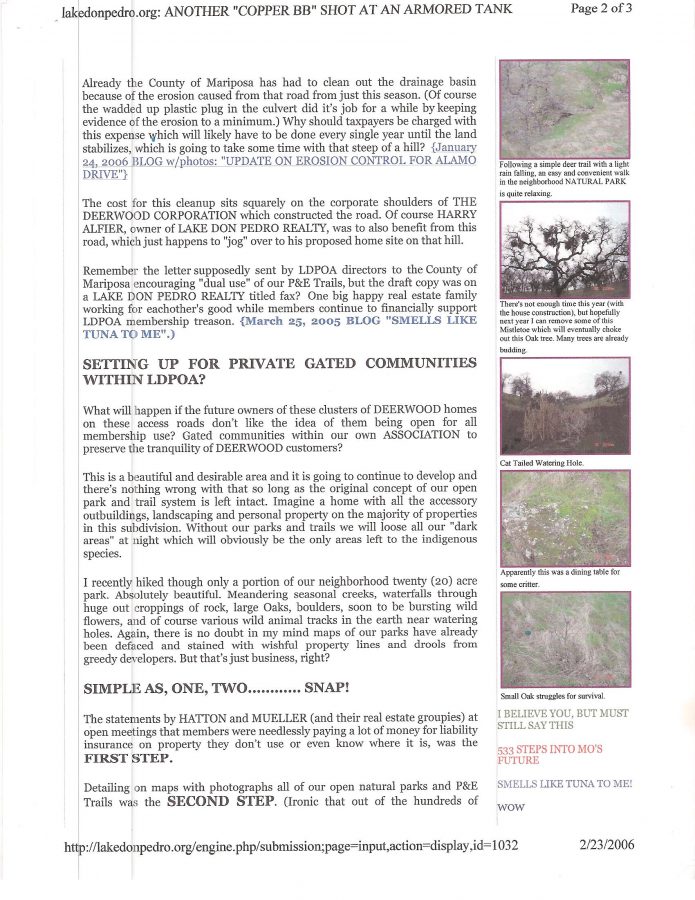 Anyway, reading about KAMPA's past explanation of how these parks were going to be used by the CSD in the future, triggered my recall of ORB's similar advocacy of getting rid of these beautiful open natural areas.  (Amazing how much we tend to forget as we get older, huh?  Reading through these old records sure brings it back.  Was it a waste of time then?  OF COURSE NOT!  WE STILL HAVE OUR PARKS FOR THE FUTURE!)
Now, is it not interesting that Orb Hatton just happened to be the owner of a large parcel of property which is also OUTSIDE the 11395 PLACE OF USE (south of Director Emery Ross's Cattle Ranch on the other side of HWY 132 – the "event location" with the huge pond) that was supposedly annexed into our district despite the fact it receives no CSD water (that is known or documented)  and pays no availability fees?   Support CSD expansion and become part of that expansion without having to pay like entitled users in the subdivision?  I noticed that specific property was recently listed in the Mariposa Gazette under Public Notices so I checked the APN (Assessors Parcel Number), and yes indeed, that was one of the properties allegedly annexed into the District.  I am still searching for that information.  Now seriously, why should that property potentially be acquired by another party without first straightening out this issue of "ANNEXED-NON-ANNEXED-MAYBE ANNEXED – PROPERTY" BULLSHIT?  (Sorry for the language, but I'm tired of wasting my time on something so obviously corrupt with little chance of being corrected by the "POWERS THAT BE".)
While researching for these ["approved?"] annexations I noticed how the earlier paperwork often concealed the owner's name, property description/location, and most often did not contain an "EXHIBIT A"  that was purportedly ATTACHED to the Resolution.  Below is an example.  No frigg'n clue as to where the property was located much less who was the owner.  Just a generic form with slight adjustments.   Of course, after the State of California started checking into things there was a brief suspension of all annexations as new regulations were being formulated.   Cross-checking with other meeting minutes and agenda packets most of the owners and property locations could be discovered.  But a few were/are still a bit of a mystery.

THERE WAS NO "ATTACHED" EXHIBIT A!  
?????????????????????????
 The district was also quite aware of what it was doing from the very beginning as it continued to serve water to properties outside the PLACE OF USE as indicated in the below MAY 7th, 1981 Minutes: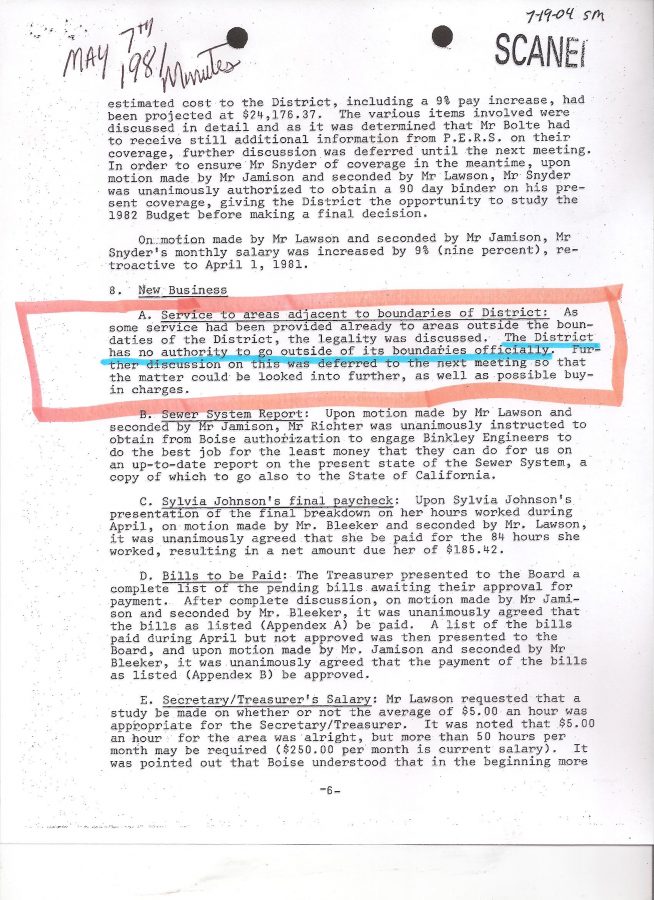 EVEN IF THE ABOVE WERE LEGALLY POSSIBLE IN OTHER DISTRICTS, IT STILL WOULD NOT INVALIDATE THE
MERCED RIVER WATER RESTRICTIONS

TO WHICH OUR DISTRICT WAS SUBJECT.
I BELIEVE ONLY THE STATE WATER RESOURCES CONTROL BOARD HAS THE EXCLUSIVE AUTHORITY TO ADJUST SUCH REGULATORY BOUNDARIES OF SERVICE UNDER A STATE WATER LICENSE.
?????????????????????????
CHECK OUT THIS TIME LINE OF PROPOSED PROPERTY ANNEXATIONS TO THE DISTRICT BELOW.    NOTICE ANYTHING A LITTLE BIT WEIRD? 
(I BELIEVE THESE PROPERTIES ARE ALSO VERY CLOSE TO THE ROSS RANCH)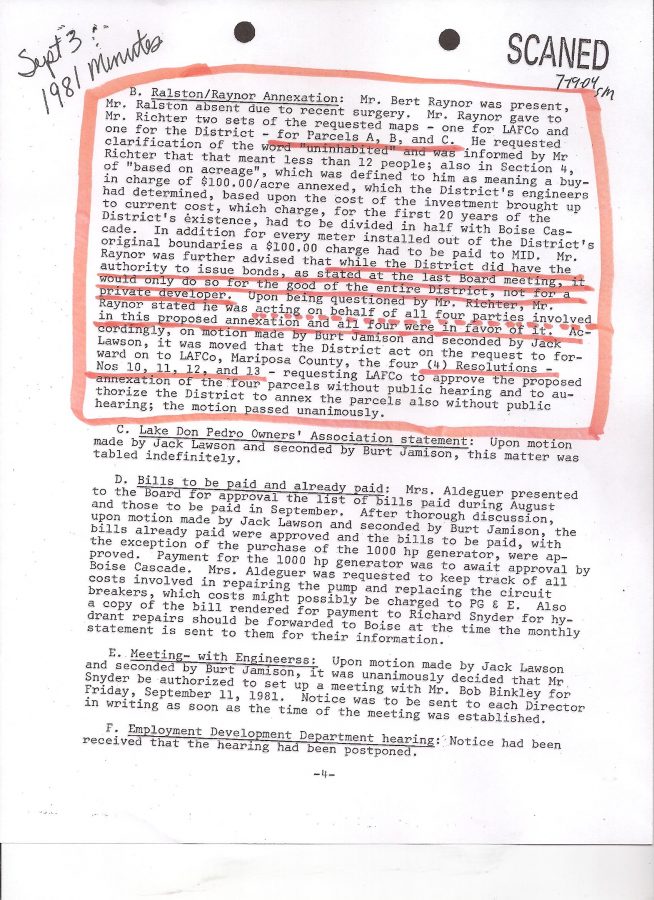 (NOTICE THE "NO PUBLIC HEARINGS" ON THESE ANNEXATIONS?  NICE AND QUIET!)
OK, so we have two different property owners (Mr. Bert Raynor and Mr. Bud Ralston) representing their respective properties for annexation, IN ADDITION TO TWO OTHER UNKNOWN PROPERTY OWNERS who also wish to annex to the District but their names are NEVER MENTIONED in District Minutes (that I could find).  Strange huh?
That is until I found their partial names listed on the 1981 RESOLUTION INDEX.  The unknown property owners were listed as "VAILS PROPERTY" and "CORDELL PROPERTY".  (BELOW)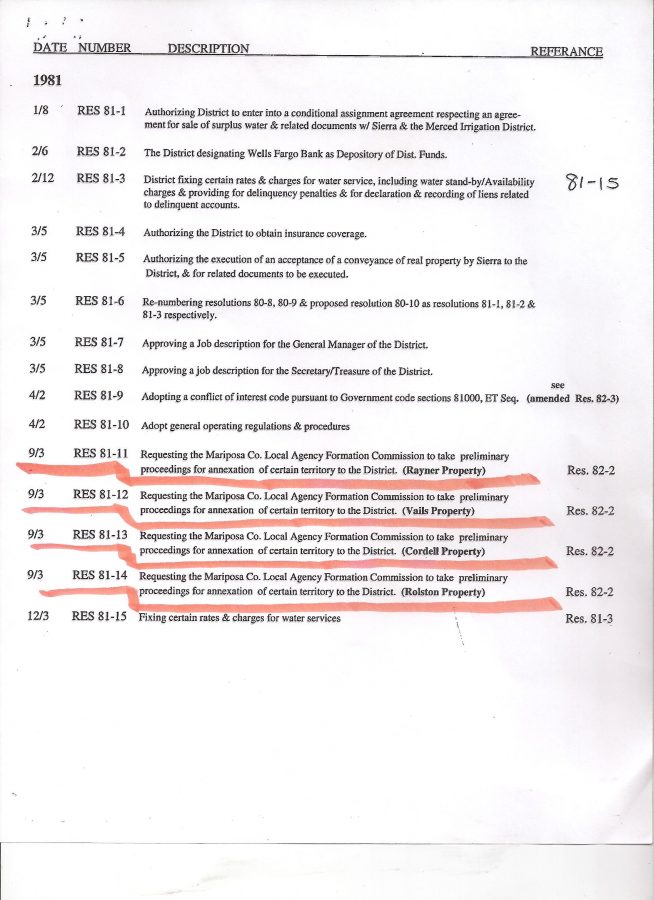 OK, now please allow me to make something perfectly clear right now, I have absolutely NO IDEA if what I'm about to share with you is something important to the continuing saga of the "MISSING OFFICIAL LDPCSD WATER SERVICE BOUNDARY MAP of 1980 that was purportedly BASED ON THE "INFAMOUS LAFCo SURVEY" (which means nothing since it is pages of engineering field language, ie, degrees, distances, compass headings, etc. – absolutely NO HELP without the corresponding map), or just a co-incidence.  Could be just a co-incidence, but after seeing some of the garbage that has been passed off through the years as "official paperwork of the district", well, I figure ANYTHING IS POSSIBLE!  lol
OK, here it is – again probably just a co-incidence of names.
Was Raymond Vail, or a family member, annexing property into the District at that time?  And the "Vails Annexation", was actually "Vail's annexation"?  Or perhaps his name was actually "Raymond Vails?"   Heck I don't know – it just seemed funny the name wasn't mentioned until almost 10 years later in the above Minute report that a
Raymond Vail drew up the first OFFICIAL BOUNDARY MAP.  Even that raises some more worthy questions.
HOW DOES AN ENGINEERING FIRM LOSE A PAID PROJECT MAP?
SO THE ORIGINAL MAP BASED ON A PURPORTED "LAFCo SURVEY" DISAPPEARS AND CAN'T BE FOUND? Didn't LAFCo receive a map for their survey?  It was the county's survey, right?  Or is that a piece of "misinformation" also?
SO THIS CONTRACTED ENGINEER WITH OUR DISTRICT ENGINEER'S ASSISTANCE ESSENTIALLY FABRICATES A SUBSEQUENT "OFFICIAL MAP" WHICH WAS ACTUALLY A
FRANKENSTEIN CONGLOMERATION OF ANOTHER OLDER MAP WITH VARIOUS EXTREMELY SUSPICIOUS ANNEXATIONS

THAT WERE APPARENTLY NEVER EVEN LEGALLY AUTHORIZED!
WHAT DOES "ADDED TO THAT MAP THE ANNEXATIONS, ETC., " ACTUALLY MEAN?  WHAT ELSE WAS ADDED TO THAT MAP?
WHAT ABOUT ALL THE TRAs (TAX RATE AREAS) ESTABLISHED BY THE CALIFORNIA STATE BOARD OF EQUALIZATION BECAUSE OF "DISTRICT ANNEXATION [INCLUSION]"?
ARE THERE TAX BENEFITS FOR LARGE PARCELS THAT ARE INCLUDED IN A COMMUNITY SERVICES DISTRICT?
FIRE INSURANCE?  RESALE VALUE?  FURTHER POTENTIAL SUBDIVISIONS?

WHAT SORT OF TAX BENEFITS WERE RECEIVED BY THESE PROPERTIES THAT WERE QUIETLY BROUGHT INTO THIS "COMMUNITY SERVICES DISTRICT"  ALTHOUGH NOT RECEIVING ANY WATER OR PAYING YEARS OF AVAILABILITY FEES?
THE PROPERTIES WERE STILL OUTSIDE PLACE OF USE AND COULD NOT EVEN RECEIVE
MERCED RIVER WATER

– YET LATER THEY COULD VOTE IN OUR ELECTIONS AND DETERMINE WHAT SORT OF DIRECTORS WOULD REPRESENT THE THOUSANDS OF UNAWARE VICTIM SUBDIVISION PROPERTY OWNERS

WHO WERE THE ONLY TRUE ENTITLED CUSTOMERS

?
THERE HAVE BEEN A NUMBER OF STRANGE "MAP COMMENTS" THROUGH THE YEARS.
CHECK OUT THE APRIL 15, 1996 MINUTES (below) WHERE BOTH LAFCo AND
THE UNITED STATES DEPARTMENT OF THE INTERIOR

REQUESTED A MAP OF OUR SERVICE BOUNDARIES….. (but I thought LAFCo established the boundaries -why are they asking?)
AND WHAT WAS OUR DISTRICT RESPONSE TO THESE OFFICIAL REQUESTS FOR A LEGITIMATE MAP?  –
TOO BUSY RIGHT NOW – MAYBE LATER?
lol
WHAT A FRACK 'N SCAM!
_________________________________________________
PART II
Special Meeting Friday, October 21, 2016
Nope.  I did not go to the Special Meeting yesterday  last Friday (see below) because I am still trying to get caught up with my own house/property work, besides, if "robbing Peter to pay Paul" is necessary to maintain safe quality water, by all means complete the work ASAP.   (Previously dedicated funds to repair/replace the raw water line from Lake McClure to treatment plant which has been leaking like a sieve for decades will evidently be used for the FILTER EMERGENCY.)  Here are 5 of 26 pages of an updated agenda packet with some very interesting material about our filter system.  VIEWERS ARE ENCOURAGED TO LOG ONTO THE DISTRICT'S WEBSITE AND READ ALL THE SUPPORT MATERIAL.  A REAL EYE OPENER.
BELOW IS THE RECENT MEMO FROM THE LDPCSD ENGINEER (kind of scary)
SHOULD THIS POSTING HAVE BEEN TITLED:   "A COMMUNITY AT RISK"?
I FOUND THIS IN THE 2009 RESOLUTION INDEX
OUR CSD RECORDS ARE PATHETIC
(but there is a very good reason for that, and I believe it is to conceal pure fraud!)
HERE ARE THE MINUTES TO THAT FEBRUARY 23, 2009 SPECIAL MEETING REGARDING THE FILTERS
[ SO, NOW WE ARE LOOKING AT $101,458.64 for the first filter and probably another $100,000 +/- for the second one later?] 
JUST THINK, ONLY THE COST OF ONE OF KAMPA'S "ALTERNATE SOURCE GROUNDWATER WELLS" COULD HAVE PAID FOR THIS PRIMARY SYSTEM COMPONENT AND MUCH MORE!
___________________________________________
Unfortunately, this may be another perfect example of where some of those substantial grant funds from the State of California and Federal government could have been spent on necessary infrastructure and primary equipment repair/replacement rather than developing that "alternate source of water" for SPECIAL BENEFIT GROUNDWATER SUBSTITUTION for outside Place of Use properties.  (Which requires arsenic removal/dillution – GOSH!  Isn't that what our filters are supposed to do when working properly?   KAMPA said there's been a problem for several months?  Wasn't it several months that KAMPA was bragging about our community only being served groundwater from these wells?   YUCK! ) 
added note:  ALSO a BIG THANK YOU to Director Russell Warren who first brought up the subject of arsenic in our water.
First the original Ranchito Drive well goes out and cannot produce water…..
which obviously means the NEW GROUNDWATER WELLS CONSTRUCTED WITH PUBLIC FUNDS HAVE ALSO BEEN EXCLUSIVELY USED FOR MONTHS TO supply a SPECIAL BENEFIT WATER SERVICE TO OUTSIDE PLACE OF USE PROPERTIES.
Yes, as pointed out by DIRECTOR SULT, this is NOW an emergency situation (original Ranchito Well being non-producing) to stay compliant with the groundwater substitution procedures.  [Every gallon of MERCED RIVER WATER that leaves the PLACE OF USE MUST BE REPLACED WITH A CORRESPONDING AMOUNT OF GROUNDWATER.  Naturally, a greater GROUNDWATER SUPPLY equates to a greater number of OUTSIDE PLACE OF USE properties that can be served water – to "HECK" with emergency drought water for the subdivision residents!  Sell it to the land developers and speculators outside the POU!  Who can stop them?]
But why did that otherwise dependable original Ranchito well suddenly fail?
Why did the well casing evidently collapse?
Could it have been because of all the drilling in the area frantically looking for the right places to spend all that grant money on new wells?  Who knows, and would they actually tell us if they did know?    (Slim to no chance would be my guess.)

Didn't KAMPA learn anything from the massive ground well failures of BOISE CASCADE?   Why did KAMPA put the needs/dreams of property owners outside the POU before that of the legally entitled subdivision customers for whom that SURFACE WATER TREATMENT PLANT was intended to serve since DAY ONE?
Then we learn the new groundwater wells have too much arsenic over the maximum levels allowed by the state which must be removed.
Now we learn there has been some sort of problem with the filters for the last several months……years–and the safety of the community jeopardized.

So now the District is proposing diverting funds intended for the DECADES OLD LEAKY RAW WATER LINE (THAT RUNS FROM LAKE McCLURE TO THE TREATMENT PLANT – where I suspicion some "liberation of water" may have been taking place for many years)  for the NEW EMERGENCY REPAIR OF OUR FILTERS!    
YOU KNOW,….
IT SURE APPEARS AS THOUGH KAMPA'S GROUNDWATER SUBSTITUTION PROGRAM
ACTUALLY OPENED UP
A HUGE CAN OF
GROUND-WORMS!
I remember being on the board and talking with a State Inspector regarding our surface water treatment plant difficulties.  Essentially he stated there were many things that needed to be addressed but acknowledged the district had limited funds and so long as the most important safety issues were being addressed, the other violations could wait.   In other words, there were a number of "technical violations" that could wait so long as diligent effort and progress was being made on the most imperative water safety issues.
I now wonder if the State of California might be a bit less understanding/forgiving for those other "technical violations" due to the fact when OUR DISTRICT

FINALLY DID HAVE THE MONEY FOR IMPORTANT PRIMARY INFRASTRUCTURE REPAIRS/IMPROVEMENTS 

(State & Federal grants) IT WAS

SURREPTITIOUSLY RE-DIRECTED TOWARDS DEVELOPING AN ALTERNATE SOURCE OF WATER IN ORDER TO PROVIDE A SPECIAL BENEFIT GROUNDWATER SUBSTITUTION PROGRAM FOR PROPERTIES OUTSIDE THE PLACE OF USE UNDER LICENSE 11395

!  (have you heard that before some where?)

THAT'S

MISREPRESENTATION

TO OBTAIN THOSE FUNDS AND

MISAPPROPRIATION

OF THE SAME WHEN THEY WERE RECEIVED IN MY BOOK!
AND ON TOP OF THAT…..our district has no legal duty or moral obligation to serve those properties water ANYWAY! 
Could the State have said "OK, that's it! Everything must come into compliance now" ? 
But once again, who really knows?  
Here is some information I found dealing with removing arsenic from a water supply.  Although certainly no expert, I highlighted the sections that seemed to apply to our filtration system.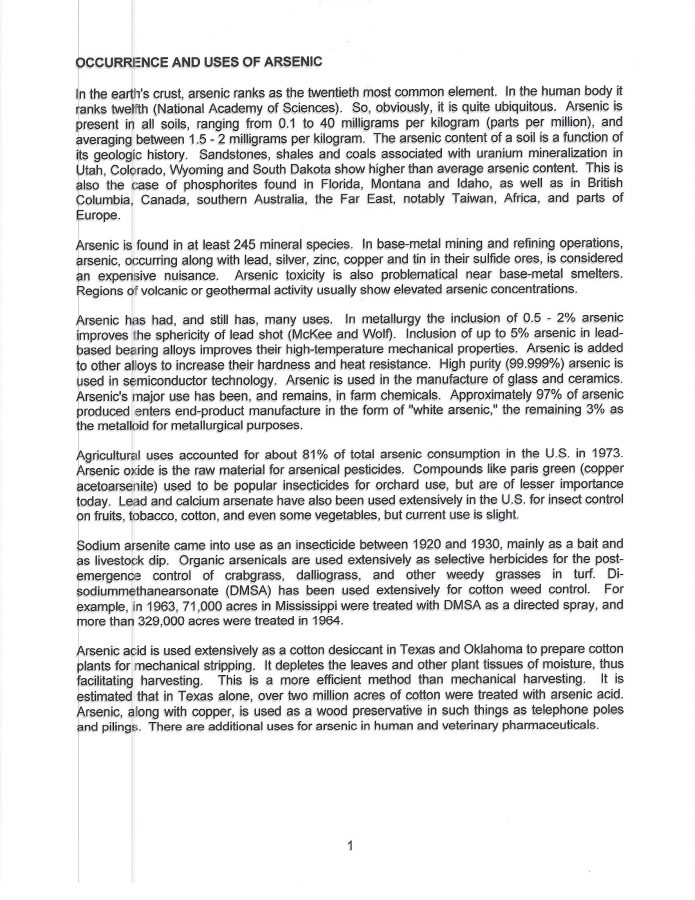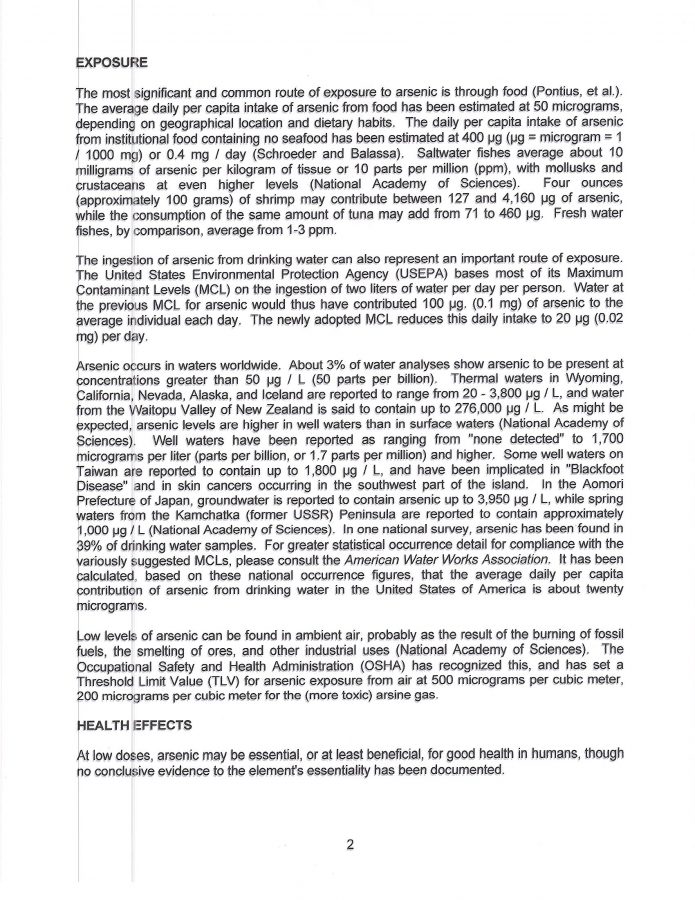 Here's a photo I took just before the October 17, 2016 monthly board meeting while the filter work was in process (and before the extent of "filter failure" was known).  The two large horizontal tanks are our filters [filter vessels], the vertical cylindrical equipment behind the rear filter tank (in front of truck) is a large vacuum the contractor used to remove the filter material inside the tank.  (Hoses to the left of tanks.)
Well, there goes another full day of this CSD garbage – I'm beat and my finger tips are numb.  (not so lol) So please excuse any glaring mistakes.  I'll check tomorrow.
My best to you and yours, Lew
HEY!   WE GOT A LITTLE RAIN TONIGHT!