"TRUMP'S BIG LIE" IS REALLY THE "LEFT'S BIG HIDE" (OF THE TRUTH)!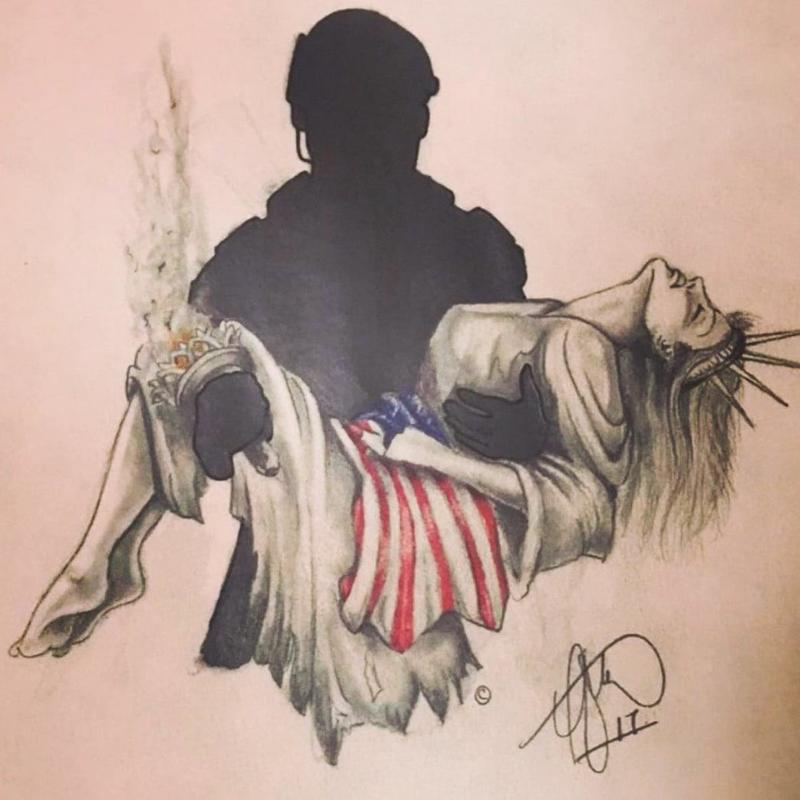 LewView of this powerful image? Lady Liberty is being rescued by the shadowy figure representing every single patriotic citizen of the United States of America! Keep the faith! She may be wounded and NEEDING ASSISTANCE but SHE IS FAR FROM DEAD and the truth is slowly coming out regarding the monumental betrayal of America, her citizens, and her FREEDOMS!
I will again suggest checking out the MeWe platform as that is where I re-discovered Mr. JovanHutton Pulitzer (after seeing him testify on television during the Georgia election hearings) – there you will find many incredibly intelligent, creative and logically thinking individuals representing the more traditional American values most of us were taught, acknowledge and support. Rather like going to a strange environment yet still feeling a comfortable sense of being at home.
"TRUMP'S BIG LIE" IS REALLY THE "LEFT'S BIG HIDE" (OF THE TRUTH)!
As the left continually calls obvious "2020 Election Fraud" just a BIG TRUMP LIE, while simultaneously attempting to suppress the legitimate growing evidence of its existence, those who previously trusted Main Stream Media can either acknowledge they have been deceived and recognize those FAKE NEWS SOURCES for what they are – ANTI-AMERICAN PROPAGANDA OUTLETS and seek alternative reputable news sources with a history of factual reporting, or,
they can continue to support and be deceived by such false information designed to assist in the demoralizing of our country's population towards its Leftist planned demise. Those in the "MEDIA" who intentionally suppress truth and disseminate this false information as news are (in LewView opinion) "major-player traitors" to America and should be avoided like COVID-19! (loss of US citizenship and deportation to their "dream country" of choice wouldn't be too far off track either considering the damage they have, and continue to do, to this nation.)
My best to you and yours, Lew……
of course others might interpret the image much differently (yes at first blush I also thought the shadow represented military action as well) – but either way, (as the military could arguably also be a representation of the US citizen) notice the rescuer is now [I would argue temporarily] holding the torch which is still burning………and will continue to burn in the hearts and minds of all patriots willing and dedicated to …….
but I digress.
KEEP THE FAITH! Still angers me greatly with the thought of how many good souls left this plane of existence with troubled thoughts of their beloved America falling to the Left before the truth escaped this new LEFT CENSORSHIP in OUR AMERICA.) later.