Guess what emails I found this morning? Only took a little over three years for the State of California to officially acknowledge the obvious legal WL11395 Place of Use boundary for Merced River water in the Lake Don Pedro area?
A boundary intentionally misrepresented by former GM Pete Kampa for many years due to his own special interests dealing with LAFCO (Local Agency Formation Commission) ANNEXATIONS to the Lake Don Pedro CSD he personally set up in the mid 1990s! Wow.
Maybe it didn't really take that long to confirm the fact Pete Kampa had provided false information to the State of California on multiple occassions?
Perhaps the SWRCB was simply dragging out this almost "internally closed investigation" while waiting for PETER KAMPA to parasitically attach himself to another special district host? Certainly it shouldn't take too long to find another base of operations for his KAMPAGANDA MANAGEMENT STYLE, after all, good 'ol Pete has been a CSDA (California Special District Association) director for approximately 20- years and actually trains others on how to operate and manage special districts. Surely such an impressive background would assist greatly with any special district employment opportunity.
Kampa gets hired by GROVELAND CSD up the hill this May/June and PRESTO! – the long awaited State response arrives late June! lol What a coincidence yeah?
This most recent report by Feldhaus (the then "3 month new state employee" who was prepared to close the investigation based on further false information provided by then GM Kampa – Remember the resolution Kampa had prepared for the meeting to proceed with his special benefit services outside the WL11395 POU because the SWRCB had accepted his "INTERPRETATION" of the POU? Good Heavens.),
Remember my blah, blah, blah on that almost closure by Feldhaus and Kampa? My how time flies yeah? It was only a year ago….(dreamy type music and fade to old post:)
https://lakedonpedro.org/2018/06/
anyway, this report by Feldhaus starts out rather curiously as it was approved by a supervisor on June 26, 2019 yet the date heading was left blank. No biggie.
Yup, finally the state response addressed to Peter Kampa, General Manager Lake Don Pedro Community Services District on June 27th, 2019 – but Pete has moved on to a more lucrative position leaving LDPCSD customers with the expense of his and the board's deceptions regarding the actual motive for developing those extremely expensive groundwater wells. – FURTHER EXPANSION AND DEVELOPMENT OF LAFCO ANNEXED PROPERTIES THAT WERE CLEARLY OUTSIDE THE LEGAL WATER USE BOUNDARY OF THE SUBDIVISION AND GOLF COURSE – ALL WITH PUBLIC FUNDS.
So here's the SWRCB conclusion of the matter while far more serious criminal aspects to this water license scam have apparently evaded long overdue investigations, much less, prosecution.
BELOW: CHECK OUT THE LAST SENTENCE, LAST PARAGRAPH AS IT IS NOT FACTUAL:
"AS OF 2015, THE FOUR WELLS
ARE CAPABLE OF SUPPLYING
OVER 100% OF THE
COMMUNITY'S
WATER DEMAND."
Nope, incorrect. While it maybe true the wells provided water to the community it certainly was not the actual water demand being met as all customers were under a fine imposed drought water restriction which constituted a 50% reduction in water use for that time period.
THIS DOES NOT EQUATE TO
100% OF COMMUNITY DEMAND!
(Notice the statement is true when applied to outside place of use customers only – but not all customers and normal water demand!)
Just one example of questionable statements.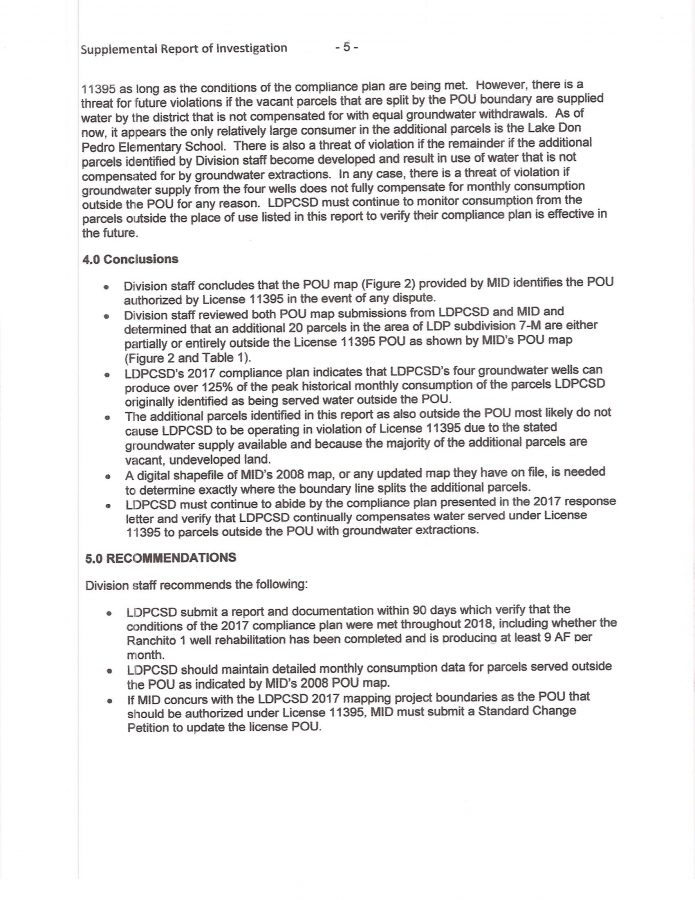 This is absolutely disgusting on a number of levels, but I have spent my entire day printing, scanning, downloading and uploading these pages so you folks can take a look at this mess. Suffice it to say, this CSD, State and entire country is in serious trouble with people like Pete Kampa falsifying government documents and "interpreting law" for special interests.
You know, this is exactly the type of stuff that dramatically increases the cost of government services which is only passed on to innocent already victimized customers who continually pay more and receive less.
Thank you and Happy Fourth of JULY
To every American patriot
Others have a peaceful day
Enemies can just eat _ _ _ _ .
My best to you and yours, Lew