–
WE ……………(the other filthy members of this "DIGITAL KNOW NOTHING BAND") were discussing the agenda for tomorrow's Lake Don Pedro CSD Board Meeting (Monday, March 19th, 2018 @ 1300hrs) when a contradictory aspect to current General Manager/Treasurer Pete Kampa's response to the STATE WATER BOARD September 28th 2017 NOTICE OF WATER RIGHT VIOLATION was brought up.
Please recall Kampa had confirmed at the February board meeting that the same incorrect 24 year old "Shape File" (map) information (KAMPA presented to customers at the October 2017 meeting with that BOARD APPROVED $35,000 mapping project) had indeed been submitted to the STATE WATER BOARD as the official LDPCSD Place of Use (POU) boundary for Merced River Water.
KAMPA had also at that time demonstrated his unwavering support for his NEW POU DESIGNATION by removing properties from the traditional monthly OUTSIDE POU COMPLIANCE REPORT in order to reduce the amount of GROUNDWATER SUBSTITUTION required for State Water License 11395 compliance.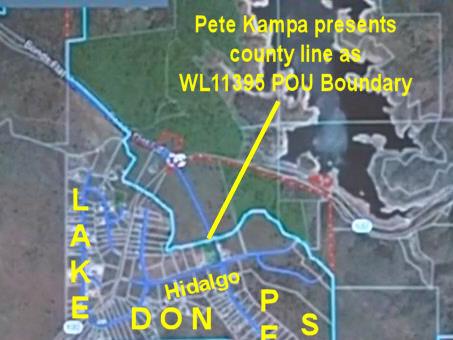 Since every unit of Merced River water that leaves the district in violation of license restrictions MUST BE REPLACED with an equal or greater amount of GROUNDWATER, Kampa attempted to reduce that required amount of GROUNDWATER SUBSTITUTION since that new groundwater source was stated to be for EMERGENCY DROUGHT RELIEF.
WE HAVE ALWAYS CONTENDED
those extremely expensive GROUNDWATER WELLS designed, developed and maintained with PUBLIC RESOURCES & REVENUE were in fact intended by KAMPA & KOMPANY from the beginning to serve the outside POU compliance demands for the massive LAFCo (Local Agency Formation Commission) annexations into the district that were clearly OUTSIDE THE water license POU and therefore required a groundwater supply to develop.
Adding insult to injury, many of those annexations were approved by LAFCos when the LDPCSD had no GROUNDWATER SUPPLY what-so-ever.  This suggests a hidden agenda of forcing the LDPCSD  (formed by LAFCo as well) into surreptitiously circumventing clear license restrictions by providing a SUBSIDIZED GROUNDWATER SUBSTITUTION  SERVICE for properties outside the legal POU which our district had no moral obligation or legal duty to serve water – a fact clearly documented in the CPUC (California Public Utilities Commission) transfer of facilities and assets to the new LDPCSD in August 1980.   (A district formation document in LDPCSD records for many years has misrepresented that CPUC service area approval by adding a sentence greatly expanding the area.)

Even a 900 acre proposed subdivision KAMPA work on 20 years earlier (approved in 1995) was kept a secret from the public until only a few months prior to KAMPA's unethical appointment as GM through a closed recruitment process orchestrated by Board Directors favoring further outside POU expansion.   Kampa was simply returned to finish what he started in the 1990s – obtain the groundwater necessary for private development with public funds.
Kampa's removal of those annexed properties from that long standing OPOU report was accomplished based on SHAPE FILES (maps) obtained from a conditionally approved project  which was ultimately abandoned for failure to meet State conditions – with this occurring when Kampa was first employed at the LDPCSD back in the mid 1990s.  Did Kampa use those maps for obtaining DWR (Department of Water Resources) grant money?  Why would the DWR have antiquated "shape file" records illustrating an incorrect POU for Merced River water per WL11395?
WE WONDERED what this background discussion had to do with the upcoming meeting on Monday?
From the March 19th, 2018 Agenda Packet:
"State Water Board Violation Notice –The requested map layers have been submitted to the state are currently under review. To date, we have not received response from the State Water Board staff. "        
WE SUGGEST VIEWERS READ THE BELOW 180 SPIN BY KAMPA…
Can you hear and smell the PU?
Outside Place of Use and Well Operation–During the month of February, we operated Ranchito Well #2, pumping 9.86-acre feet to the treatment plant. The total consumption by

OPU

customers was 0.68 acre feet. For reporting purposes, we are including all parcels previously included in the

OPU

report, plus the parcels we have recently unidentified as likely outside the POU, but not previously included in monthly reports.  Using this method of reporting, until the state provides an POU boundary decision, we will be reporting the potential maximum number of properties that the state could determine as located outside the POU.
(GRAMMAR ASIDE –  Can viewers hear/smell what WE mean?
"we are including all parcels previously included in the OPU report, plus the parcels we have recently unidentified as likely outside the POU, but not previously included in monthly reports."
Can't you hear the screeching tires of our LDPCSD clunker as KAMPA power skids them through a quick about face turn and heads off in the opposite direction?  Can't you smell the burning rubber tires?
(Guess who pays for the resulting damage to this LDPCSD IMAGINARY VEHICLE? – representing the course this CSD has been pursuing since KAMPA became the driver in 2014?)
________________
#1
"WE"?
Dear LORD!  I am SICK AND TIRED OF THE YEARS OF THIS MISLEADING "WE" KRAPA!
WE THIS…. WE THAT…. WE BELIEVE……, when in actuality it is PETE KAMPA THIS, PETE KAMPA THAT……PETE KAMPA BELIEVES…..
(Thus this CONTINUING "WE" spoof of the DKNB! 
LOL!
There are no other Digital KNOW NOTHING Band members!
Just ME ME ME ME – off key again huh?   Lol)
In this current KAMPA "WE EXAMPLE" the "WE" is substituted for the

STATE WATER BOARD

which investigated this CONTINUING KAMPA POU MISREPRESENTATION and determined the POU boundaries indeed appeared contradictory and requested clarification from GM/TREASURER PETE KAMPA.
The

KAMPA "WE"

has done

JACK SHIT

in reporting the truth of this POU matter – much less acknowledging his own duplicitous activities of intentionally misrepresenting essential facts for over twenty years! 
#2 
Why OPU instead of the TRADITIONAL OPOU?
Agreed, much of Kampa's work might best be summarized with a "PU" abbreviation – (PU as in stinky krapa), but more importantly this is just another illustration of Pete's penchant for intentionally confusing subjects and issues as camouflage for his behind the scene garbage.  Something he has done for over twenty years regarding the LDPCSD and permitted MERCED RIVER WATER USE.
After all, how is "PLACE OF USE" abbreviated in legitimate State water agency documents?
POU !

So naturally our professional manager uses "OPU".
Same as on the LDPCSD website where viewers must download the POU information for review rather than having it simply posted like KAMPA has done for his
BULLSHIT MAPS
WHICH CONTINUE TO REPRESENT INCORRECT BOUNDARY INFORMATION
as well as
"AREAS RESERVING WATER FOR FUTURE USE"
to the public!
WE-CU4?-UR
And it's not so lol PU PETE.
Actually, the OPOU title change to OPU may have been suggested by the MERCED IRRIGATION DISTRICT after I requested POU COMPLIANCE INFORMATION through a FREEDOM OF INFORMATION ACT request (Certified mail lost between Sacramento and Merced) that the MID had been receiving monthly for about 16 years until KAMPA returned and quickly halted the report.
Even when "hand carried in" MID claimed to be unsure of the information I was requesting!  Heck, KAMPA later stated he wasn't even aware of such compliance reporting to MID the WATER LICENSE HOLDER WHO HAD ORIGINALLY DEMANDED THE REPORTS IN THE FIRST PLACE!
  Oh please!
WE BELIEVE IT PRETTY OBVIOUS that the MERCED IRRIGATION DISTRICT, PETE KAMPA and the LDPCSD Board of Directors have worked together for some time to conceal this information from the public.
#3
HEAR & SMELL?
KAMPA has steadfastly pursued his own personal/business SPECIAL INTERESTS in developing annexed land within the LDPCSD.  (Kampa personally advocated the annexation of approximately a thousand acres in 1997.)   Kampa has supported and defended his devious activities with professed managerial education, experience and professionalism.   Do not forget he even recently received a GOVERNMENT TRANSPARENCY AWARD from the CSDA (California Special Districts Association) where he has been an active board member for approximately 20 years.  Some coincidence, huh?  No doubt the CSDA is extremely proud of their ACCOMPLISHED SPECIAL DISTRICT REPRESENTATIVE who can really get things done.  Apparently the CSDA is not concerned with the lack of ethical standards of their board members either.
Yes a cocksure Pete Kampa resurrected and began pushing a twenty plus year conspiratorial annexation development plan with a cooperative board (NOTE:  OUR statement does not include recently appointed Director Nellie Sperry or prior director Jim Sult) signing off on all things KAMPA.  Even the locations where further dry wells were drilled; the purchase of a nearby property with a questionable ground well, and other activities came right out of that 20 year old OPOU "playbook" development plan.
Only recently has the board displayed some questioning of "all things Kampa".
But what has changed?
That appears to be a relatively simple question to answer:
It is one thing to essentially tell LDPCSD customers who ask legitimate pertinent questions at meetings to piss off – but quite another when the

STATE OF CALIFORNIA

asks those same questions!
_________________________________________________________________
ALSO FROM THE MONDAY AGENDA PACKET:
"Incorrect Government Code Section Used on 2-21-18 agenda – We received a public comment at the February board meeting regarding the California Government Code section (citation) used on the Closed Session agenda.   Management has confirmed that Code Section 54956.95 was incorrectly used, which should have been Code Section 54954.5"  
Nice try— but that INCORRECT CODE SECTION has been used multiple times for different CLOSED SESSION MEETINGS regarding a GM EVALUATION despite a prior question as to the code's correctness being ignored.
SO WE WONDER:

 
Was this truly the wrong Code Section for a NUMBER OF GM Evaluations supposedly held in CLOSED SESSION?
(Recall Board President Danny Johnson stated there had never been a GM evaluation in the past according to policy.) 
Or –
Was the correct code section for AN INCORRECTLY TITLED GM EVALUATION repeatedly used to obscure CLOSED SESSIONS where financial matters involving law suits and potential district losses have been discussed, perhaps even acted upon outside the public view?
In other words, were these multiple CLOSED SESSION MEETINGS actually dealing with district liabilities and/or potential losses by law suit as the CODE SECTION STATES due to PETE KAMPA activities which the board/legal counsel did not want reported to the general public at this point – so they just called it an "evaluation"?
What documents were copied and distributed by Board President Danny Johnson during that one meeting closed to the public where PETE KAMPA was SUPPOSEDLY directed to write his own evaluation of accomplishments at the LAKE DON PEDRO CSD?  That could have been done in open session, yeah?

Heck, WE WOULD BE MORE THAN HAPPY TO CONTRIBUTE TO SUCH A "FORMAL EVALUATION"!
 WE have had enough for now.
OUR best to you and yours, Lew  
OH YEAH….
COULDN'T FIND THE AGENDA PACKET
ON THE LDPCSD WEBSITE, SO HERE IS THE LINK BELOW:
Mar 19 2018 LDPCSD AGENDA PACKET