Last meeting the board refused a request to simply double check the ELECTION MAP KAMPA STATED WAS ON FILE WITH THE COUNTY.   OK, my bad for entertaining the idea the board might be interested in the truth.  So I drove to Mariposa and found out Pete Kampa was once again fabricating the truth about the election map.  No surprise.  Also found out the map he posts on the website and states was produced by the County of Mariposa, was not produced by the County of Mariposa.  See the continuing pattern?  Perhaps a map would help?  lol
Still it would have been nice for the directors to stand up for a change and question his statements rather than just blindly approving everything Kampa produces and claims to be factual.   I honestly believe the lack of such director challenge to contradictory information presented by Kampa only encourages more deception so it just goes on and on without end.  Apparently, obvious dishonesty demonstrated by the general manager/board treasurer is acceptable to the board members.  Why be bothered with the truth?
So here we go again……
Those of us who receive the digital agenda/packet did not get the whole enchilada……once again.    The KAMPA POU MAP (below) was included in the agenda packet posted on the LDPCSD website site but not in the one sent to regular subscribers – imagine that?  Those customers who are interested enough to read this stuff every month received an incomplete packet.   I discovered this when I tried to print a page but the printer software kept identifying the "current page" as a different one numerically, so I opened the website packet and was flipping through and found the map.

Sound familiar?
The properties around the school that KAMPA insists are within the POU and permitted Merced River water under 11395 (above and to the left and right of the Hidalgo Road intersection south of the school) were originally planned to be in the subdivision however were withdrawn from the final approved subdivision map.   [CALIFORNIA SUBDIVISION MAP ACT]
These outside PLACE OF USE properties are therefore not subject to that additional layer of government in the form of a property owners association that regular subdivision property owners must conform –  ie, another governing Board of Directors, CC&Rs that run with, and restrict property uses, violation committees, fines, penalties, annual assessments, etc.. 
These OUTSIDE POU property owners did not want to be part of the regulated subdivision so they were not included yet now (through the misguided and deceitful efforts of PETE KAMPA) demand the benefits of subdivision water service without having paid their fair share much less being subjected to far more restrictive Association regulations in contrast to the more lenient county regulations on land development and use.

Anyway, here goes OUR SPECIAL INTEREST REMOTE GM AGAIN CLAIMING A NEW PLACE OF USE FOR MERCED RIVER WATER BASED ON HIS MYSTERIOUS "SHAPE FILE" FROM A PROPOSED and CONDITIONALLY APPROVED PROJECT 20 YEARS EARLIER (during his first employment tour with the LDPCSD) WHICH WAS ABANDONED  FOR FAILING TO MEET SPECIFIC STATE CONDITIONS FOR APPROVAL.

WHAT AM I MISSING HERE?
THE STATE AGREED TO PERMIT WATER SERVICE WHEN THE SOUTH SHORE PROJECT COMPLETED SPECIFIED DEVELOPMENT CONDITIONS,  YET TWENTY YEARS LATER (AND LONG AFTER SOUTH SHORE HAD BEEN ABANDONED FOR NOT COMPLETING THE STATE REQUIRED CONDITIONS AND PERMITS HAD EXPIRED)  PETE KAMPA IS RETURNED TO THE SCENE OF THE CRIME TO FURNISH WATER SERVICE ANYWAY BY PULLING AN ANTIQUATED  SHAPEFILE OUT OF HIS……..
"pocket"………AS SOME SORT OF EVIDENCE THAT IT HAD LEGALLY EXPANDED THE PLACE OF USE FOR MERCED RIVER WATER.     
IMAGINE THAT!  EVEN THE LICENSE HOLDER (MERCED IRRIGATION DISTRICT) WAS UNAWARE THEIR POU HAD CHANGED TWENTY YEARS AGO!  lol

(Kind of reminds me of a 900 acre proposed subdivision quietly annexed in 1995 when Kampa was here the first time that was actively concealed from the public until only a few months prior to KAMPA's UNETHICAL RETURN in October 2014!  What a coincidence, yeah?)
GOSH, EVEN THE  STATE WATER BOARD WHICH QUITE CLEARLY IN THE SEPTEMBER 2017 NOTICE OF COMPLAINT, CONFIRMED THE POU IS THE  RESIDENTIAL SUBDIVISION.
QUESTION:   IS THE ELEMENTARY SCHOOL, A LOCAL DEVELOPER'S HILL, A PROPOSED RESIDENTIAL SUBDIVISION, THE AT&T SUB STATION, AND NUMEROUS OTHER PARCELS WITHIN THE LAKE DON PEDRO SUBDIVISION?
ANSWER:  NO, THEY ARE NOT.
QUESTION: WHY IS PETE KAMPA SO COMMITTED TO FURNISHING WATER TO THESE OUTSIDE SUBDIVISION PROPERTIES?
ANSWER:  HE WAS PERSONALLY INVOLVED WITH MANY OF THESE ANNEXATIONS INTO THE DISTRICT TWENTY YEARS AGO WHILE ASSISTING IN THE MASSIVE EXPANSION PLANS FOR THE AREA BASED ON TAKING OUR SUBDIVISION WATER – FIRST BY VIOLATING THE 11395 POU RESTRICTIONS ON where MERCED RIVER WATER COULD BE USED, THEN BY EXPANDING A LEGAL REMEDY of GROUNDWATER SUBSTITUTION TO REPLACE THE MERCED RIVER WATER WRONGFULLY LEAVING THE SUBDIVISION.
A BASIC CONTRACT CONSISTS OF AN OFFER, ACCEPTANCE AND CONSIDERATION FOR THE DEAL (MONEY, ACT, SERVICE,ETC)
SO, THE STATE OFFERED WATER IF DEVELOPER COMPLETED SPECIFIED CONDITIONS, HOWEVER, DEVELOPER FAILED TO PERFORM CONDITIONS,  THEREFORE NO WATER FOR PROJECT.
BELOW IS ONLY ONE OF THE AREAS WHERE PETE KAMPA HAS
IGNORED EXISTING REGULATIONS AND BOUNDARIES AND CREATED
HIS OWN POU MAP WHICH IS CONTRADICTORY TO THAT ON FILE WITH THE STATE WATER BOARD.
  KAMPA MOVED POU TO THE COUNTY LINE.
NOW a zoom look at where the elementary school is located…..

KAMPA HAS INCORRECTLY EXPANDED THE

POU BOUNDARY

BY PLACING IT ON THE COUNTY LINE INSTEAD OF THE HIDALGO ROAD WHICH IS SOUTH OF THE SCHOOL AREA AND FORMS THE SUBDIVISION BOUNDARY WHICH THE STATE RECENTLY CONFIRMED IN ITS NOTICE OF VIOLATION IS INDEED THE POU FOR

MERCED RIVER WATER

. 
HAS KAMPA ALSO EXPANDED THE LEGAL DESCRIPTION OF THE LAKE DON PEDRO SUBDIVISION BOUNDARIES BY ANNEXING THESE OTHER PROPERTIES INTO THE SUBDIVISION AS WELL?
THE STATE WATER BOARD SAID THE SUBDIVISION IS THE POU, IF THESE PROPERTIES ARE IN THE POU AS KAMPA (WRONGFULLY) CLAIMS, THEY MUST BE PART OF THE SUBDIVISION ALSO AND SHOULD BE HELD TO THE CC&RS, ANNUAL ASSESSMENTS, ETC.
NOW THE OFFICIAL 2008 MERCED IRRIGATION
PLACE OF USE MAP (below)
(Heck, you can even see the difference without zooming in on the map!)
ZOOM VIEW OF TITLE BLOCKS FOR CLARIFICATION  —
NOW A ZOOM VIEW OF THAT AREA…
HOW CAN THERE BE ANY REASONABLE MISUNDERSTANDING OF THESE DECADES OLD POU FACTS!
         NOT ROCKET SCIENCE – JUST DISHONESTY
NOW CHECK OUT THAT SAME AREA ON THE MID MAP (REFERRED TO IN THE NOTICE OF VIOLATION
BY THE STATE)  WHICH ACCURATELY REPRESENTS THE LEGAL PLACE OF USE FOR MERCED RIVER WATER:
ZOOM THAT SUCKER UP!
There is clear evidence that Pete Kampa was pushing water service far beyond what was legally approved and intended under water license 11395 twenty years ago – even to the point of unilaterally misrepresenting his special interest plans to both counties over that of the LDPCSD Board of Directors.  This apparently resulted in AN OFFICIAL WRITTEN KAMPA APOLOGY to planning officials just before he left for McCloud where he exploited yet another CSD for its resources. (There is still some information available on the internet about that mess.)
TOO MUCH ALREADY…..but
I  was going to ignore this continuing and most recent outrageous map deception by PETE KAMPA because I have other things requiring attention and there is never enough time as it is, however, this is important and deserving of some final blah blah blah.
Although I'm not ready to write about it quite yet, there is some new information that I believe will assist in understanding why Pete Kampa is so determined to  furnish water to annexed properties for development plans he assisted in setting up twenty years ago when employed here the first time between 1994-1997.
Directly related to this is how such public agency corruption and contemptuous disregard for the law is allowed to continue with the unfortunate result that even more innocent people may be sucked into this ever expanding Kampa&Kompany vortex of corruption.  [Wonder if this surge of deception will be like a star burning all its fuel prior to inevitable collapse?  Still a surge can be destructive to other objects in range.]
Understandable how this might happen because on the surface PETE KAMPA appears to be a state recognized water professional serving on the Board of the CALIFORNIA SPECIAL DISTRICTS ASSOCIATION (CSDA) for almost 20 years, owns his own KAMPA COMMUNITY SOLUTIONS llc, aka, KAMPACS special district (remote) management company, and even very recently received the prestigious CSDA TRANSPARENCY IN GOVERNMENT AWARD…….yes – lol!
Why wouldn't others (unaware of his true character) accept such a carefully projected facade of honesty and integrity?
Take CALIFORNIA CAD SOLUTIONS for instance – the company that produced KAMPA's POU MAP (below).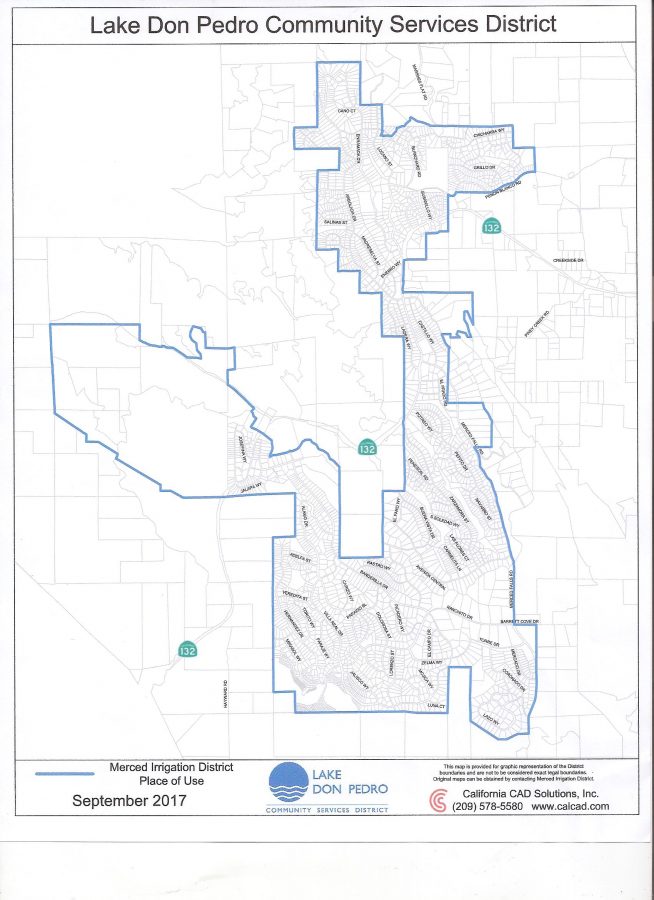 SEPTEMBER 2017?
What a coincidence!
The LDPCSD received a NOTICE OF WATER RIGHTS VIOLATION SEPTEMBER 2017 also.
Yet this map has been withheld from the public for 9 months* until a late Friday before the Monday meeting?  KAMPAGANDA!
(*Displayed on screen during meeting presentation October 2017)
NOTICE THE MAP DISCLAIMER?
"This map is provided for graphic representation of the District boundaries and are not to be considered exact legal boundaries.  Original maps can be obtained by contacting Merced Irrigation District."
Customers were told, in addition to the DISTRICT NOT BEING INVOLVED IN THE PRODUCTION OF THIS MAP, CALIFORNIA CAD SOLUTIONS was going to base their mapping project upon legitimate maps furnished by the MERCED IRRIGATION DISTRICT and the STATE WATER BOARD.  THE WHOLE POINT OF THAT $35,000 KAMPA MAPPING PROJECT WAS TO DETERMINE THE LEGAL PLACE OF USE BOUNDARIES FOR MERCED RIVER WATER ONCE AND FOR ALL – yet the PRODUCT MAP suggests contacting MID for such accurate information?
WHAT HAVE I BEEN FRIGG'N SAYING FOR YEARS?
CONTACT LEGITIMATE AUTHORITIES FOR THE INFORMATION!
YET THE BOARD OF DIRECTORS REFUSED PREFERRING TO TRUST PETE KAMPA INSTEAD
SAME OLD KAMPA FULL CIRCLE.  Refuses to contact MID and the STATE WATER BOARD for information, board approves a $35,000 mapping project to finally determine the legal POU once and for all (honest people already knew what it was for decades) KAMPA's MAP is incorrectly produced and if you want to know legal boundaries contact the MID?   Perhaps send them a certified USPS letter for the information that is never received?  This is all utter bullshit.
MAP TITLE:
"MERCED IRRIGATION DISTRICT PLACE OF USE"
For what?
Notice this map does not state it is the PLACE OF USE map for MERCED RIVER WATER per State restrictions contained in water license 11395 which is held by the Merced Irrigation District.
Surely CALIFORNIA CAD SOLUTIONS would not intentionally fabricate information to be used in official government processes just for money right? True, there are dishonest individuals and companies out there, but generally a business wants a good reputation, right? You know, to encourage more legitimate business through satisfied customers?   Of course I would imagine a business capable and willing to produce fraudulent maps and such could probably do a lot of business with characters like Pete Kampa furnishing a new supply of costly projects and lucrative on going service, maintenance, and upgrade agreements (DON'T FORGET THE CSDA DISCOUNTS!) – everybody makes money and MR WECs continues to pay more and more for less and less while KAMPA&KOMPANY EXPAND AND EXPAND!
SO the first question:
IF CALIFORNIA CAD SOLUTIONS truly intended to produce a legitimate PLACE OF USE MAP FOR MERCED RIVER WATER PER WATER LICENSE 11395 – (REMEMBER THE BOARD OF DIRECTORS STIPULATION THAT "NO DISTRICT FINGERPRINTS" SHOULD BE ON THE PROJECT?) – WHERE DO YOU THINK THAT CAD COMPANY MIGHT REASONABLY OBTAIN ACCURATE LICENSE AND MAP INFORMATION?
HOW ABOUT THE STATE WATER BOARD THAT REGULATES SUCH LICENSES?
OR
CONTACTING THE MERCED IRRIGATION DISTRICT WHICH HOLDS THE LICENSE?
Yet it appears as though PETE KAMPA himself had already carefully orchestrated how and what information that company (AND OTHERS) would obtain and use as the basis for this FRANKEN-KAMPA MAPPA!
HOW DID THE DEPARTMENT OF WATER RESOURCES END UP HAVING AN ANTIQUATED SHAPE FILE FROM AN ABANDONED LAND DEVELOPMENT PROJECT TWENTY YEARS EARLIER IN THEIR FILES?
WHEN WAS IT FIRST RECEIVED?  BY WHAT AGENCY?
DID KAMPA PLACE THAT SHAPE FILE IN DEPARTMENT OF WATER RESOURCES FILES BACK THEN FOR "LATER HARVEST"?
WAS IT USED IN THE GRANT APPLICATION PROCESS?
Sneaky, sneaky.  So many different maps….so many different answers, depending upon who you might be, or represent.
For the sake of argument, let's agree there are indeed basically honest people out there working in government positions who, like all humans, are vulnerable at one time or another into being duped, tricked, cajoled, misguided, exploited, used, etc., and who might instinctively feel that doing a particular thing is wrong or suspicious (or not doing something they believe to be the right), but due to the PROFESSIONAL GRADE PROVEN TECHNIQUES OF DECEPTION AND MANIPULATION UTILIZED BY TRAINED EXPLOITERS LIKE PETE KAMPA, make a mistake and perform, or don't perform, certain duties as requested.
At least I want to believe there are honest people who might have just been opportunistically "caught up in the moment" and made errors in judgement based on the smooth KAMPA ASSURANCES OF TRUSTWORTHINESS.  Obviously, not being privy to another's  heart and mind, reduces understanding of possible motives to pure speculation.
KNOWINGLY DISHONEST
OR JUST ANOTHER
DUPED & EXPLOITED VICTIM?  
AGENDA ITEM 5.b. "Adoption of a Resolution Accepting the Place of Use Boundary for Merced Irrigation District's Water Rights License 11395 based on the concurrence of the State Water Board Division of Water Rights"
BELOW IS KAMPA's CONCURRENCE OF THE STATE WATER BOARD:
When I first read this email I was disturbed with some of the statements and conclusions Mr. Feldhaus expressed about a situation with which he obviously has little factual information.   I'll list my concerns.
1. What is "CalEPA Water Rights Complaint 46350"?
2. When was Mr. Feldhaus assigned to "46350"?
3. Who assigned Mr. Feldhaus to case and with what objective?
4. Why is there only an individual's personal analysis based solely on Pete Kampa's response without regard for existing legitimate State Water Board records?  Where is there an opportunity for a citizen challenge of stated facts?
5. What other Division employees, supervisors, managers, legal water right experts, attorneys, etc., were involved with Mr. Feldhaus' apparent unilateral decision regarding a four decades old continuing public agency deception and fraud against it's legal customers of the Lake Don Pedro subdivision who are the Merced River Water Entitled Customers per water license 11359?
6. Why was referenced "EXHIBIT C" of PETE KAMPA's response not included in the Agenda Packet with the Feldhaus email?
7. Engineering wise the shapefile provided by KAMPA may be accurate, however, what it illustrates is not the legal WL11395 POU.
8. Did Mr. Feldhaus contact MID for their official POU map per 11395?
9. Did Mr. Feldhaus obtain and compare the 1978 MID POU Map that was cited in the September 2017 STATE WATER BOARD Notice of Violation (NOV) as illustrating the correct Place of Use for Merced River water per 11395, which is the residential subdivision?  Does Mr. Feldhaus doubt the STATE'S NOV description of the POU as the residential subdivision?  Did Pete Kampa explain otherwise?  How many communications with Pete Kampa?  Any meetings regarding "case"?
10.   Another quick change to the TRADITIONAL MONTHLY COMPLIANCE REPORTING FOR OUTSIDE PLACE OF USE PROPERTIES THAT CUSTOMERS PREVIOUSLY RECEIVED  IN THE AGENDA PACKET THAT KAMPA HAS DISCONTINUED?  Our district records are more like cards to be shuffled and intentionally confused.   All "checks and balances" previously provided the public in agenda packet documentation for monitoring such outside POU activity have been removed by Kampa.  Our Community Services District has been transformed into a Groundwater Substitution Facility for third party land developers outside the POU of 11395 with district information being restricted from the Merced River Water Entitled Customers of the subdivision who represent 99% of the customer base.
11.  "WE" (STATE) request "WHAT YOU" (KAMPA) suggested WAS THE TRUTH in YOUR (KAMPA's) response?  Amazing investigation of the facts, yeah?
12. . The Feldhaus email also incorrectly references a previously reported potential OUTSIDE POU ADDITION as occurring between 2013 and 2015, however, the STATE NOV quite clearly states in the third paragraph on page three:  "The spreadsheets indicated that 34 parcels were served outside of the POU as defined by LDPCSD from 2013-2015, and 35 parcels outside the POU were served in 2016." (page 3, third paragraph).  

13.  Outside POU discrepancies will be addressed and amended in some future official document?  (Don't call us, we'll call you?  lol)
14. Mr. Feldhaus states (apparently based solely upon his personal belief and what Kampa provided him) there is "now agreement regarding the official MID license boundary",
which couldn't be further from the truth.
When does a citizen have an opportunity to challenge such outrageous fabrications of truth which could easily be evidenced as such through simple research and evaluation of existing official documents held by the regulating authorities?    THIS ENTIRE MESS IS INSANE!  THINK OF THE WASTED PUBLIC RESOURCES BECAUSE PETE KAMPA REFUSES TO RECOGNIZE THE LICENSE RESTRICTIONS DUE TO HIS OWN SPECIAL INTERESTS.  PLUS, NO SURPRISE AGAIN, HE COULD CARE LESS ABOUT THE HARM HE CAUSES OTHERS ALONG THE WAY.

15. The SOUTH SHORE CLUB (also called La Ventana Cattle Company) was a proposed residential subdivision and golf course complex on 2,010ac off Bonds Flat Road that was "CONDITIONALLY APPROVED" by the STATE WATER BOARD in DECISION ORDER 93–2, yet due to the failure of developers to meet conditions the project was abandoned.   The 772 acre feet of Merced River water each year could only be delivered if a waste water recycling system was developed for the proposed golf course irrigation and a number of environment conditions were met some later imposed by respective counties.  But none of it happened, permits expired and the project forgotten,  that is until Pete Kampa returns over twenty years later waiving a "shapefile" which he claims supports his assertion that a successful POU CHANGE WAS CONDUCTED BY THE STATE WATER BOARD back  in 1993 – although there is no documentation to support this assertion.   (Other than he was there and personally knows what was being planned.)   Then of course there is the GROUNDWATER SUBSTITUTION PROGRAM KAMPA fueled with grants intended to help existing customers through the drought.  Wonder if Mr. Feldhaus knows anything about that?
15. Since Mr. Feldhaus is in complete agreement with PETE KAMPA regarding a NEWLY ESTABLISHED PLACE OF USE FOR MERCED RIVER WATER – (THAT IS CLEARLY CONTRARY TO THE WATER LICENSE RESTRICTIONS IN 11395) and that properties are to be removed from the MANDATORY COMPLIANCE REPORTING — FELDHAUS even suggests the district may not have ever even been in violation in the first place!
CAN YOU SAY AN
"ATTEMPTED COMPLETE COVER-UP"
OF DECADES OF DECEIT & FRAUD BY A PUBLIC AGENCY?
DEAR LORD!
Maybe a new GOVERNMENT TRANSPARENCY AWARD IS BEING DESIGNED RIGHT NOW BY HIS ASSOCIATES AT THE CSDA?
THIS IS UNBELIEVABLE!
AND PEOPLE WONDER WHY THIS STATE IS IN SUCH TROUBLE?
TOTAL LACK OF INTEGRITY – BUT THAT'S NOT THE ONLY BS ASPECT ABOUT THIS!
Want to hear something strange?  I actually feel a bit sorry for Mr. Feldhaus because I want to believe he was only used by Kampa to help cover the years of dishonesty Kampa created and perpetuates for the LDPCSD, customers and others, –  but then again, perhaps FELDHAUS is just as ethically challenged as Kampa and cut from the same political cloth knowing exactly what he was doing in the further corruption of an investigation already in trouble because of a powerful special interest influence radiating outward from the Sacramento based state water industry?
This is much larger than I ever initially imagined and understand how some might prefer to remain ignorant.
Seriously – an 18 month in depth STATE WATER BOARD investigation that blew the lid off absolutely false statements of fact that have been spread and repeated around here for over 40 years by real estate and land development interests looking to exploit the subdivisions access to quality water.  The truth finally starts to emerge then PRESTO – violations that took place in TUOLUMNE COUNTY and MARIPOSA COUNTY are posted late on the STATE WATER BOARD WEBSITE and INCORRECTLY REPORTED LOCATIONS AS STANISLAUS COUNTY and SUTTER COUNTY.
THIS IS SO FRUSTRATING – are individual employees within government using their positions to thwart the legal process for their particular cause?   Even though I am heart and mind opposed to the continued KAMPA & KOMPANY dishonesty I still have compassion for Mr. Feldhaus.   Why? I was curious as to who this GRAND DECIDER was and learned the following –
An Engineering Geologist who has apparently only been working for the State Water Board for three months? (If this is the same Aaron Feldhaus who wrote the email to Pete Kampa, of course.)
Three FRIGG'n MONTHS!  90 FRIGG 'N DAYS of beginning a new life based on the education achieved
and someone dumps this "hot potato" of apparent public agency deceit, fraud and fabrication of water right documents perpetrated by a well known and politically connected CSDA BOARD DIRECTOR of 20 years in young Aaron's 3 month experienced lap at the Sacramento Valley Enforcement Unit? 
Something is very wrong here.

Young Feldhaus to unilaterally resolve an intentionally created and complex situation spanning decades based solely on the absolute untruths by perpetrator PETE KAMPA?   And the ultimate remedy is to request and accept the suggestions by perpetrator PETE KAMPA?
Imagine, all these years of deceit, lies,  and wasted public resources to protect the duplicitous KAMPA TWENTY PLUS YEAR PLAN of developing an entire drought prone foothill region through assorted LAFCO annexations, fabricated POU maps, and an expanded secretly subsidized GROUNDWATER SUBSTITUTION PROGRAM for OUTSIDE POU land developers —- and all paid for by the victim MR WECs of the subdivision who are mandatory members of our hi-jacked public agency.
Sure sounds like organized crime and conspiracy to me.   Where is the equal protection under the law?
Regardless,  I feel sorry that someone who has apparently worked very hard for a college education in both Europe and the USA and was able to land a good state job with benefits (which no doubt was extremely competitive as well) may be making a very poor career decision in acting upon and trusting information provided by Pete Kampa.
Yup, very sad when others get pulled into such intentional wrong-doing by professional cheats like Kampa.  I am disgusted that such a predator is allowed to continue working in the industry.  Wonder what Aaron's parents and friends might think of Pete?
My best to you and yours, Lew
Then again, maybe this guy is a "working Kampa contact" whose employment should be terminated for trying to pull a fast one with an official State Water Board investigation that has already evidently been contaminated with published incorrect result information.
Sutter County?
right,  like the Merced River runs through that area.