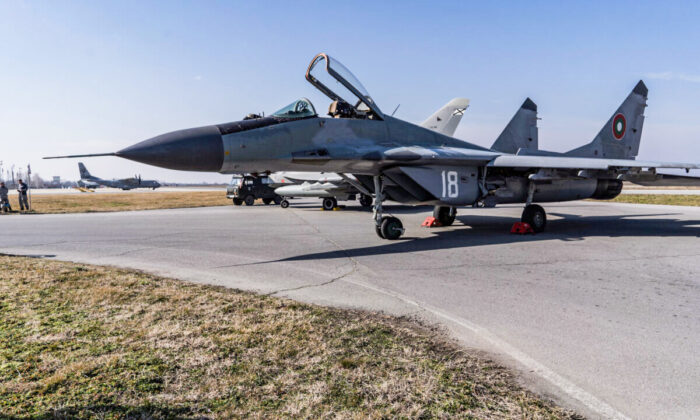 A MiG-29 jet fighter operated by Bulgarian Air Force in Graf Ignatievo, Bulgaria, on Feb. 17, 2022. (Hristo Rusev/Getty Images) Russia-Ukraine War
By Epoch Times Staff March 9, 2022 Updated: March 9, 2022 biggersmallerPrint
The latest on the Russia–Ukraine crisis, March 9. Click here for updates from March 8.
Germany Won't Send Warplanes to Ukraine: German Chancellor
German Chancellor Olaf Scholz is indicating that he doesn't favor supplying old MiG fighter jets to Ukraine.
Poland late Tuesday offered to give the United States 28 MiG-29 fighter planes for Ukraine's use. U.S. officials said the proposal was "untenable," but they would continue to consult with Poland and other NATO allies.
Scholz was asked Wednesday whether Germany would be prepared to allow such a delivery, and whether he feared being drawn into the conflict by a jet delivery via the United States' Ramstein Air Base in Germany—which Poland had proposed.
Scholz noted that Germany has given Ukraine financial and humanitarian aid, as well as some weapons. He added: "otherwise, we must consider very carefully what we do in concrete terms, and that most certainly doesn't include fighter planes."
___
'No Critical Impact on Safety' at Chernobyl Nuclear Plant
The International Energy Agency (IAEA) said there has been "no critical impact" on the safety of the Chernobyl nuclear site in Ukraine after Ukrainian Foreign Minister Dmytro Kuleba and other officials issued a warning about a potential radiation leak overnight.
Kyiv's government informed the U.N. nuclear agency at the power plant, said its chief, Rafael Grossi, which he said "violates [a] key safety pillar on ensuring uninterrupted power supply," but the "IAEA sees no critical impact on safety," according to a Twitter post on Wednesday.
"IAEA says [the] heat load of spent fuel storage pool and volume of cooling water at [the] Chernobyl Nuclear Power Plant sufficient for effective heat removal without need for electrical supply," the IAEA's Twitter thread continued to say.
It came hours after the State Nuclear Regulatory Inspectorate of Ukraine said the Chernobyl nuclear site lost power, issuing a warning about a possible radiation leak. Days after the Feb. 24 invasion, Russian forces captured the plant, located along the Ukraine–Belarus border, which is about 60 miles north of Kyiv, Ukrainian officials confirmed.
Read the full article here
___
US Intelligence Officials Taking Putin's Nuclear Threat Seriously
U.S. intelligence officials said on March 8 that they're taking Russian President Vladimir Putin's nuclear threats seriously.
"It was very unusual. And we obviously take it very seriously when he's signaling in this way," Director of National Intelligence Avril Haines told the House Intelligence Committee in Washington.
Putin placed his nuclear forces on high alert in February. The United States has not responded beyond delaying a test launch in a bid to lower tensions.
Such a public announcement hasn't been seen since the 1960s, according to Haines, describing Putin as "posturing" with the goal of deterring further Western support for Ukraine.
While Russian troops have been met with stiffer resistance than projected, "Putin probably still remains confident that Russia can militarily defeat Ukraine and wants to prevent Western support from tipping the balance and forcing a conflict with NATO," Haines said.
Read the full article here
___
Wheat Exports Banned as Civilians Flee
Ukraine banned wheat exports as civilians sought escape routes and concerns intensified over safety at the embattled country's nuclear plants.
As the Russian invasion rounds out its second week, feeding the desperate populace became an increasingly critical concern. Ukraine's government banned the export of wheat crucial to global food supplies in an effort to stave off food shortages and hunger inside the country.
Life has become increasingly desperate in cities cut from electricity and facing food and medicine shortages. The port city of Mariupol is particularly devastated, lacking running water, heat, sanitary systems, and phone service.
___
Poland Ready to Supply MiG Jets to Ukraine but via NATO
Poland is ready to make its Russian-made fighter jets available to Ukraine, via NATO, Poland's prime minister said Wednesday. But he added that it's a "very serious decision" that should be taken by all NATO alliance members because it affects wider security.
Premier Mateusz Morawiecki says the decision on whether to make the MiG-29 planes available to Ukraine as it fights Russia's invasion is now in the hands of NATO and the United States.
"Poland is not a side in this war … and NATO is not a side in this war," Morawiecki said during a visit to Vienna. "Such a serious decision like handing over planes must be unanimous and unequivocally taken by all of the North Atlantic Alliance."
Morawiecki said talks on the subject are continuing.
Ukraine has been calling on the United States and Western countries to provide fighter jets. Poland responded on Tuesday by offering to transfer its planes to a U.S. military base in Germany, with the expectation that the planes would then be handed over to Ukrainian pilots. The Pentagon reacted by saying it had not been aware of the plan which it finds "untenable."
___
EU Agrees to New Sanctions Against Russia Over Ukraine Invasion
European Union countries have agreed to slap further sanctions on Russia, targeting oligarchs and their relatives.
In addition to measures already adopted targeting President Vladimir Putin, Russia's financial system, and the country's high-tech industry, the EU imposed new sanctions on 160 individuals and added new restrictions on the export of maritime navigation and radio communication technology. The extra measures are also aimed at Russia's ally Belarus.
The French presidency of the European Council said they will exclude three Belarussian banks from SWIFT, the dominant system for global financial transactions.
____
Russia and Ukraine Announce a New Ceasefire to Let Civilians Flee Besieged Cities
Ukrainian authorities have announced a 9 a.m.–9 p.m. ceasefire along several evacuation routes for civilians in besieged or occupied cities.
Deputy Prime Minister Iryna Vereshchuk said Russian authorities on Wednesday confirmed the ceasefire along the evacuation corridors to Ukrainian counterparts and the Red Cross.
She said the routes lead out of Sumy in the northeast, Mariupol on the Azov Sea coast, Enerhodar in the south, Volnovakha in the southeast, Izyum in the east, and several towns in the Kyiv region.
All the corridors lead to sites elsewhere in Ukraine that are currently held by the Ukrainian government.
The route out of Sumy, on the Russian border, is the only one that has been used successfully so far, allowing for the evacuation of 5,000 people on Tuesday southwest to the city of Poltava.
Ukrainian officials released videos Wednesday showing trucks and buses with Red Cross symbols heading to besieged cities.
___
Poland Says NATO Countries Must Act Together on Jets for Ukraine
Any supply of fighter jets to Ukraine must be done through NATO, top Polish officials said on Wednesday, after Washington rejected Poland's offer to fly all its MIG-29 jets to a U.S. airbase with a view to them being supplied to Kyiv.
Ukraine has pleaded with Western nations to provide it with fighter jets to counter a Russian invasion that has forced more than 2 million refugees to flee the country, and U.S. lawmakers have responded by pushing President Joe Biden's administration to facilitate the transfer of aircraft.
On Tuesday, Poland said it was ready to deploy all its MIG-29 jets to Ramstein Air Base in Germany and put them at the disposal of the United States, urging other NATO members to do the same. The Pentagon later dismissed the offer as not "tenable."
"The USA does not want these planes to come to Ukraine from American bases," Jakub Kumoch, the Polish president's foreign affairs adviser, told public broadcaster TVP Info. "Poland is ready to act, but only within the framework of the alliance, within the framework of NATO."
Russia's defense ministry has warned that countries offering air fields to Ukraine for attacks on Russia may be considered as having entered the conflict.
Poland's Deputy Foreign Minister Pawel Jablonski told public radio station Polskie Radio 1 that Poland had to prioritize its security when considering the supply of jets to Ukraine.
"It cannot be that Poland has—as the only NATO country—to take the risk, and the other countries would not have to compensate or share it with us in any way," he said.
___
Air Alert Declared in Kyiv as Fighting Continues
An air alert was declared Wednesday morning in and around Kyiv, with residents urged to get to bomb shelters as quickly as possible.
"Kyiv region—air alert. Threat of a missile attack. Everyone immediately to shelters," regional administration head Oleksiy Kuleba said on Telegram.
Nearly two weeks into the invasion, Russian troops have advanced deep along Ukraine's coastline. The city of Mariupol, which sits on the Azov Sea, has been surrounded by Russian soldiers for days and a humanitarian crisis is unfolding in the encircled city of 430,000.
For days, as Moscow's forces have laid siege to Ukrainian cities, attempts to create corridors to safely evacuate civilians have stumbled amid continuing fighting.
Across the country, thousands of people are thought to have been killed, both civilians and soldiers, in nearly two weeks of fighting. Russian forces have seen their advances stopped in certain areas—including around Kyiv, the capital—by fiercer resistance than expected from the Ukrainians.
___
As Russia Attacks Ukraine, China Eyes the Indo–Pacific: Australia Intelligence Boss
A "troubling new strategic convergence" between Beijing and Moscow has developed and the risk of "major power conflict" has grown since Russia invaded Ukraine, Australia's intelligence chief said on Wednesday.
Andrew Shearer, director general of the Office of National Intelligence, said China's leader Xi Jinping appears to be planning to dominate the Indo–Pacific region and use it as a base to overtake the United States as the world's leading power.
The comments reinforce warnings that the Russian invasion of Ukraine, which has met near-universal condemnation by the West, may spread into a regional or global conflict. This week Australian Prime Minister Scott Morrison called on liberal democracies to stop an "arc of autocracy" reshaping the world.
"We're going to have to work much harder to maintain the liberal quality of the rules-based order in Europe and here in the Indo–Pacific region," Shearer said at a conference hosted by the Australian Financial Review.
"We see a leader who's really battening down and hardening his country for this struggle to overtake the United States as the world's leading power," he added, referring to Xi.
"The base camp … is to establish primacy in the Indo–Pacific region."
___
EU Rolls out Plan to Cut Russia Gas Dependency
The European Commission published plans on Tuesday to cut the EU's dependency on Russian gas by two-thirds this year and end its reliance on Russian supplies of the fuel "well before 2030."
The European Union executive said it will do so by switching to alternative supplies and expanding clean energy more quickly under the plans, which will largely be the responsibility of national governments for implementing.
___
Russia Underestimated Ukraine's Resistance, US Officials Say
The United States believes Russia underestimated the strength of Ukraine's resistance before launching an invasion that has likely caused thousands of Russian casualties, the Biden administration's top intelligence official told lawmakers Tuesday.
The testimony, in a hearing before the House Intelligence Committee, amounted to the first public assessment of the two-week-old war by the nation's senior intelligence officials, who offered their insights into the thinking and motives of Russian President Vladimir Putin as his forces continue their march through Ukraine.
The officials made clear that Russia's assault has been slowed by unexpected resistance by Ukrainian defenders and that it was now uncertain if Putin would proceed with a "maximalist" strategy to try to capture all of Ukraine or would settle for something short of that. Either way, they said they believed he was determined to press his invasion forward despite mounting casualties, global sanctions, and efforts by Western nations to isolate the Kremlin, including a U.S. ban on Russian oil imports.
"We assess Putin feels aggrieved the West does not give him proper deference and perceives this as a war he cannot afford to lose," Director of National Intelligence Avril Haines said. "But what he might be willing to accept as a victory may change over time given the significant costs he is incurring."
___
McDonald's, Starbucks, Coke, and Pepsi Halt Sales in Russia
McDonald's, PepsiCo, Coca-Cola, and Starbucks stopped sales of their best-known products in Russia on Tuesday.
All four companies have major operations in Russia.
McDonald's said it would go on paying salaries to its 62,000 employees in Russia as it closed 847 restaurants.
Starbucks Corp. is temporarily closing hundreds of stores. PepsiCo Inc. will suspend all advertising in Russia and stop the sale of its drinks brands, while continuing to sell essentials such as milk and baby food. Rival Coca-Cola Co. said it will suspend its business there.
Scores of other companies also have rebuked Russia, and Amazon.com Inc. said on Tuesday it would stop accepting new customers for its cloud services in Russia and Ukraine. Universal Music suspended all operations in Russia, and online dating service Bumble Inc. will remove its apps from stores in Russia and Belarus.
___
Pentagon Says Poland's Offer to Send Fighter Jets for Ukraine Is Not Tenable
The Pentagon said late on March 8 that Poland's offer to send fighter jets is not tenable, after Poland's Foreign Ministry announced it would deploy MiG-29 jets to the U.S. Air Force's Ramstein Air Base in Germany "and place them at the disposal of the Government of the United States of America."
The deployment of the 28 MiG-29s would be immediate and free of charge, the Foreign Ministry added. "At the same time, Poland requests the United States to provide us with used aircraft with corresponding operational capabilities," it said in a statement.
The Polish government also called on other NATO member nations that own MiG-29 planes to transfer their planes to the United States.
In a statement late on March 8, Pentagon press secretary John F. Kirby said: "The prospect of fighter jets 'at the disposal of the Government of the United States of America' departing from a U.S./NATO base in Germany to fly into airspace that is contested with Russia over Ukraine raises serious concerns for the entire NATO alliance.
"It is simply not clear to us that there is a substantive rationale for it. We will continue to consult with Poland and our other NATO allies about this issue and the difficult logistical challenges it presents, but we do not believe Poland's proposal is a tenable one," he said.
US Commerce Secretary Warns Chinese Firms Not to Help Russia Skirt Sanctions
U.S. Commerce Secretary Gina Raimondo on March 8 bluntly warned Chinese companies not to contravene trade sanctions against Russia by supplying the belligerent nation with chips and other supplies needed to sustain the war effort against Ukraine. Firms that do not abide by the sanctions can be "essentially shut" down, she said.
Raimondo, in an interview with The New York Times, said that Russia "is certainly going to be courting other countries to do an end run around our sanctions and export controls," but issued a harsh ultimatum to companies not to cooperate with any such circumvention.
The commerce secretary emphasized the ease with which the Biden administration could shut down China's largest chipmaker Semiconductor Manufacturing International Corporation (SMIC) or any other firms that make their technology available to Russia, adding it does not make sense from the companies' own point of view to flout U.S. sanctions.
"They have their own self-interest to not supply this stuff to Russia. So they're not doing it out of the goodness of their heart. It would be devastating to China's ability to produce these chips," Raimondo said.